You have /5 articles left.
Sign up for a free account or log in.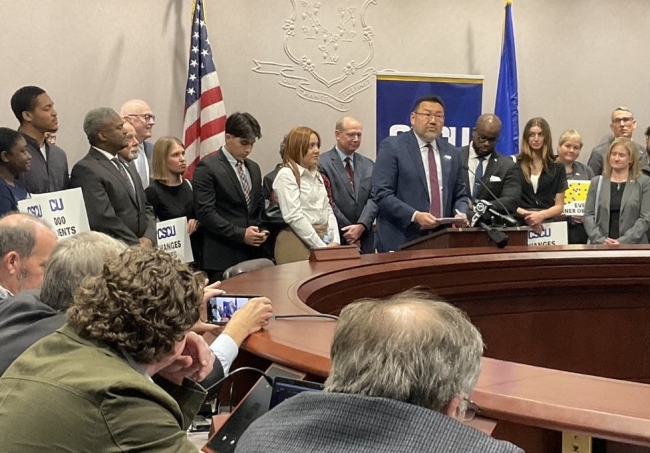 Connecticut is the latest state where higher ed leaders and lawmakers are clashing over state funding as federal COVID relief money runs out and enrollments struggle to recover from the pandemic.
At a press conference last Monday, Connecticut State Colleges and Universities system president Terrence Cheng warned that the state Legislature's latest budget proposal would be "devastating" for the system.
Cheng said the budget, proposed early last month by the Senate Appropriations Committee, would create a $335 million shortfall and force the 17-campus system to prepare for mass layoffs, tuition hikes and potentially even campus closures. Specifically, he said CSCU would need to let go at least 650 full-time employees, including 200 faculty positions, and consider eliminating the jobs of at least another 1,000 part-time staff and adjuncts.
Cheng told Inside Higher Ed that without more state support, he doesn't see another way forward; enrollment declined 6 percent systemwide from 2020 to 2022, and costs are "skyrocketing," he said.
"We're coming out of a black swan event and we don't have any cushion," he said.
In a statement released after the news conference, Jeffrey Beckham, secretary of Connecticut's Office of Policy and Management, pushed back on Cheng's grim assessment of the budget. He said it actually represented a 27 percent increase in baseline funding and a near doubling of funding per student. If CSCU leaders were forced to implement cost-cutting measures, he added, they shouldn't blame lawmakers; rather, they should look at revamping their own strategic plan.
"Simply asking for ever-increasing operating subsidies is not sustainable," he wrote. "The students and taxpayers deserve value for their dollar; it is apparent that the CSCU administration needs to do more to assure that value."
CSCU leaders and faculty disagree. They argue that federal aid money allocated under the American Rescue Plan Act (ARPA), among other temporary federal funds, filled the hole left by a 9.2 percent decrease in state appropriations in the last budget—the largest decline in higher ed funding of any state in 2022—which would essentially take effect when that federal COVID-19 relief money runs out.
Louise Williams, president of the Connecticut system's branch of the American Association of University Professors (CSU-AAUP) and a history professor at Central Connecticut State University, met with Governor Ned Lamont, a Democrat, last Wednesday and told Inside Higher Ed they had hit an impasse over this "fundamental disagreement."
"He may say these aren't cuts, but they are, and this is the wrong time to downsize," she said.
Fat Surplus, Lean Spending
Thanks largely to the infusion of federal COVID-19 relief funds, Connecticut, like many states across the country, entered budget negotiations this cycle with a surplus—a record-setting $4.3 billion. Despite this, Lamont and state lawmakers have been criticized for their lean budget proposals, not just for higher education funding but for health care, municipal grants and K-12 schools as well.
"In the 12 years I've been in the Legislature, we've had some tough budget cycles where we had to make some tough cuts," said State Representative Greg Haddad, a Democrat advocating for more higher ed funding. "That's what makes this cycle so frustrating. It's totally unnecessary."
Behind this frustration, Haddad said, is a spending cap enshrined in the constitution, as well as significant salary and benefits increases that public sector workers won last year that have run up against that cap.
The four-year, $1.9 billion compensation package included bonuses of $3,500 for most state workers, as well as annual wage increases of 2.5 percent. Last year's budget directed public colleges and universities to pay those raises to most staff members, which Cheng said has caused hiring and employment costs to skyrocket and has already led to spending cuts and vacant positions going unfilled.
The Senate's latest budget, Cheng added, would make even sustaining this already thinned-out workforce impossible, since the system has been using ARPA money to cover contracts. That waning federal aid, Cheng argued, should be replaced by more permanent state funding.
But in his statement last week, Beckham called CSCU's request to replace temporary federal emergency funding with long-term state allocations "unrealistic" and "unsustainable."
"CSCU's request for additional funding appears to be based on a belief that one-time federal funding to compensate for COVID-related costs should continue in perpetuity," he wrote.
Haddad said this reasoning obscures the reality of how the federal relief money was used. The state, he said, reduced the block grants that normally help fund its public colleges and universities by $170 million in last year's budget, replacing them with one-time federal funds. Now that relief money is no longer on the table, leaving a gaping hole in the coffers for ongoing operating costs while colleges deal with the financial fallout of the pandemic.
"That was never a sustainable plan, and I think everybody knew it at the time," Haddad said. "I've been surprised to hear that argument [about federal aid], honestly."
For more than a decade, Connecticut has been on a path to consolidate its higher education institutions. In 2011, legislators created the Board of Regents for Higher Education, which combined the state's 12 community colleges and one online institution with the four regional public universities in the CSCU system. This fall, the 12 community colleges are scheduled to merge to become Connecticut State Community College, a single accredited institution.
Connecticut's efforts mirror activity in other states—including Maine, Vermont and Georgia— that have sought to cut costs and keep public campuses open by centralizing operations and consolidating resources.
But with federal aid money drying up and enrollments in many regions showing no sign of rebounding, it may not be enough. That means the showdown over Connecticut's latest budget reflects a battle likely to play out in other states across the country.
Tom Harnisch, vice president of government relations at the State Higher Education Executive Officers association (SHEEO), said he's been disappointed to see this trend begin to spread. Many states flush with cash are neglecting higher education this budget cycle in favor of tax cuts or plumping up rainy-day reserves in the event of a much-anticipated economic downturn, he said.
"They're really not meeting the moment, which right now includes much higher inflation, higher salary and benefits costs, and the need for increased capital outlay," he said. "All of those are weighing on university budgets, and states need to use this opportunity to step up and make these investments to stabilize finances while holding the line on affordability."
UConn in the Clear?
The Senate Appropriations Committee's higher ed budget isn't even the lowest proposal floated this cycle. Lamont's initial plan, released in February, would have decreased overall state support over the next two years, forcing public institutions to take even more drastic cost-cutting measures.
That proposal was the subject of an at-times tense public battle between Lamont and leaders at the University of Connecticut—the state's flagship, which is not a part of the CSCU system.
In February, UConn president Radenka Maric responded to Lamont's proposed budget cuts by threatening to pull out of a deal between the university's Division I athletics programs—which includes the newly crowned 2023 NCAA men's basketball champions—and the state-run XL sports center in Hartford.
But university officials were decidedly more optimistic about the latest budget proposal. Spokesperson Stephanie Reitz wrote in an email to Inside Higher Ed that while they hoped to address some remaining areas of underfunding, administrators are "grateful for the longstanding support" from the Senate appropriations committee, including "additional one-time resources to cover a portion of the budget shortfalls" from the previous budget.
But Representative Haddad, whose district includes UConn's main campus in Storrs, doesn't believe the university is out of hot water yet.
"When I look at this budget, I see a significant shortfall for all of our public institutions, UConn included. They just came out of the gates early with their criticism, and I think have tried to cool off since then," he said. "But when I look at the loss of nearly $300 million in ARPA money over the next two years, that's going to hit everyone equally hard."
Still, Haddad said UConn has "more options" than CSCU when it comes to making up for state funding cuts—namely its ability to attract full-tuition-paying out-of-state students.
Starving the Workhorses
Unlike the flagship, CSCU, made up of largely nonselective institutions more focused on teaching than on research, has no revenue-generating sports teams or reserves of out-of-state applicants to use as leverage in its negotiations with lawmakers. Cheng said that dynamic has resulted in stagnant funding that hasn't kept up with inflation in recent years.
That's been especially destructive considering tuition revenue has plummeted over the past decade, he noted. CSCU saw enrollments nosedive during the pandemic—almost 6 percent from 2020 to 2022 systemwide—compounding a staggering 36 percent decline since 2010.
In his statement, Beckham argued that those declines are another reason to roll back funding for the system, which he said has ambitious expansion plans that do not "acknowledge or address the enrollment challenges."
"Before looking to the taxpayers and students for additional funding, [CSCU] must get their costs under control and in line with the current and expected future demand for students," he wrote.
But Cheng, along with faculty and students who spoke with Inside Higher Ed, argued the system is already underfunded, and that lack of resources is a major reason for enrollment declines. Further cuts, they said, won't put Connecticut State institutions on a more sustainable track. Rather, they would lead to a domino effect of declining quality and retention difficulties that could result in dramatically lower graduation rates—and potentially even campus closures.
"This puts us on a downward spiral, a race to the bottom at the end of which these institutions are going to be hollowed out," said John O'Connor, a sociology professor at Central Connecticut and vice president of the CSU-AAUP. "The fact of the matter is, the constituents this is going to hurt most are the students."
Niya Blizzard-Ireland, a junior at Central, said she's already seen the effects of last year's cost-cutting measures, and she worries her campus is at risk of "changing completely."
"I used to have much smaller classes, which are better for my learning style, never more than 20 students in a class. But last year I noticed it was at least 30 or more," she said. "And a lot of the courses listed now don't even have faculty attached when they're announced, so you don't know if it will even be held."
Cheng also said the system could be forced to increase tuition by nearly 5 percent, a 2 percent bump over the usual yearly increase to make up for inflation. At its regional four-year universities, that could mean thousands of dollars more per student, he added.
"All [this budget] does is continue to position higher education as a commodity for the privileged, instead of investing in higher education as a public good," he said.
Blizzard-Ireland is studying social work at Central and plans to pursue her master's at Southern Connecticut State University, another CSCU campus, before starting her career in one of the many Connecticut cities that could use more social workers. But she said a tuition hike as steep as the one Cheng warned of would make paying for college exceedingly difficult. While she would manage by taking another part-time job (she already works two), she worries it could be the deciding factor for many of her peers.
"The thought of working multiple jobs and taking classes and still struggling to pay for school will lead to a lot of people dropping out," she said.
Harnisch, of SHEEO, said that would be an especially devastating consequence considering CSCU campuses are the state's "workhorse institutions," catalysts of economic mobility and workforce development that primarily serve the poorest constituents of the state with the largest wealth gap in the country.
In terms of the impact on Connecticut's economy, Harnisch said lawmakers' failure to fund higher education is penny-wise and pound-foolish.
"If they want more taxpayers," he said, "they should invest in the state's biggest economic engine."