You have /5 articles left.
Sign up for a free account or log in.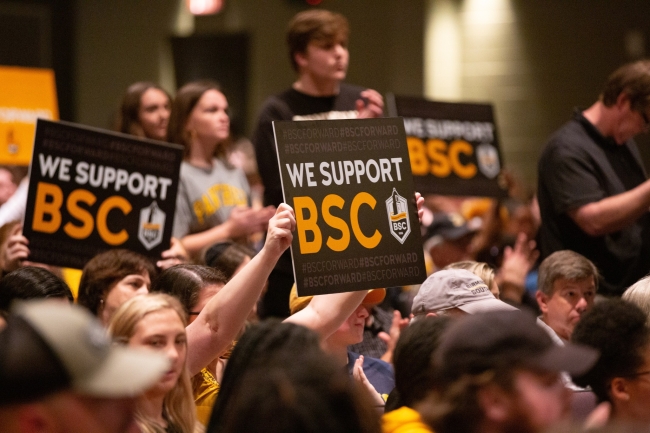 Birmingham-Southern College/Facebook
For months Birmingham-Southern College officials warned that financial pressures might force the institution to close, pleading with the state to step in and help. Last month the Alabama Legislature did just that, creating a loan program to support struggling private colleges in the state.
The legislation establishing the loan program, which awaits the signature of Republican governor Kay Ivey, is fairly limited in scope but unusual in the sense that it essentially provides a public lifeline for private colleges. With Ivey expected to sign the bill, Birmingham-Southern officials hope the loan will revitalize their battered campus.
Dissecting the Deal
Birmingham-Southern has faced many of the challenges bedeviling small private colleges, including sluggish enrollment and increased inflationary pressures. But executive turnover and disastrous financial missteps also played a significant role in its near closure.
The story of the BSC's struggles begins in 2010, when administrators discovered they had been incorrectly calculating Pell Grant awards, causing the college to overpay by millions. That prompted deep budget cuts and campuswide layoffs to right the ship. The error also drove the resignation of multiple college officials and led to a revolving door of executives before current president Daniel Coleman was hired in 2018, finally providing stable leadership. Major investments in facilities before BSC's financial crisis also weakened the college's endowment.
In addition to launching fundraising efforts to help fill their coffers, BSC officials asked state lawmakers for $30 million in support.
At first, state leaders were skeptical. In February, Ivey publicly declared, "The state has no plans to use the taxpayers' public funds to bail out a private college." Other lawmakers similarly dismissed the idea of public dollars flowing to a private college. But in the end, legislators succeeded in passing a narrowly tailored bill that draws on the state's Education Trust Fund to create a loan program for private colleges.
The bill, pushed by State Senator Jabo Waggoner, who graduated from Birmingham-Southern in 1960, earmarked $30 million in funds—the exact amount BSC was seeking—for private colleges experiencing financial hardship. To be eligible, colleges must have operated in Alabama for more than 50 years, be in financial distress that could force a closure and have assets to use as collateral for the loan.
"This is the law we need to save Birmingham-Southern College," Waggoner said last month.
Throughout the session, lawmakers who worried that the bill was too narrowly tailored to Birmingham-Southern were won over by the potential to help other private colleges.
"A lot of us are conflicted about what we're doing, but I think it's important that we realize that we are not voting today to make a loan to Birmingham-Southern," State Representative Danny Garrett said in May during a vote on the bill. "What we have done rather is to set up a vehicle, a program for institutions that are important to our state."
Birmingham-Southern officials declined to comment for this story but thanked public officials for their support earlier this year as the proposed lifeline wound its way through the state Legislature.
"President Coleman and so many others have been working tirelessly to secure the resources needed to take BSC forward. We are especially grateful to the elected officials who have championed this cause because of its impact on Birmingham and Alabama. And we are also deeply grateful for the outpouring of support from our alumni, students, faculty, staff, parents, the business community, and friends who have written, called, emailed, and met with elected officials to help make the case for public support," BSC trustees said in an April statement.
Public-Private Deals
Experts note that the loan program Alabama created to save BSC is unusual. While states have stepped in to save private colleges before, that has more commonly been achieved through mergers or acquisitions—not a loan program that leverages public funds as a potential lifeline.
John MacIntosh, managing partner at SeaChange Capital Partners, which launched the Transformational Partnerships Fund in 2021 to help institutions explore collaborative opportunities, pointed to examples of private-to-public mergers or conversions in Delaware, Tennessee and New Jersey as examples of the more typical approaches of states trying to support struggling private colleges.
In 2020, Delaware State University, a public institution, purchased Wesley College. The University of Tennessee system Board of Trustees acquired Martin Methodist College the following year. And last year, Montclair State University announced a plan to absorb the struggling Bloomfield College.
"Explicitly or implicitly, these mergers have had political support," MacIntosh said.
MacIntosh is uncertain whether loan programs similar to the one Alabama created for Birmingham-Southern will take off, but he said he does expect more mergers between public and private colleges, especially given the challenging economic headwinds currently battering higher education institutions.
Robert Spencer, a principal at Huron Consulting Group, concurred that state loans for struggling private institutions are rare and said he doesn't expect the Alabama example to become the norm. And while he, too, expects more struggling colleges to merge with their public peers, he acknowledged there might be occasions when the state steps in to provide funding for a private institution. In an email to Inside Higher Ed, he cited the example of Connecticut providing a $7.5 million loan to support Goodwin University's acquisition of the University of Bridgeport in 2021. Though both institutions were private, state officials looked favorably on the arrangement.
Both Spencer and MacIntosh noted that when the state weighs whether to acquire a private college or extend financial support, it must consider the value proposition for residents and the role an institution plays in workforce development. Lawmakers also have to weigh what will be lost if a college goes under.
But as one recent example shows, private colleges shouldn't count on public lifelines. Earlier this year, Iowa Wesleyan University closed due to a combination of rising costs, shifting enrollment trends and stagnant fundraising. University officials also blamed Iowa governor Kim Reynolds for denying a request for $12 million from the funds given to the state as part of the federal American Rescue Plan Act. Reynolds, however, said that a state analysis determined Iowa Wesleyan had "systemic financial issues" that would not be solved by a $12 million lifeline.
Now, amid a deteriorating outlook for the higher education sector, experts suggest the Alabama bill is a one-off, a rarity that is unlikely to be replicated en masse to solve college business woes.
"The state must focus on what makes sense for its residents, the workforce and economy, and the educational opportunities for its students," Spencer wrote. "If the state performs bailouts primarily to protect legacies, that's not sustainable—the higher ed landscape is changing too much. However, if a loan has adequate security (in the event of default) and supports a value proposition that benefits the state, then it could make sense."