You have /5 articles left.
Sign up for a free account or log in.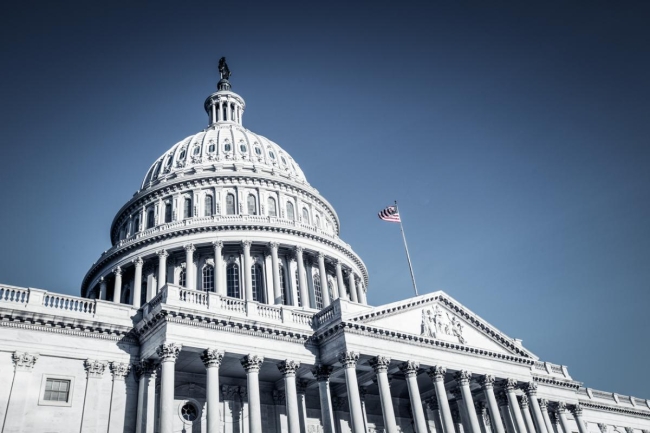 istock.com/usschools
The latest budget proposal from House Republicans would eliminate funding for 60 programs including Federal Work-Study—cuts that have left higher education groups concerned.
"We are very concerned and we are appalled by the elimination of programs that we've seen," said Emmanual Guillory, senior director of government relations at the American Council on Education. "Cutting funding for programs that impact students is not something that we take lightly and is not something that we support, especially when there is no remedy to make up for that loss of funding elsewhere to benefit those students."
Guillory and other representatives from other higher education groups say they understand the fiscal constraints facing Congress and the deals made that affect the budget but that they were surprised by the extent of the cuts, particularly the cuts to programs that Republicans have previously supported.
Federal spending on domestic programs will be flat for the upcoming fiscal year as part of a budget deal reached earlier this summer to avert a default on the country's debt. Following the deal, House Republican leaders said it set "a ceiling, not a floor," and decided to write appropriations bills at fiscal year 2022 levels—meaning deeper cuts to agencies' bottom lines.
The Senate is planning to draft bills based on the terms of the deal, setting up a clash between the two chambers over the budget. Senate appropriators are planning to release their education budget proposal July 27.
"I don't pretend this is a perfect bill; no bill in Congress is ever a perfect bill," Alabama representative Robert Aderholt said at a hearing Friday. "But we live in difficult times, our nation remains mired in high inflation, which has only been worsened by the massive infusion of government spending, both during and immediately after the COVID pandemic."
The Consumer Price Index, which measures inflation, increased 3 percent in the last year, according to the June report. That's the smallest increase since March 2021 and a sign that inflation is starting to cool.
Aderholt is the top Republican on the Labor–Health and Human Services appropriations subcommittee, which favorably reported the budget bill Friday to the full appropriations committee.
The House and Senate need to pass all 12 appropriations bills before Jan. 1, 2024, in order to avoid a forced 1 percent cut to all agencies under the debt ceiling deal, so there's pressure for lawmakers to act.
Guillory said Congress could adopt a continuing resolution to keep the government funded after the fiscal year ends Sept. 30.
"We're hoping that there will not be a government shutdown, because that's something obviously that we do not support and we don't want to see," he said. "We do expect to see a little bit more funding coming from the Senate, because they have a little bit more leeway. It's a matter of continuing to watch this process unfold."
What's Cut
House Republicans say the budget reduces funding for the Education Department by at least $12 billion, or 15 percent, though Democrats on the House Appropriations Committee say the cuts are closer to 30 percent when $10 billion in rescissions to K-12 programs are factored in. The bill also includes the budgets for the Labor and Health and Human Services departments.
"This bill represents a clear first step toward returning to fiscal responsibility, while ensuring that funding for critical and high-priority functions are maintained," Aderholt said.
The proposed budget cuts $50 million for infrastructure investments at historically Black colleges and universities and other institutions and guts a program that provides ​​subsidized childcare for low-income parents enrolled in a postsecondary program, among other program reductions. The Office of Federal Student Aid would lose about $265 million; the Biden administration asked for $620 million more for the office.
Guillory said HBCUs, tribal colleges and universities, and minority-serving institutions have historically been underresourced, and the infrastructure money was aimed at addressing that.
"We know that a number of these institutions help educate our most needy students. Its proposals like these that really, really concern us, and we definitely are planning to make sure Congress is aware of where our concerns lie," he said.
Craig Lindwarm, vice president of governmental affairs at the Association of Public and Land-grant Universities, said eliminating Federal Work-Study and Supplemental Educational Opportunity Grants is self-defeating in terms of growing a competitive workforce.
"We see the results of not providing adequate dollars to invest in the programs that support economic growth and individual mobility," he said. "We're very concerned by some of the appropriations numbers that are coming out of a markup."
About 660,000 students participate in Federal Work-Study while another 1.7 million students receive aid through the Supplemental Educational Opportunity Grants. Combined the two programs total $2.1 billion in the current federal budget, according to committee Democrats.
House Republicans aren't planning to cut or increase the maximum award for the Pell Grant, though, disappointing advocates who had hoped to build on recent increases to the grant. President Biden had proposed boosting Pell's maximum grant by another $820 from $7,395 to $8,215 in his budget request.
"Pell would remain stable, which is not what's needed," Lindwarm said. "Congress has continuously, even in very difficult budgetary situations, at a minimum provided inflationary increases. It's disappointing to see that not even an inflationary increase was included."
The Republican plan also would prevent the department from moving forward with its debt-relief plan, which was blocked by the Supreme Court, and carrying out new regulations for Title IX of the Education Amendments Act of 1972 that would protect transgender student athletes and reverse Trump-era rules.
Connecticut representative Rosa DeLauro, the top Democrat on the appropriations committee, said at the hearing that the bill is shameful and shows the Republicans' agenda to end public education in America.
"This bill steals from our children's future, from our families' health and from Americans' livelihoods," she said. "It abandons young adults, stifles biomedical innovation, surrenders to current and future public health crises, and hurts women with poison pill riders on abortion."
Science and Research Funding
Under the budget plan, the National Institutes of Health would see a $3.8 billion cut from the current fiscal year to $43 billion.
"It would mean less money to conduct the groundbreaking research that holds the promise to find cures, save lives and improve quality of life," Lindwarm said. "There are very few who actually want to cut NIH. This is a problem of inadequate top lines that don't allow appropriators to make the needed investments."
The Republican bill summary said that the budget plan "fully supports basic biomedical research investigating cures for cancers, Alzheimer's disease, other chronic diseases, and rare diseases."
United for Medical Research, a coalition of colleges and universities, health advocates, and other industry representatives, said in a statement the proposed funding level for NIH was a blow to the agency's mission.
"The NIH and the entire biomedical research community has for the last several years been catching up from a decade of flat funding and its lifesaving and life-improving achievements across the country have been nothing short of extraordinary," the statement says.
Lindwarm said the National Science Foundation would see a small increase to its base budget under the House proposal–compared to the current fiscal year–but would get less in the Senate's proposed plan.
The agency did receive an additional $1 billion in the current federal budget to support the CHIPS and Science Act. That money is not included in either chamber's budget proposal, so NSF will be getting less funding overall. House Republicans said in a summary that their budget would give NSF a 9 percent increase in funding.
"On the research side, we hear a lot of bluster from Congress on competitiveness with China, but they've yet to really put their money where their mouths are in supporting the research that will accomplish the goals," he said.
Other groups also sounded the alarm about how the budget cuts would affect students and workforce-development programs.
"These proposed reductions in federal support are likely to lead to major disruptions in connecting learners, including our nation's most vulnerable populations, to CTE programs and the wider postsecondary and career opportunities these programs lead to," the Association for Career and Technical Education and Advance CTE said in a joint statement.