You have /5 articles left.
Sign up for a free account or log in.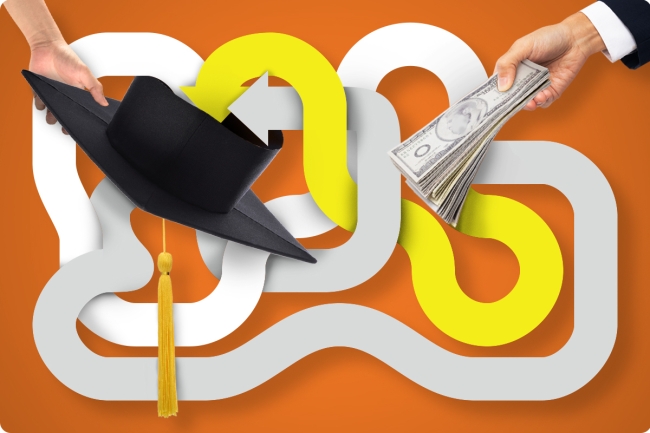 Photo illustration by Justin Morrison/Inside Higher Ed | Getty Images | Rawpixel
Ever since President Biden said that his administration would try again to offer broad student debt relief after the Supreme Court struck down his first plan, experts and advocates have wondered what shape that relief would take.
On Tuesday, the department offered its clearest answer yet—at least about what it is not planning to do.
"We're not looking at a broad-based debt cancellation where we are going to wipe off debt in its entirety," said Tamy Abernathy, director of the policy coordination group at the Education Department's Office of Postsecondary Education. "That doesn't mean that, in some cases, there wouldn't be cancellation."
Instead, the department is exploring ways to provide relief to distinct groups of borrowers, such as those who have seen their balances balloon because of unpaid interest. Officials haven't explained exactly why they are taking this approach, but it's clear they are hoping to craft a plan that will pass legal muster. More specifics on what the department will propose are expected next month.
The department's focus, Abernathy said later Tuesday, is on the "the length of loans and the amount of time borrowers have spent in repayment without making headway" on their loans.
Abernathy was clear that ED wouldn't be reopening the regulations governing the new income-driven repayment plan or the Public Service Loan Forgiveness program, which were updated and finalized in the past year. The department also won't be looking at whether to charge interest rates on student loans, which officials said was a question for Congress.
For this latest attempt at student loan forgiveness, the department is planning to use its authority under the Higher Education Act of 1965. That act gives the education secretary the power to "compromise" or "waive" its claims against borrowers. Officials are using a complex process known as negotiated rule making to determine how to wield that power under a different law than the one used to justify the previous plan for one-time student loan forgiveness, which the court rejected. The department didn't go through negotiated rule making for that plan.
Tuesday's meeting was the first in a series with a 16-member advisory committee representing student loan borrowers, higher education institutions, civil rights organizations and other stakeholder groups.
The session provided a glimpse of the work ahead for the department and the stakes involved with any rule on such a fraught issue. Committee members shared stories about how they and others have been affected by student debt, seen their balances balloon and struggled to access the relief programs because of technicalities.
The goal is "not just steering the ship right," said Ashley Pizzuti, a student loan reform advocate and committee member representing borrowers who attended programs of two years or less. "It's also fixing all these mishaps for these borrowers who are still being crushed by this."
Most negotiated rule makings attract little attention, but this one is expected to be more high-profile. The issue of student debt relief has become politically sensitive, galvanizing borrowers and the president's critics alike. Recognizing "the tremendous public interest," the department is doubling the amount of time for public comment from 30 minutes to an hour for the committee's future meetings.
Over the course of three two-part meetings—subsequent two-day sessions are slated for November and December—the committee will work to build consensus on a proposal to provide debt relief to borrowers. The department doesn't have a vote on the committee.
If the negotiating committee reaches consensus or unanimous agreement on proposed regulations, the department is required to issue those regulations in draft form as part of a Notice for Proposed Rulemaking. If the committee can't agree, the department is free to propose whatever it wants.
The department is planning to issue a proposed rule early next year, officials have previously said. The nine-step rule-making process on student debt relief began in earnest in July with a public comment period that included a four-hour public hearing. The department also received tens of thousands of written comments.
Some committee members pointed out how student loan debt disproportionately impacts Black families and exacerbates inequities. "Pursuing higher education can negatively impact Black families' wealth because of the debt burden," said India Heckstall with the Center for Law and Social Policy, a nonprofit, and a negotiator for civil rights organizations.
The committee's conversation focused on answering a series of questions that the department outlined in an issue paper released last month. Tuesday's meeting covered the first two questions, and the committee will talk about the other three today. Following this week's meetings, department staff will draft proposed regulations that the committee will discuss next month.
The first two questions concerned how the department could help borrowers who have seen their balances grow due to the accrual of unpaid interest, as well as those who would be eligible for forgiveness under an income-driven repayment plan but didn't apply for those programs. The discussion yielded several suggestions for the department to consider, but not many concrete proposals.
"I would hope that out of our discussions, we would be able to deal with this problem of interest, because interest is what's killing people," said Sherrie Gammage, a committee member representing borrowers who attended four-year programs.
Some committee members suggested that the department forgive the interest and apply any payments made on the loan toward the principal. Others applauded the department's recent actions to end interest capitalization and make debt-discharge programs more accessible, but they noted those actions mostly benefit future rather than current borrowers. A number of committee members also pointed out the need for the department to automate as many processes around applying for relief as possible so that borrowers don't have to opt in.
"I'm glad to hear the department acknowledge that these programs are difficult to navigate," said Kyra Taylor, a staff attorney at the National Consumer Law Center who was representing legal assistance groups on the committee. "When they receive a denial, borrowers may be discouraged from applying for other forms of relief. It tests their faith."
Several committee members urged the department to include all types of loans in any relief program. Parent PLUS loans and federal loans not held by the department aren't typically eligible for many of the more generous relief or repayment plans.
Committee members also want the department to take into account how the actions of student loan servicers, companies and nonprofits that manage the federal student loan portfolio, have negatively impacted borrowers.
Yael Shavit, who is with the Office of the Massachusetts Attorney General and representing state AGs, said that because of the "misconduct" of student loan servicers and the department's failures to hold those companies accountable, cancellation is an "appropriate remedy."
The issue of cancellation, despite the department's plans, isn't settled yet. Individuals urged the department to consider broad-based cancellation, as did some committee members.
"Wiping out interest isn't adequate," Shavit said. "We need to make sure we're considering broad relief."