You have /5 articles left.
Sign up for a free account or log in.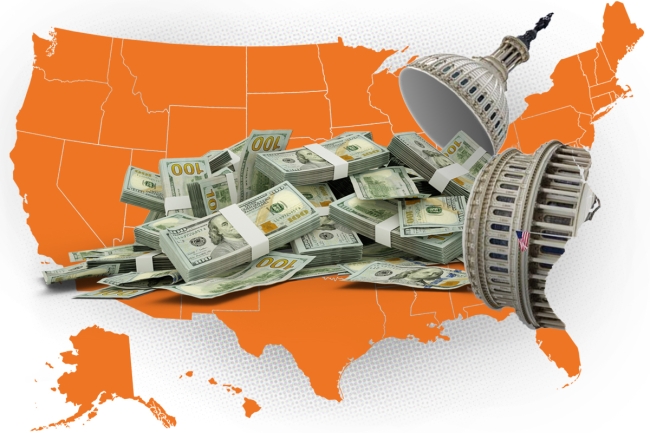 Photo illustration by Justin Morrison/Inside Higher Ed | Getty Images
Nearly 220,000 students will gain eligibility for the Pell Grant, a key tool for helping low-income students access college, when the federal government finalizes revisions to the system for applying for financial aid later this year, according to a new report from the State Higher Education Executive Officers Association.
The increase in Pell-eligible students could mean more than $617 million in additional federal aid going to students and colleges. About $29.8 billion was available for students in Pell Grant funding in 2023–24, according to federal budget documents.
The report precedes the highly anticipated overhaul of the Free Application for Federal Student Aid and the underlying formula that determines how aid is disbursed, which are both scheduled to be released by the U.S. Department of Education in December. The report examines the impact the revamp will have not only on Pell Grant eligibility but also on anticipated out-of-pocket costs for students in specific states, higher ed sectors and demographic groups.
Under the new FAFSA, students will not only have fewer questions to answer, they also will likely be eligible for more federal aid. Combined with changes in awards for previously Pell-eligible students, the net increase of total Pell aid is expected to be approximately $7.85 billion, an increase of about 25 percent over the current spending level, according to the report.
Experts say the alterations to FAFSA are significant and will have wide-reaching consequences for higher education. Several reports over the last few years have sought to document how the formula shifts would influence students' out-of-pocket payments.
But the SHEEO report is the first to assess the impact of those changes at the state level, said Rachel Burns, a senior policy analyst at SHEEO and author of the report. Burns used existing FAFSA data to model how students' eligibility will differ under the Student Aid Index, or SAI—the new formula for determining how much a student is expected to pay for tuition and how much they should receive in aid—and how it compares to the previous Expected Family Contribution formula.
Similar analyses include a report from Brookings, released in April, which estimated that about 174,000 more students would be eligible for the Pell Grant. Other groups including the National Association of Student Financial Aid Administrators, in October 2022, and Urban Institute used modeling tools, case studies and reform simulators to make their predictions.
"We've been looking for the past two years at who are the winners and losers. And over all, certainly, there's a lot more winners … So that's a great thing," Frank Ballmann, director of federal relations of the National Association of State Student Grant and Aid Programs, said of the new FAFSA. His organization partnered with SHEEO to produce the report.
However, there will also be students who see an increase in their out-of-pocket costs. Of those students, about 56,600 are currently Pell eligible but are anticipated to lose their eligibility under the new model, according to the report.
Ballmann and others do worry about possible unintended consequences of the federal aid reforms. The new formula won't account for the strain on families with more than one person in college, who previously received additional aid. It will also include the net worth of small family businesses and farms owned by students' parents in the calculation of aid eligibility.
"In some cases, they might be students from well-to-do families, and that's not terrible," Ballmann said. "But there's several cases where a family might have to choose which child gets to go to college … It's already challenging enough as a rural student to find the place to go to college, because lots of people live in what we call educational deserts. If this is the straw that breaks the camel's back in terms of rural students being able to go to college, that would be a tragedy."
While SHEEO's predictions are intended to help state higher education agencies plan for the new FAFSA, Burns notes that the report is "preliminary and speculative," as full effects of the change won't be clear until at least the 2024–25 school year.
State-by-State Variations
The report predicts that in general students will be expected to pay less out of pocket because the formula is more generous over all. While Pell Grants may make up a large portion of the expected aid, many students will still have unmet financial need that is expected to be met with grants and other financial aid at the state level. According to SHEEO, the effect of the new SAI formula on individual state grants will vary depending on the structure of the programs.
In first-dollar programs—where state awards are granted prior to accounting for any other forms of aid received—students with lower SAIs will be eligible for more state aid, regardless of how much their Pell Grant increases.
In last-dollar programs—which award grants after accounting for other forms of aid—students could receive more state aid, but the extent will vary. Last-dollar programs are the most common, but changes to the programs will also be the most challenging to predict, the report says. While research suggests a decrease in SAI, which could require states to fund a larger sum of aid, the increase in Pell Grants could end up "crowding out" students' eligibility for state grants.
"States' grants will be the last resort for students to fill in the gaps in unmet financial need after federal aid is accounted for … and we expect that they may need to fill even larger gaps than they filled before," Burns said. She added, "We should also keep in mind that Pell Grant awards may increase for many students, which could absorb some of this unmet financial need and reduce the need for expanded state grants."
State-level changes will also vary based on whether state education departments and lawmakers modify their local aid programs.
"It is possible that some states will not be able to expand their state grant program budgets significantly, or at all, and will have to make decisions about which students are eligible and how much they are eligible to receive," Burns said.
Eligibility for state-based aid could also shift due to the way distribution of state-level grants is often directly connected to data from FAFSA. As Pell eligibility increases, the number of students who qualify for state programs modeled on Pell is expected to increase as well.
North Carolina, for example, developed a consolidated state grant program. It guarantees students state and federal aid if their family has an adjusted gross income at or below $80,000 and anticipated out-of-pocket costs under $7,500. The number of students eligible for state funding is anticipated to increase by approximately 7 percent.
"Our Legislature passed roughly close to $180 million available for our public colleges and universities," to fund financial aid in 2024–25, said Kathy Hastings, interim deputy director of communications at the North Carolina State Education Assistance Authority. Students who qualify are "guaranteed a base level of support of $3,000 per year for a community college and $5,000 a year for a [University of North Carolina system] four-year institution. And then those students who need more will get more support."
The report also says students in the state are expected to receive a further $106 million in Pell Grant awards.
"On the whole, almost every student will receive more in total aid, however, because our formula works to guarantee a certain amount of total aid, some students will see a shift in the split between state and federal funds," Hastings said. "There are a small number of students that, due to the federal changes in the SAI calculations compared to EFC, would lose funds over all."
The state's Education Assistance Authority is providing one-time funds to public institutions to help out in these instances, she added.
Other states highlighted in the report include New Jersey, where the average out-of-pocket cost is anticipated to be roughly $3,000 lower under the new formula, and Kentucky, where Pell Grant awards are estimated to increase by a more modest $500. The report does not include representative data for all 50 states.