You have /5 articles left.
Sign up for a free account or log in.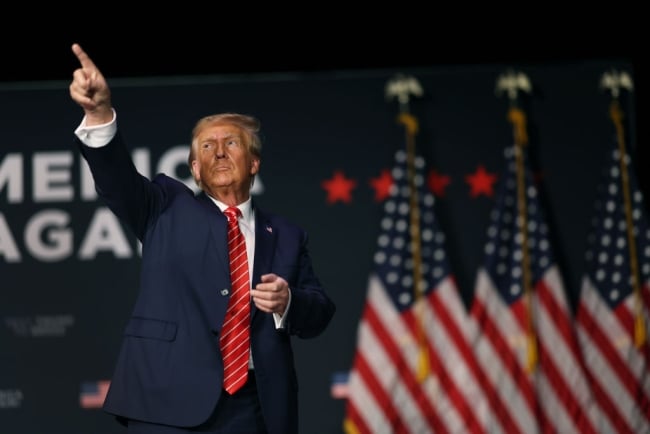 Americans could have the chance to attend a free online college where they could hear lectures on ancient histories, get an introduction to accounting or train in a skilled trade, under a plan former president Donald Trump revealed as part of his campaign to return to the White House.
Trump, in rolling out his plan last week for what he is calling the American Academy, said he's seeking "a revolution in higher education." Experts, however, aren't so sure that the plan will move forward at all if Trump is elected. But the vision for a national college funded with taxes on wealthy private universities reflects the growing bipartisan frustrations with American higher education, particularly about the cost, experts said.
The plan also picks up on a range of reforms that some have been working toward for years. That includes offering students credit for prior learning, speeding up how long it takes a student to complete a program and leveraging online platforms to expand access to higher education.
"It certainly sows the seeds for something innovative to happen in the next Republican administration that really moves the conversation beyond just fixing the student loan program," said Steve Taylor, a senior fellow on postsecondary education at Stand Together Trust, which wants to see policy changes to make college and education alternatives more affordable and accessible.
Trump paid relatively little attention to higher education in his first term. This latest plan shows a second term might look different and that issues around colleges and universities might play a bigger role in the 2024 election. He's already proposed a plan to replace "radical left" college accreditors and impose new standards on the nation's colleges and universities, which include removing diversity, equity and inclusion staff members and protecting free speech.
More recently, Trump and others have been critical of how students and institutions have responded to the Israel-Hamas war. Trump is also trying to tap into that frustration with this free college plan.
"We spend more money on higher education than any other country and yet, they're turning our students into communists and terrorists and sympathizers of many, many different dimensions," Trump said in the video. "We can't let this happen."
Trump also pledged that at American Academy, "wokeness or jihadism" will not be allowed.
Robert Kelchen, professor and head of the educational leadership and policy studies department at the University of Tennessee at Knoxville, and other experts interviewed said the free college plan is more about messaging than enacting actual policy.
"It's capitalizing on public frustration about higher education, and I think the reason it's being announced now is the fights about the Israel-Hamas war on college campuses," Kelchen said. "I think it suggests frustration with the political direction of higher education. Trump thinks he can score political points by basically poking higher education and saying that they're too liberal and woke and that his university won't be like that."
He added that Trump's rhetoric on so-called wokeness sounds more like a page out of Florida governor Ron DeSantis's playbook. DeSantis, who is also running for the Republican nomination, has sharply criticized what he sees as "woke" colleges in Florida, instituting a number of reforms and overhauling the leadership of the liberal arts–focused New College of Florida. Experts had predicted that his presence in the race would push higher education issues to the forefront of the Republican primary, but that hasn't quite happened yet, based on recent debates.
"What DeSantis is doing in Florida is not entirely inconsistent with the genre of ideas that Trump has proposed," said Beth Akers, a senior fellow focused on higher education at the right-leaning think tank the American Enterprise Institute. "It may be that he is kind of glomming on to the success that DeSantis has seen in Florida."
Akers, who said the concept of a federally created free college doesn't make much sense and isn't politically viable, sees the plan as a vehicle for Trump to express his "antiwoke ideology," similar to the bills proposed to ban diversity, equity and inclusion policies and programs in K-12 and higher education.
"It's not clear where else you can put into practice the antiwoke agenda other than through education," she said.
Still, seeing presidential candidates propose a sweeping higher education plan like this is relatively new, she said.
"Every major presidential candidate in the last election cycle had a reasonable proposal on higher education, so I expect that to continue," she said. "I think we've seen more attention from congressional lawmakers as well in the past few years in response to President Biden on [student debt] cancellation attempts."
She said that policy makers and voters are more energized on the issue of higher education broadly.
"It has come to the point where higher education feels like a mainstream political issue on which voters are looking for their representatives to have a point of view," she said.
How Trump Would Pay For It
Trump's academy would be paid for by taxing the endowments of private universities. A current tax on endowments that total at least $500,000 per student brought in about $244 million in 2022, according to Politico. Trump said in his video that the federal government would collect "billions and billions of dollars" from the universities through taxes, fines and lawsuits.
Politico also reported that the Trump campaign hasn't decided who would run the American Academy. The Trump campaign did not respond to a request for more information.
Trump said his plan would help the nearly 40 million Americans who have some college but no degree—a group that many postsecondary institutions have begun to focus more on as they face enrollment drops and a pending decline in the number of Americans of traditional college age.
"Most importantly, the American Academy will compete directly with the existing and very costly four-year university system by granting students degree credentials that the U.S. government and all federal contractors will henceforth recognize," Trump said in the announcement.
Kelchen said offering a free online college could reach a broader swath of the country and speculated that such an approach, if enacted, could hurt other colleges and universities.
"Since the GI Bill and going forward, there's been the decision to fund students instead of colleges, and that's helped support thousands of colleges and universities," Kelchen said. "To create, essentially, a free public option could really cut into those other institutions. It's kind of like the health-care debate and having a free public option, which conservatives abhorred."
Taylor, of Stand Together Trust, said that Trump's plan for paying for his new institution would generate "much hostility and opposition" from the higher education establishment. He'd prefer that federal policy makers give current institutions more flexibility and incentives to grant credit for prior learning experiences and innovate along the lines of what Trump is proposing rather than spending money to create something new.
"It doesn't need to be some government-run national university," he said. "I just don't trust how that would play out. The government's not excellent at running other businesses and institutions, so I'm reticent to see them run a university."
Taylor said the plan reflects "restless discontent" with higher education over all, with people on the political right worried about diversity, equity and inclusion policies and other cultural issues on campuses and those on the left concerned about affordability and rising student loan debt.
"On the right, Trump's response is free college, but where the reins of traditional higher education and the ivory tower don't have the same level of influence," Taylor said.
A New Spin on an Old Concept
Kelchen said he would've expected the idea for a free national college to come from Democrats, particularly as efforts to create some form of free college have gained momentum in recent years. President Biden included a measure to fund two years of community college for eligible students in his recent budget proposal. House Republicans criticized that proposal as a "free college fantasy."
Biden and officials in his administration have been critical of how much a college education costs and questioned whether students and taxpayers are getting a good return on their investment. The Education Department has rolled out a number of policy changes in the last few years to overhaul the student grant and loan system that funds higher education and hold institutions accountable.
The idea for a national university or college isn't new, though Trump's plan is radically different from what Congress considered around the time of the country's founding, experts say. President George Washington left money in his will for a national university. Congress voted down that plan, though, in part because of concerns about states' rights and creating a strong federal government. A national college similar to what Trump is proposing would likely increase the size of the executive branch, even as conservatives want to see the Education Department dismantled and the role of the government reduced, experts said.
George Thomas, a professor of government at Claremont McKenna College who wrote The Founders and the Idea of a National University: Constituting the American Mind (Cambridge University Press, 2015), said Trump's vision has some overlap with previous efforts to create a national college, from the focus on credentialing people to work in government jobs to the concern about the curricula at other colleges and universities. He said that part of why the country's founders wanted to create a national university was "to cultivate the mind-set and habits and understandings" in its citizens that were essential to liberal democracy.
"Trump's latched on to something that's going to resonate, at least, but it's not like he's thought it through," Thomas said.
Trump's pledge to create a free college funded by taxes on wealthy universities has echoes of his 2016 plan to build a wall along the U.S. border with Mexico, which he said Mexico would pay for. The "build the wall" refrain resonated with Republican voters, and some experts think something similar could happen with the free college plan.
"Trump has a talent for finding the places that spark debate," Thomas said. "It could have real staying power."