You have /5 articles left.
Sign up for a free account or log in.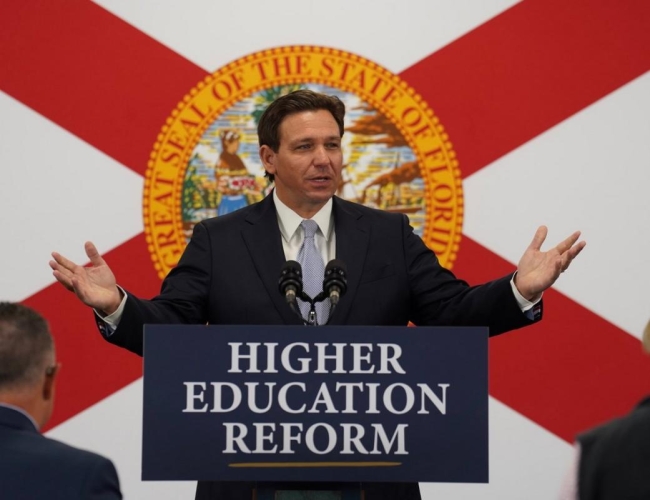 Higher education's accreditation system violates the Constitution, Florida governor Ron DeSantis alleges in a new federal lawsuit against the Biden administration that's aiming to strip accreditors of their authority.
"I will not allow Joe Biden's Department of Education to defund America's #1 higher education system all because we refuse to bow to unaccountable accreditors who think they should run Florida's public universities," DeSantis said in a statement.
Colleges and universities have to be accredited by an Education Department–recognized accreditor in order to receive federal student aid, according to U.S. law. In recent years, some institutional accreditors have spoken against state lawmakers' efforts to reshape higher education and have become the target of criticism.
"Accreditation standards are not advisory or optional," the complaint says. "Rather, all postsecondary institutions must be accredited by a recognized accrediting agency to be eligible for any federal funding programs for higher education. Making matters worse, colleges and universities cannot freely choose their masters, as federal law requires them to show 'reasonable cause' to change accreditors."
DeSantis has long focused on accreditation as a problem, and former president Trump has picked up on that line of criticism as part of his 2024 presidential campaign. Other conservative groups are also starting to focus on the role of accreditors.
"Governor DeSantis is now bringing his culture wars, like book bans, to the long-standing system that helps ensure students receive a quality college education," the White House said in a statement. "This administration won't allow it. We're committed to ensuring all students receive a high-quality education, and will fight this latest effort by opponents to get in the way of that."
Florida passed a law last year that required state colleges and universities to change accrediting agencies every 10 years. The complaint argues that the Education Department has issued guidance over the last year to make it more difficult for a Florida college or university to switch accreditors. The state wants a federal judge to at least toss out the guidance.
"Governor DeSantis and I believe a high-quality education should be held to the highest standards," said Ray Rodrigues, chancellor of the State University System of Florida, in a news release. "The University of Central Florida's goal to become a preeminent university and join the American Association of Universities is better supported by joining The Higher Learning Commission."
The Southern Association of Colleges and Schools Commission on Colleges is currently the accreditor for Florida institutions.