You have /5 articles left.
Sign up for a free account or log in.
University of Alaska at Anchorage
Melanie Hulbert first caught the bug for academia in her introductory sociology class. Hulbert found herself drawn to the subject matter. She became more and more engaged in the course, sitting in the front row and interacting with the professor outside of class.
"I can honestly say it was that class that changed the course of my life," Hulbert says.
Now, two decades and a career in higher education later, Hulbert is still in touch with her sociology professor and helps students at the University of Alaska at Anchorage create meaningful relationships with faculty members, advisers and their peers to reach their own goals.
Hulbert spoke to Inside Higher Ed about her first year at UAA as vice provost for student success, her perspective on student experience management and new student-facing programs launching this fall.
Q: How did your career trajectory lead to your current role?
A: I landed my first job at a faith-based private institution outside of Portland, Ore.—George Fox University. It was an amazing first go-round as a scholar and a professor, and I learned a lot in those 10 to 11 years.
After a while, the department had shrunk and it was just me, the only sociologist left plus the adjuncts. I really wanted a community of scholars, so I looked out in Colorado. There was an opening for a sociologist at Western Colorado University. I started my first year as a sociologist and associate professor, and within a year, the provost had reached out to me and said, "Hey, I know we just hired you as a as a sociologist, but what would you think of administration?"
As a sociologist, and just me as a person, I like knowing what's happening institutionally. I know what it takes to make a difference in a classroom, and I was always learning, but what about the big picture of students? That was in 2015, and I've been in administration since.
I spent a year as the as the vice president for student affairs, which was again moving from academic affairs to student affairs [at Lees-McRae College in North Carolina]. And after a year, I arrived here in Anchorage as my new role.
I really think the trajectory brought me to a place that combines both of my passions as well as the work I've done: academic excellence; relationships with faculty; sense of belonging in higher ed; what it takes with the mental social, emotional, cultural needs that students have. When they arrive to college, if we can be a part of that, [it] is really helpful. I see this blending and why I love this job.
Q: What is different about your work at the University of Alaska at Anchorage compared to your previous roles?
A: What struck me about UAA is the culture here … is incredibly progressive in the sense that diversity of knowledge; diversity in terms of race, ethnicity; diversity in terms of Alaska Native versus Native Alaskans. It's our very nature, this diverse, kind of melding of cultures, and that, in essence, is portrayed in a very egalitarian leadership model.
Folks here understand to some extent DEIA and J [diversity, equity, inclusion, accessibility and justice] because they have to do that work every day. They're open to it. It's very clear in my interview, and in getting to know my colleagues, that they are some of the most humble people.
We do serve and respect and account for the Indigenous and Native populations, and we have both academic and nonacademic programs that are inviting students from far away villages [to a] home away from home—Alaskan Native success programs and Alaska Native faculty and staff.
We are one of the only three institutions in Alaska, with no community colleges in the entire state. We're the largest institution in Alaska, that serves folks who are 18 coming right out of high school, up to 50-, 60-year-olds that are coming back to school and everyone in between. That's what I like about it.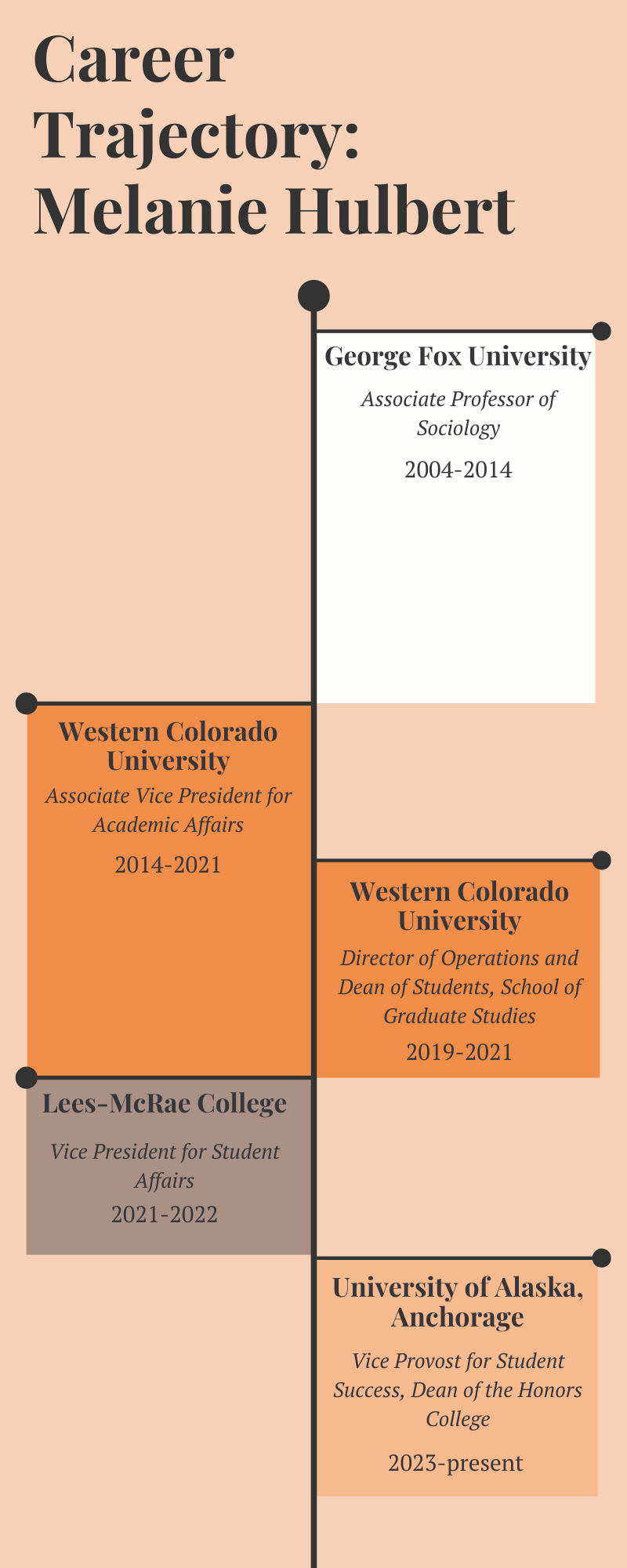 Q: What is student success to you, and what factors contribute to student success?
A: Student success, for me, is defined as really three goals.
That first goal is every student will know that they belong in higher ed. When we have so many first-generation students and students who are commuters and working parents, working folks, student success first has to say, "Our job is to make sure every student knows that they belong," because a lot of messages have come their way that they don't belong, or they're not cut out for it.
Secondly, student success relies on every student making at least one significant and meaningful connection with another person on this campus. Student success cannot just happen randomly. We have to have that Disneyland kind of approach. When you walk onto [a Disney] park, everything is perfect and the only reason it is, is because there's a whole cast and crew of people behind the scenes that are making it happen.
I want every student to have made at least one meaningful connection, because it's [first] hearing that you belong and then finding someone who also is willing to walk through it is important.
Then, student success is about us in these roles, showing up every day knowing that our job is to help students find a plan to stay on track to finish the race. I mean, that's our job … Our job is to make sure that you're finding the right path, you're going to stay on track and you're going to finish that race.
Q: What are the barriers to student success that you see and are targeting?
A: We do a really poor job in higher ed of not looking backwards at how and why things got there in the first place, like our practices and our policy.
We have to first look at ourselves and how we run the shop. In any policy or program we're going to start, we have to first ask, "If we're going to ask students to comply with this policy or follow this practice, are we doing so without any undue burden being placed on any student group? Is there is there something that's happening where a certain student group is falling behind?" We can only do that through data collection and talking to the people who put those policies in place and being nimble enough to change them.
Secondly, we have to think about ourselves and how we communicate respect and care for our students. In anything we do, we are saying, "You're capable of doing this, and you're part of this learning community," and do our policies and our practices reflect that? Are we willing to talk about holds, and the type of holds that keep students from registering from classes? Do our policies and practices take into account the diversity and complexity of our students' lived experiences?
Finally, I don't think academic achievement is unintentional. It is often unintentionally undermined by challenges that [students] may encounter outside of their control. But we need to get those out of the way.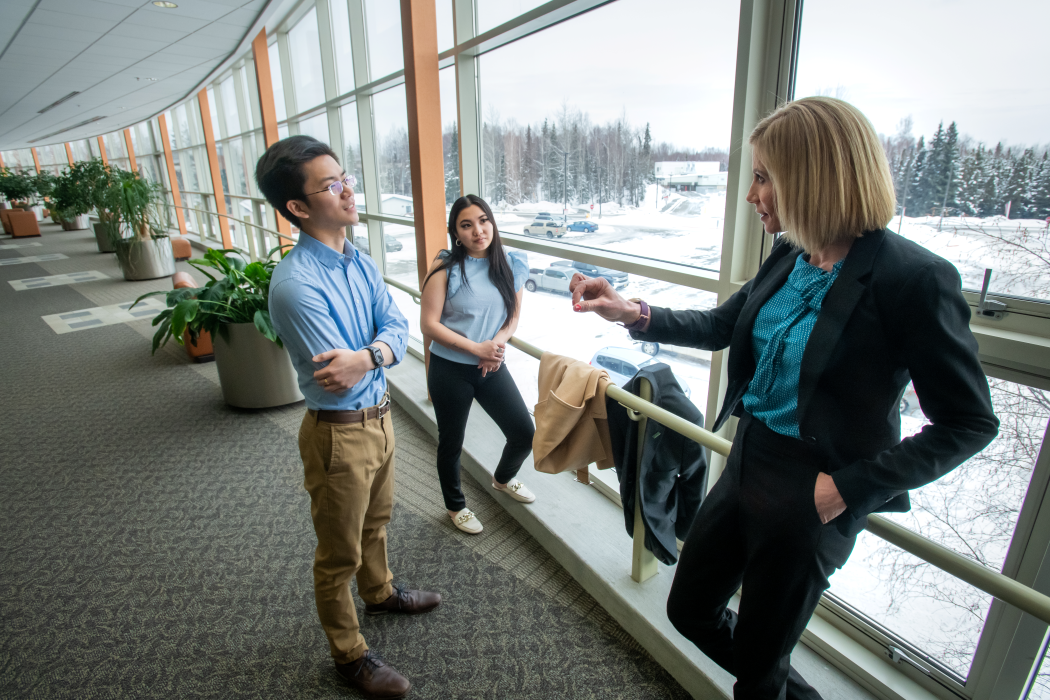 Q: What are some ways you're enhancing the student experience at UAA?
A: Some of the solutions that I'm working on right now fall into three buckets.
The first bucket is advising. We have completely reorganized, restructured advising at UAA. Academic advising used to exist just in colleges … and then we had a First-Year Advising Office as well. Although that was good, what ended up happening is, students were having very different experiences. You hear students say, "I don't even know who my adviser is," to "I see my adviser all the time" to "It takes two weeks to get an appointment" to "I got shuffled from one adviser to the next."
We kind of wiped the slate clean. We created an executive director of student advising; all the advisers fall under this one umbrella, they still live in their colleges, but now we're all using the same practices. We're all using the same technology, we're all assessing our effectiveness in the same way. We all have similar job descriptions with career ladders built in, and we're doing professional development because, let's be honest, sometimes our advisers, they're not just helping students plan courses, especially during COVID.
That first bucket of advising is critical, because with our students, that's oftentimes the very first person they'll meet. They may have met an orientation leader … but that relationship from the very first moment between a student and an adviser can set a course of success or can not, and we're working on that.
The second bucket is about peer-to-peer engagement. The literature continues to say, especially post-COVID, that relationships with another student—a student that has been trained and been professionally taught about engagement … is so important.
We're working on a learning assistant program where you have students that have taken that course before, they're not a TA [teaching assistant], they're not a recitation leader. They're part of the instructional team in the classroom.
I'm really excited about this particular peer-to-peer. We're piloting it in the fall, [and] we just had 10 faculty [members] sign up, which is great.
We put a couple students in the classroom with the professor … The learning assistant walks around and sits down—they're not a tutor, but they're there, they've learned because they're taking a course on pedagogy, how to get communication going, make sure the one that's quiet but maybe wants to say something is encouraged to—they're facilitators, they are problem solvers with students.
We're going to do an opt-out, not an opt-in, peer-to-peer mentor. Every student that comes in is going to be assigned a peer. And that peer is the concierge; think of the one-stop shop that you have on campuses … this is your one-stop person.
So that peer, from the moment of application, is reaching out and [saying], "Hey, I'm here for any question you have." It's also very strategic: that peer is sending nudges at the right time, [like] "We're right around first exam time, do you have a learning assistant? Do you know about our tutoring center? Here's a way to approach your faculty." My hope is that these peers will really be influential in that student's first 30 to 60 credits.
The third bucket isn't really a tactic or a strategy, it's more of an organizational management type of bucket. We have to, as professionals in the background, take on a case-management approach, much like you see in health care. I want admissions, financial aid, orientation, advising, peer-to-peer programming, faculty, to be working behind the scenes.
As you can imagine, that is a huge, huge undertaking. We're starting right now, we're really aligning our practices with admissions and orientation and registrar … so that students are getting what they need to know from us on time, and in the right time? I don't need all my first-year students to learn about career services before they're learning about, how do you log into our LMS? It's early and often, but it's at just the right time—it's a just-in-time kind of approach.
That organizational process is meant to follow the student life cycle, from pre-enrollment to retention to what I call studentship, to career preparation, and into graduation and postgraduation. That is just sitting down with people day in and day out, talking about their process. And we have done a great job just in this last year of minimizing the number of steps a student needs to take, minimizing the number of messages they're getting.
It's really hard to be a student here, and it's not because of them, it's because of us. That is another key, I think, to student success, that we have aligned our practices and policies. It's not transactional. It's an experience, not an outcome. It's for everyone, not just a few. And it's what we do every day.
Student Success Champion stories highlight the philosophy, action and career trajectories of executive-level higher ed administrators whose work and job titles are focused on student success. Contact us to nominate a Student Success Champion.