You have /5 articles left.
Sign up for a free account or log in.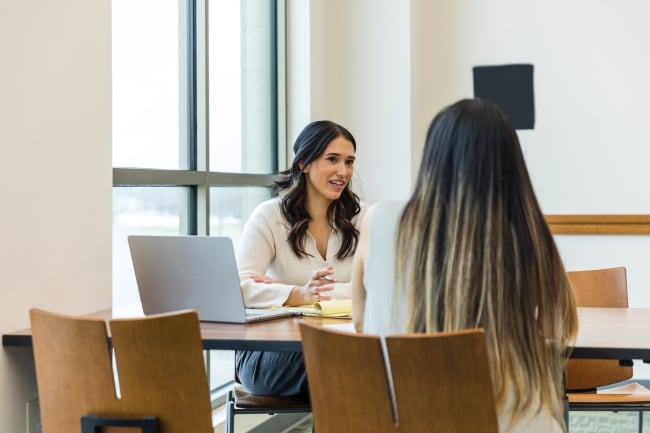 SDI Productions/E+/Getty Images
While student success is the top priority for many higher ed professionals, silos are not uncommon. The University of California, Irvine, is building student success connections by providing enrollment management analytics data to undergraduate advising staff, with the goal of establishing early and frequent academic intervention.
On a recent episode of the Anteater Insider podcast, Patty Morales, vice provost for enrollment management, and Danielle Primavera, director of undergraduate advising for the School of Social Ecology, spoke about the initiative and how it benefits students studying social ecology.
"We're really trying, in our engagements with our advising colleagues, to bring the student back, sort of emerging from that data again," Morales explained. "It starts from a student who ends up as application data. Now, we're reanimating that data and bringing the student back into focus."
What's the need: In enrollment management, understanding the student on an individual level—particularly in terms of success goals—is important as they move through their college career, Morales said. "It's incumbent upon us to deliver that experience that students wished for or imagined when they were in their application process."
Similarly, advisers promote student success by assisting learners in their academic lives at the institution, which often involves academic intervention for students who are struggling.
The impact: With the two departments working together, advisers receive timely, intuitive reports using data they can put to use when working with students.
Prior to partnering with enrollment management, UCI advisers had to manually go through students' files, which could take up to eight hours, Primavera said. Now, thanks to the partnership and using Enrollment Management Analytics (EMA) tools and staff, it takes advisers closer to 15 minutes to identify students' needs.
For example, UCI's enrollment management team created a tool that allows advisers to see which students haven't completed the Intersegmental General Education Transfer Curriculum, saving time and making appointments more meaningful.
Understanding student demographics across academic divisions is also accessible, thanks to EMA. For a faculty meeting, Primavera was able to search for first-generation students in the Social Psychology division and found 61.3 percent of undergraduates were first generation, a higher rate than the total student population.
"The faculty were really interested and excited to know that social ecology is playing such an important role in social mobility. They hadn't known that. Now, they're thinking, 'How can we better serve our students knowing their demographics?'" Primavera said.
The partnership also bridges relationships and storytelling with data analysis, Morales said.
"Without those dialogues, in the end, that back-and-forth, that iterative process, I think we're really leaving something on the table," Morales said. "I don't think we're fully realizing the potential of what's available to us."
Do you have an academic success tip that might help others encourage student success? Tell us about it.