You have /5 articles left.
Sign up for a free account or log in.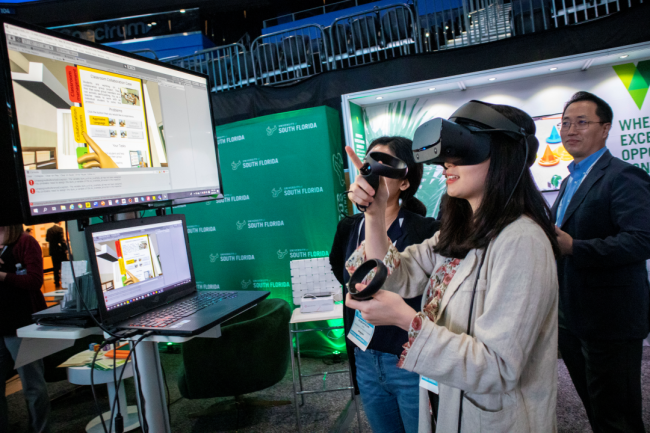 Sanghoon Park/University of South Florida
As a student, finding motivation to complete coursework can be a drag or an obstacle to academic success. A University of South Florida professor wanted to find a new and engaging way to motivate his online learners and worked with a colleague to develop a chat bot.
The chat bot RAMI, short for Regulatory Advisor for Motivation Inhibition, helps students identify the root of their motivational deficit and offers solutions to help.
What's the need: Sanghoon Park, professor of teaching and learning in USF's College of Education, has studied motivation for years and how motivational design and course design impact students' engagement with their learning. Motivational support is critical to persistence, retention, achievement and satisfaction of online students, he explains.
"We have to help our students to feel like they know how to deal with their motivation issues," Park says. "At the end, to learn you have to connect yourself with the new knowledge and try to digest that information and make it yours."
Professors of online classes, like Park, are at a disadvantage when it comes to immediate motivational support because they don't see the students physically disengage with facial expressions or body language. To bridge this gap, Park worked alongside then doctoral student Reginald Lucien, also the assistant dean for student success at USF, to develop a chat bot for online students to use.
RAMI development started in summer 2020 and continued throughout Park's fall 2022 sabbatical, finally making its way to the classroom in spring 2023. Park's research team, along with Lucien, includes Ariadne Herrera, Emily Fendrick, Alvaro Lazaro, Nischal Olety and Sydney Driscoll.
What it is: RAMI is linked on Park's online course page, and whenever students log in, they see the link with a message encouraging them to click for motivational support.
Once opened, RAMI introduces itself and asks for the student's name to personalize the experience. RAMI then asks what the trouble is with their motivation.
RAMI is able to deliver around 480 communication threads, addressing eight types of motivational issues.
Most students either have trouble understanding the course material, don't see the relevance of their coursework to their career goals or don't find it personally interesting.
After identifying the student's block in motivation, RAMI offers suggestions for strategies to move forward.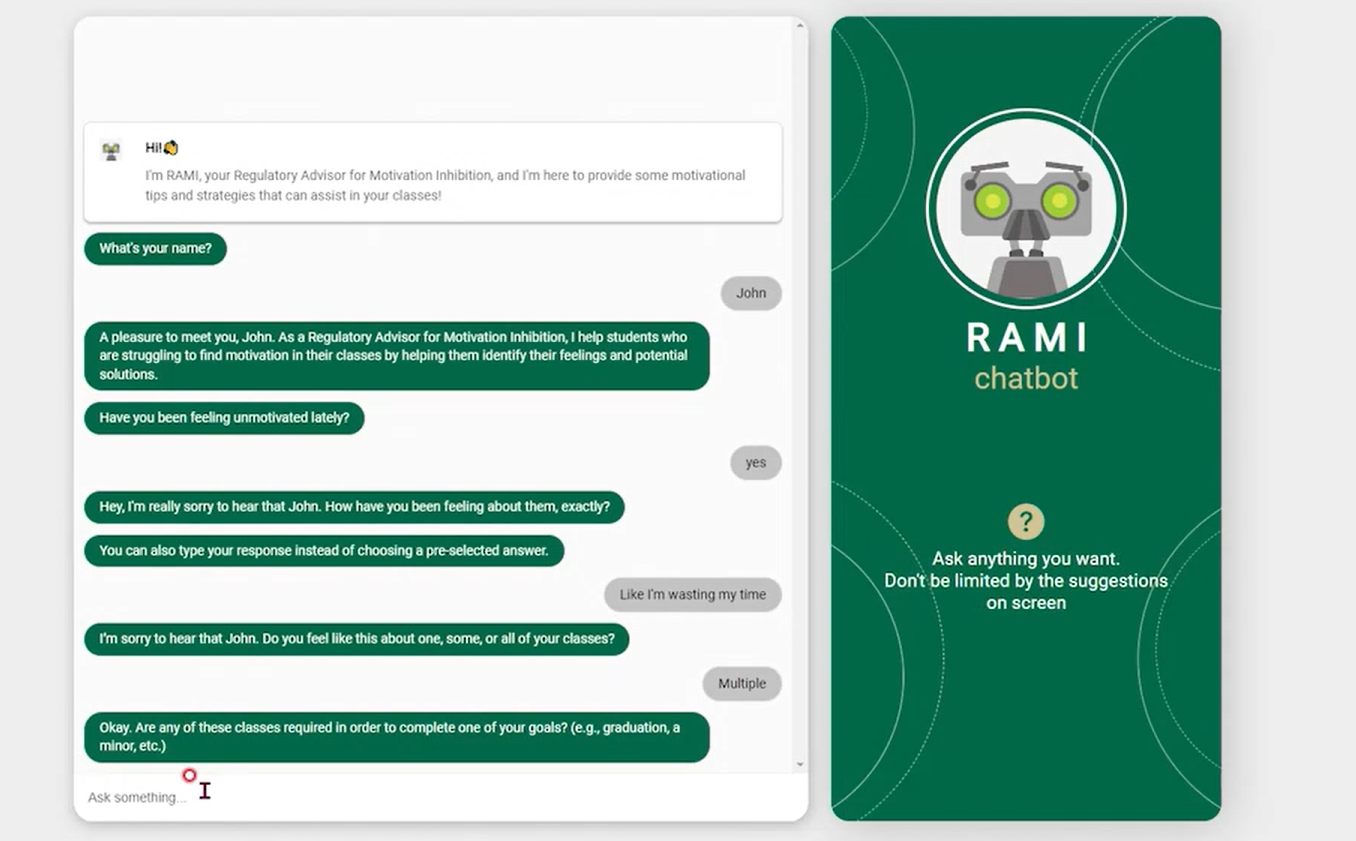 "That motivational suggestions and consultation process is based upon the motivation regulation model," Park says.
For a student unsure of where the motivational issue lies, RAMI offers examples of motivational struggles to help narrow down the potential challenges.
Once the student is satisfied with their next steps, as offered by RAMI, they return to their coursework.
Throughout the experience, RAMI uses the student's name, informal syntax, appropriate slang and positive language to make the experience more relatable and natural.
Providing enhanced support: Student engaged with RAMI for the first time this spring, and Park collected survey data to understand their perception of the chat bot services.
"Most of the students were fascinated, and they were positive about the role of RAMI," Park says, and one student wrote that RAMI should be included in every USF course.
Using data from the chat bot, Park can identify how many students utilize the services, time of day they're engaging with RAMI, when they end the conversation and the overall dialogue between student and bot.
Scaling up: Park will make enhancements to RAMI in the near future, most immediately creating a better conversation flow for students. An awkward or stilted conversation could frustrate students and reduce motivation further.
"Based upon the data, we check the flow of the communication and try to understand how many errors RAMI made when it responds to the student's questions and what kind of questions students ask and how can we make the connection," Park says.
Park also hopes to collaborate with other faculty members to learn how different disciplines interact with RAMI and how their individual coursework needs promote unique motivational strategies. While most students face the same motivational issues, the practical application may look different for a STEM major versus humanities major.
RAMI's breadth of knowledge will also increase in the second version, adding to the kinds of motivational elements it can speak about, like environmental conditions (student fatigue or time constraints, for example) and offering learning strategies.
"It's not going to be just a motivational chat bot anymore—it'll be more like a live online learning consultation," Park says.
If your student success program has a unique feature or twist, we'd like to know about it. Click here to submit.