You have /5 articles left.
Sign up for a free account or log in.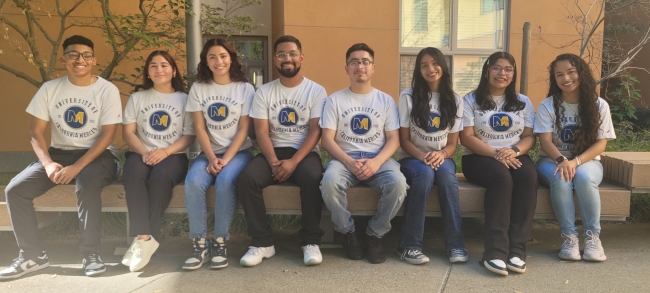 The first year the University of California, Merced, sent out its first-generation, low-income scholarship letters, recipients thought it was a phishing scam, says Charles Nies, vice chancellor for student affairs.
The $100,000 financial aid packet for four years in college seemed too good to be true, so students flagged it as junk and deleted.
Over the past decade-plus, UC Merced officials have learned to let student perspectives lead conversations about first-gen supports and to speak to them on their own terms, establishing feelings of trust and belonging among each Fiat Lux Scholars Program cohort and the larger campus community.
What it is: A four-year program, Fiat Lux offers Pell-eligible first-gen students holistic support, advising, financial aid and special events.
Fiat Lux launched in 2010, thanks to a grant from the U.S. Department of Education's Fund for the Improvement of Postsecondary Education, and supported 57 students its first year. Now, the program has cohorts of around 100 each year, with two designated staff members and student employees.
Fiat Lux stretches across the division of student affairs, with a foot in residence life, financial aid and the student success center, making collaboration and coordination key in supporting scholars well.
Eligible incoming first-year first-generation and Pell-eligible students receive a letter of invitation alerting them of their financial aid package and program requirements prior to the start of the term. Students receive $25,000 each year they participate in the program, meeting about 61 percent of their tuition, room and board, and other expenses.
What's different: In addition to attending a precollege orientation, first-year Fiat Lux scholars reside on the same floor and take a course together, providing exposure to university resources and how to navigate them.
"We recognize the potential administrative barriers as well as the landscape of higher ed, and how we often have our own language and our own processes that, if you're not familiar with, you miss out on opportunities because of that disconnect," Nies says.
During their first two years, scholars also have regular meetings with older peers who serve as academic scholars, as well as Fiat counselors, staff members who provide guidance on academics and college life.
Fiat Lux scholars have a special opportunity to meet with faculty members at a monthly faculty reception each term. The event is open to professors nominated by students for having a special connection, or those who are first generation and can share their own experiences to relate with students.
The banquet also provides a chance for faculty members to highlight their research projects and spark an interest in research among Fiat Lux scholars, Nies says. Around 70 percent of all UC Merced scholars participate in faculty-led research projects, but making students aware of the opportunities early is an institutional priority.
Balancing student feedback: Over the years, the program has changed to accommodate student needs and interests to enhance the first-gen experience. Older students who work with the program have been key to establishing Fiat Lux's direction, Nies says.
"We really tried to empower the fellows to help shape the experience and to provide that guidance," Nies says. "They're able to bring their own lived experiences and feedback into what we do the next year."
The faculty receptions were one event that was previously hosted as a luncheon at the same time every month. But student class schedules were fixed, so there were students consistently excluded from the opportunity. Feedback helped guide the current iteration of receptions, which now happen at different dates and times throughout the term.
One notable change was the notification of eligibility for the program, because many students thought the invite was too good to be true. Having proactive communication and opportunities to ask questions about Fiat Lux has been critical to the program's success.
The program requirements have also changed to allow for flexibility and student involvement on campus. Students have yearly requirements, like attending professional development experiences or workshops, that have flexed in recent years to allow learners to plug in to other groups at UC Merced.
Because Fiat Lux is a long-standing program, its leaders have learned to think holistically about a learner's journey and potential pain points. Making services visible, mainstream (as opposed to stigmatized) and open contribute to retention and overall student success.
"The more you can pull in different players from across the institution, whether it's academic advising or it's the counseling center, all of those different points of interaction with the student experience become really important to make sure that you're designing and creating a much more holistic approach," Nies says.
Seeking stories from campus leaders, faculty members and staff for our Student Success focus. Share here.
This article has been updated to correct Charles Nies' title and the name of the shared seminar course among Fiat Lux scholars.