You have /5 articles left.
Sign up for a free account or log in.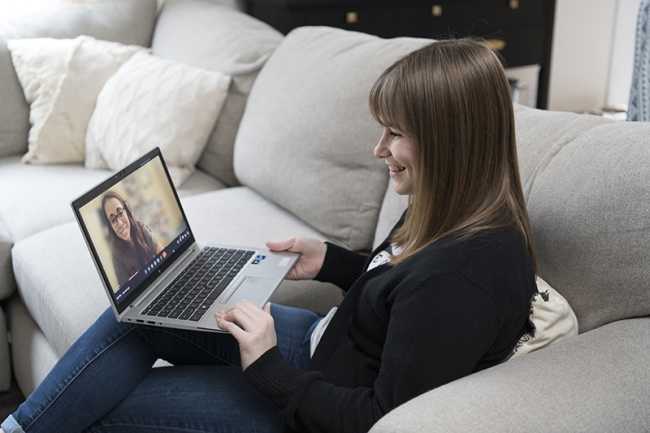 John Underwood/Purdue University
Purdue University Global, the online-only branch of Purdue University, launched student success coaching for its learners in January, offering academic help and connection to basic needs services and other resources to promote success and retention.
Following this first semester, the university plans to grow its coaching team by 300 percent, adding 18 new coaches over the summer to expand capacity and offerings to adult learners.
What's the need: Purdue's flagship campus in Indiana offers peer success coaches, student coaches and online success coaches, providing a model for the start of Purdue Global's work.
Prior, Purdue Global had offered academic advising, but success coaching roles are designed as an added support.
"We know one of the major reasons why adult learners leave the higher learning setting is because stuff comes up in their lives," says Karen McGregor, executive director of student success. "We want somebody to be able to walk alongside them and help the students [find a] solution and help them stabilize."
Many of Purdue Global's learners are working adults or caregivers; 58 percent of students are over the age of 30, 52 percent have a child or other dependent, 30 percent are military-affiliated and 48 percent are first generation.
"Our students are different, and so we feel that our approach needs to be a little bit different to help them," McGregor says.
How it works: Student success coaches at Purdue Global, similar to other programs nationally, provide one-on-one support for students to identify achieve academic goals. The difference at Purdue Global is the online-only method, which presents unique challenges and opportunities for the coaches.
Success coaches undergo a month of training around holistic care before working with students, to ensure familiarity with Purdue Global resources and external partnerships.
This spring, success coaching was available in two colleges, and students were automatically assigned a coach.
Intake coaching helps identify the root cause of a student's barrier to success, says Ashley Flood, one of three managers of Purdue Global's student success coaches. "We know that they may be failing one or two classes, but why are they failing? So digging a little bit deeper into that, the why."
Most students struggle with time management and balancing all elements of their life, whether that's work, caregiving responsibilities or extracurricular activities on top of their academics.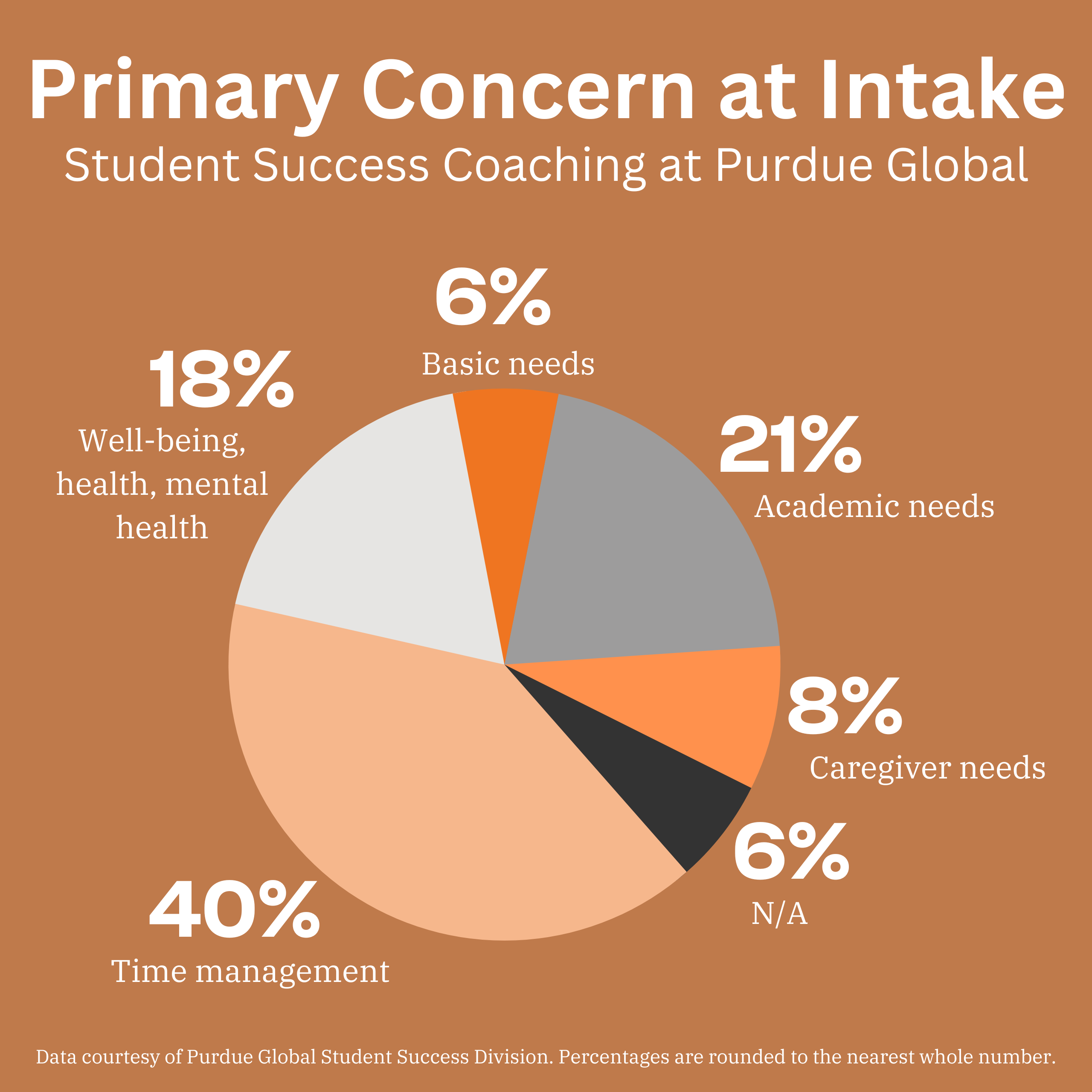 During each session, the success coach and student create a success plan to identify the root problem, barriers that exist as a result and action steps the student can take after the meeting.
"We know that if you take a small step forward, then you're more likely to have that snowball effect of more positive things that you're able to accomplish or get done," Flood says.
In follow-up meetings, success coaches keep students accountable with their success plans and create new plans as needed. Coaches can also text, email or call a student to check in on their progress.
Finding solutions: The goal at the end of the program is for students to be more independent in solving their academic problems, Flood explains. For example, rather than partnering with a coach to receive help from a professor, the student will be able to craft an email or visit office hours to find solutions to their problem.
Sometimes student success coaches encounter a challenge with a student that they cannot solve independently, like a basic need insecurity or a health concern.
"If a student needs to be referred to a different department on campus, we have a process in place to have a warm handoff for that student, so they don't feel passed around," Flood says.
Most often, students think stopping out is the best solution to their problem, and while a student may need to pause their education depending on their circumstances, a success coach will remain in touch with the student to assist in transition back to learning.
What's next: Since launching the program with six coaches, the coaching staff had grown to 15, as of the first week of May. The goal is to bring the total number of coaches to 24 by July to create capacity for all of Purdue Global's learners.
Success coaches will also track metrics related to students served, with increasing work with students on academic probation as one focus.
"We want to make sure that the students who are here are better off than when they started," McGregor says.
If your student success program has a unique feature or twist, we'd like to know about it. Click here to submit.