You have /5 articles left.
Sign up for a free account or log in.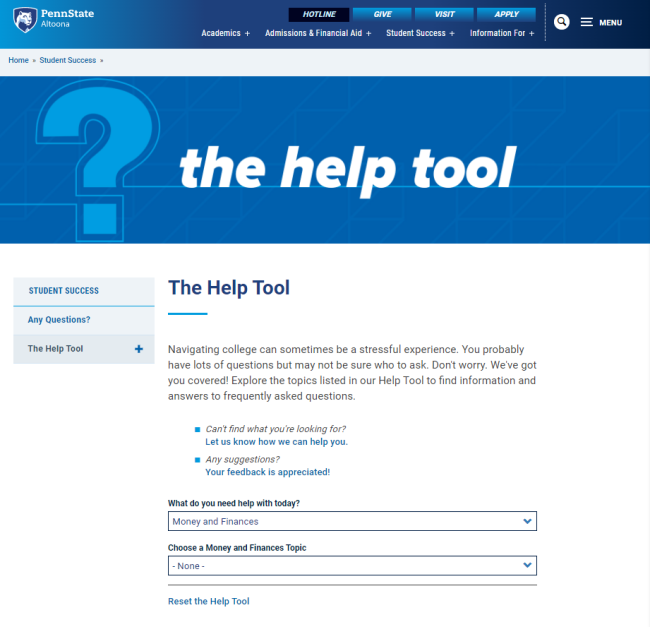 For a student looking for help, identifying the various resources across departments at their college can be a challenge.
Pennsylvania State University at Altoona took an alternative approach. Rather than making the student identify where to go, administrators created an interactive webpage that helps students search for resources by their needs.
The site compiles information across sectors at the university, breaking information silos and creating faster access to support.
"The driving factor of building the tool was that we wanted to frame the amazing support services we had on campus already to be more easily found on our campus website," says Danielle Fry, associate director of student success. "We were thoughtful of student language, needs and trends as we built the site."
How it works: The tool, which lives under the Student Success division of PSU Altoona's website, is promoted at the top as an option for students who can't find what they're looking for.
"We challenged the notion of how typical college websites are organized for student support—not considering what department sponsors a particular service, simply making sure students knew it was there," Fry says.
On the webpage, the help tool offers a drop-down menu of things a student may need help with. Topics include basic needs/daily living, academics/classes, accommodations, health and well-being, technology, things to do, finding space, safety and support resources, money and finance, career planning, preparation for graduation, and other.
After selecting a topic, students may answer a follow-up question. For example, if the student is looking for a space, the tool narrows options to social, study, commuter, faith, meditation or safe spaces. For a student looking for housing support, the tool filters information by the student's current living situation, on or off campus.
There's also an option at the top for students to indicate they're in crisis and need immediate help, which offers crisis line numbers to call.
If a student still can't find the resources they need, the help tool has a submission form to provide a personal inquiry, which the director of strategic communications assigns to the appropriate personnel. That form's instructions note, "You probably have lots of questions but may not be sure who to ask. Don't worry. We've got you covered!"
Looking ahead: The interactive tool launched in April, and traffic immediately spiked, with over 350 visits in the first five weeks, significant among the campus's 2,500 students.
Faculty members can also add the help tool to PSU Altoona's learning management software, Canvas, making the tool more accessible and visible.
For future development, PSU Altoona staff set up a feedback form on the site, soliciting input from students on areas of improvement or suggestions to refine the tool.
Get more content like this directly to your inbox every morning. Subscribe to the Student Success newsletter here.