You have /5 articles left.
Sign up for a free account or log in.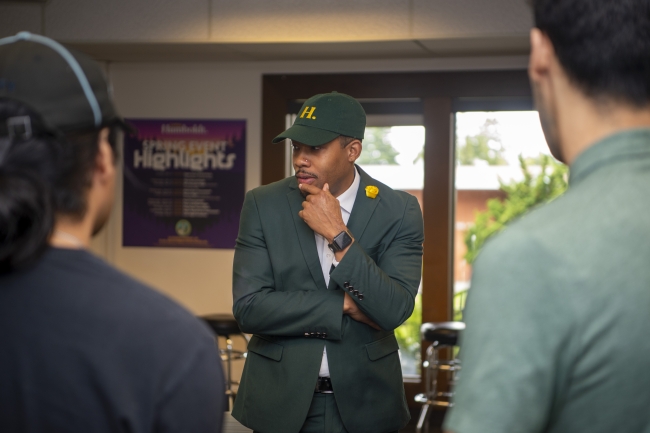 Mitch Mitchell is a Washington, D.C., native; a mass communications researcher; and the newest associate vice president of student success and dean of students at California State Polytechnic University, Humboldt, in Northern California.
Mitchell started his career in higher education working for his alma mater, Elizabeth City State University, in North Carolina, gaining experience in student affairs and later advising and counseling at Umpqua Community College and Goshen College, respectively.
In his new role, Mitchell is responsible for student advocacy and support services like the Office of the Dean of Students, student access services, the Office of Student Life, the Gutswurrak Student Activities Center and the cultural centers for academic excellence.
Mitchell spoke with Inside Higher Ed about his work in diversity, equity and inclusion; the measures of student success; and his goals for his first year at Cal Poly Humboldt.
Q: What attracted you to this role?
A: I grew up in a diverse environment, so I'm used to diversity, and starting off on my journey, I wanted to be able to support students that look like me and students that don't look like me, that come from different environments.
When you think about diversity, either diversity comes in or you go to an environment to make that more diverse. So I took the latter opportunity to make opportunities more diverse.
I think representation is also important. In higher ed, the budding terminology is DEI: diversity, equity, inclusion. But there's also representation—how are people in places and spaces to make students feel comfortable—because students need to be able to see themselves in every place. Not just in the student population, but the staff population, administrative population need to have people who represent them to help them navigate that system.
I have a student-centric mind-set. I tell my students all the time, even inside the classroom, that I remember when I was in your seat. It seems like just yesterday, and I think the fondest compliment that I get from my students (even though I call myself a cool nerd and my students think I'm hip, right?) [is when] they say, 'Yo, Dr. Mitchell, you know, if we were in school together, I think we'd hang out." You would hang out with me?! So I'm that cool guy that kind of gets both sides of the fence; I can encourage and motivate students to be better versions of themselves.
Q: What's your philosophy for student success and how does it relate to your work?
A: Sometimes we think about it in a monolithic way. From maybe from an academic standpoint, we think about student success.
My goal is to support students and champion for them holistically, so students can be the best versions of themselves. I think it extends beyond the academic umbrella. Student success goes hand-in-hand with student engagement and student affairs, and it's an opportunity where we believe in involvement and engagement to create co-curricular learning opportunities for our students, making the best versions of themselves.
I think it's sections, when we come to student development—personal development, well-being, self-awareness, self-management, how to regulate your emotions, self-authorship is important, but also teaching students good adulting—how to be accountable and responsible for what they're doing. Then their social engagement and involvement and awareness, then emotional skills.
Students are coming out of a lot, and students go through a lot, and helping others understand that it's a challenge to be a young person. Our responsibility is to help them be good adults, good stewards, critical thinkers, decision-making [people].
But then more so of character development. I think it extends beyond—you'll hear the buzzwords of "Students need to be resilient." It takes more than just being resilient. Some students, especially students at our margins or underrepresented population, we keep telling them to be resilient, to be successful and then become change agents to mobilize their community, mobilize their environments and empower.
So my thing is, first, I want students to learn who they are and challenge who they are. Challenge their beliefs, challenge what their parents told them, challenge what environments they're in. Then move and start learning [about] others around you, learn your community, learn your environment, then learn to critically think and make decisions, conscious decision-makers, right … And then help them to learn and grow to develop a worldview, after they understand their worldview, then understand the world around them. And then lastly, understand how they can impact the world.
I want them to move from being an individual to having a collectivist mentality, where it's a community with community engagement, community responsibility.
Students need to be able to see themselves in every place. Not just in the student population, but the staff population, administrative population need to have people who represent them to help them navigate that system.

Mitch Mitchell, associate vice president for student success and dean of students
Q: What are the measures of student success to you?
A: When all students succeed. Simplistically, when all students grow and develop. The person that you walked in as your first year, you walked out a different person. You walked out confident with the skill sets that you need to be global citizens to take over the world.
We have assessment numbers and assessment measures, as far as quantitative and qualitative. Qualitative may tell sort of stories as far as metrics in terms of analytics of how many people showed up, or how many people did this and so on and so forth. And some people love those. But I am a qualitative researcher. What is the experience of our students? What are they saying? What are they feeling? What are they thinking? What do they care about? What are they passionate about? And when we can honor that and challenge that it helped them working in purpose, in their space, then I think we are successful.
Q: How do you promote diversity, equity and inclusion in your work?
A: I think that's important, personally and professionally.
You think about some of our students and where they come from. Everyone wants this diversity, but are we building and equipping a system that can meet the needs of our diverse students? It's great to have diverse numbers, but you have [to have] systems in place to make them successful. Right now, 43 percent of our students are first generation. That's a huge number, almost half of our population, first-generation students, and then 45 percent of our students are students of color. That's a large number. Most of our students, you know, intersectionality between those two, and then we're [a Hispanic-serving] institution.
I look at them as an extension of me. I tell my students if there's not one in your environment, then you be that. I want to see them in every space in every face on campus. I want them to feel comfortable leading.
We have [cultural and academic] centers, which is really unique and dynamic that we're doing some great work. We have the El Centro center, we have the Umoja center, we have the ADPI-MENA center for Asian and Pacific Islanders, and we have ITEPP centers, and they're doing sensational phenomenal work in these areas. It's a place where we celebrate our students. It's different from getting numbers and doing things for tokenism. We are celebrating, embracing everything that our students are doing, we're championing for them.
Not only in that space, [but we think about bringing students in; it's a community. So not only are our students going out in the community, but we're bringing these communities in to show this as a space and a place for you. We have some creative things that we're going to connect with, and our alumni, too, to bring them back, especially our BIPOC minorities. We're building a peer-to-peer model and also giving them an opportunity for them to be mentored by former students that look like them.
It's a process. My focus and goal is to make it the most diverse campus in the system. We're well on our way. I think 45 percent of our students are students of color. We may be in the north, but this is a place for everybody to succeed.
Q: What are your goals for your first year in this role?
A: For the first year, to really embody student success and engagement. To be student-centered. I want us to be the champions on a global stage, or at least on a national stage, where people are looking to see what's so unique and dynamic about Cal Poly Humboldt.
Sometimes people wait to build the bridge, right? We are building the building and the bridge and the systems right now before they come. We're not going to wait for you to get here, to arrive. We're building it now. The needs of our students, underrepresented students, or our majority students—we're building the systems in place now so when they come, this is their home.
We [will] evaluate and assess the things that we're doing, figure out what we're doing great and think about what growth opportunities that we have.
But also, being partners with students, I think, bringing students into hearing their voice. Many times we do a lot of research and we survey our students, but sometimes casual conversations outside … create open spaces for students to have dialogue so they can work in partnership and attainment with us. And then work with Associated Students to make sure that we are building a campus that is creating opportunities for them to be successful.
Seeking stories from campus leaders, faculty members and staff for our Student Success focus. Share here.