You have /5 articles left.
Sign up for a free account or log in.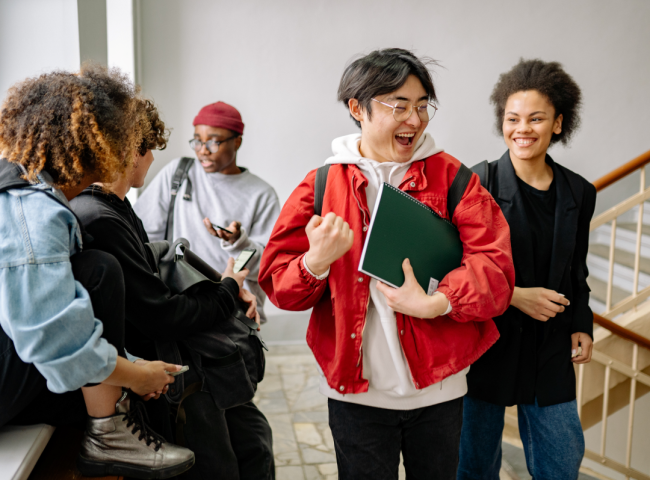 Extracurricular activities can be a critical piece in student success, as they promote belonging, offer experiential learning and leadership opportunities, and contribute to a thriving and happy campus culture.
Faculty and staff can play a key role in helping students launch or scale extracurriculars, but keeping student ownership and autonomy remains paramount.
Two college staff members reflect on their experiences aiding in student organization development and what they learned from high-achieving and dedicated students.
Miles McCunniff: Letting Students Lead
Miles McCunniff serves as the corporate outreach relationship manager for the University of Utah's career center. After the university returned to in-person instruction after the COVID-19 pandemic, McCunniff looked to strengthen relationships between student organizations and the Career Success office.
The Outdoor Industry Club "was starting from near scratch after the pandemic had made the club inactive," McCunniff says. Five sophomores served as club leaders and were looking for support from staff to host their first annual Outdoor Industry Show.
"After finding me and connecting, I was able to encourage the students with advice and suggestions while still letting them take the lead and learn lessons along the way," McCunniff says.
McCunniff believes staff should be a source of guidance and periodical assistance, to provide encouragement and point them in the right direction while still letting students learn and lead.
"Being a fairly recent graduate and having interest in the clubs' goals, I was able to offer suggestions and give advice, very loosely guiding them, to where they still had work to go and do and decisions to make as club leaders for the event to be created and eventually run successfully," McCunniff says.
The event was a success, with 400 students in attendance as well as 10 employers and a variety of other clubs participating. Students networked with other clubs and individual peers and engaged with local companies that offered career opportunities and products or services. "I heard afterward there was a couple of students who walked away from the event with jobs!" McCunniff shares.
McCunniff says he left the event extremely proud of the student leaders who put on the event and felt satisfied in his role of mentor. "Student clubs or organizations are meant to be run by students for the empowerment or engagement of other students, and the role of acting as an adviser to clubs can be tricky with not overstepping."
Joanne Cerdan: Learning From Mature Student Success
Joanne Cerdan, co-curricular programs coordinator at Humber College in Ontario, Canada, supports student success projects across campus and learned from a student how to better support nontraditional learners.
Cerdan worked as a student life coordinator and invited Meshanda Phillips, then a student, to apply for the Senior Peer Mentor program at Humber. A mother of two and a mature student (as Humber calls its older student population), Phillips didn't feel like the position was relevant to her experiences, prompting Cerdan to re-evaluate how the program was marketed.
Phillips did end up applying and as a peer mentor advocated for mature students on campus, promoting representation in events, creating a spotlight series around mature students' resiliency and organizing a networking event, which evolved into a conference and panel. Phillips also established the Mature Student Success Club to provide peer support for nontraditional students and connect them with resources for academic success.
By listening to student leaders, Cerdan and her office reflected on how to make the student experience more inclusive to all learners, whether that's changing language in a job description or accommodating students with competing priorities.
"Institutions tend to overlook the important role family and friends play in the success of a mature student's academic journey, and as such they often miss opportunities for family to be integrated in their journey," Cerdan says.
Working alongside Phillips, Cerdan learned from the lived and professional experiences of mature students and hopes institutions can further explore how experiential intelligence can be leveraged and credited.
This story was submitted to us from readers just like you! Share your student success initiatives with us here.