You have /5 articles left.
Sign up for a free account or log in.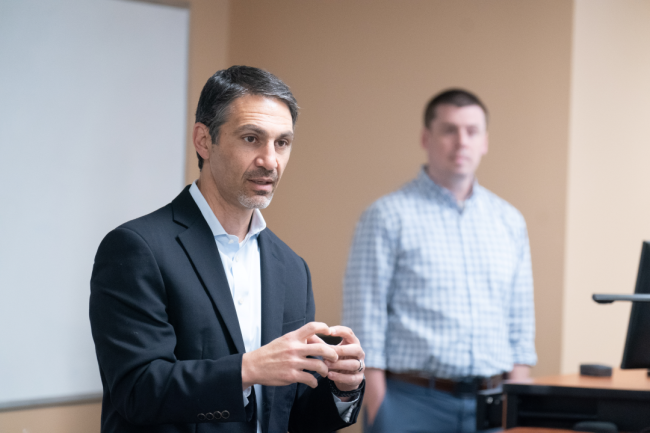 The Belmont Data Collaborative at Belmont University in Nashville, Tenn., launched in August 2021, with two goals: to infuse data into education for faculty and students at the university and to create a positive impact on the surrounding community.
BDC was a $60 million investment by the university over five years, designed to equip students with data skills for the workforce by collaborating with local groups to meet their data-related needs.
Since launching, the collaborative has positively impacted Belmont by making data a key part of campus life, encouraging an administrative prioritization of data-based decision-making and creating change in the surrounding community.
Data for student success: Building a data culture at Belmont is less about hard data skills and more about reframing data and how the community approaches data, explains Charlie Apigian, executive director of the BDC.
Data, in Apigian's perspective, are anything that can capture reality. "That can be a conversation, it can be text, it can be images, it can be music. I don't care what it is, but whatever we're using to make better decisions based on information from the past."
While a few students may jump in to experimenting with data sets, data can and should be explored by every major in every discipline because of its value to career development and workforce needs.
When the collaborative launched in 2021, Apigian says he had to "sell it that everyone needed data skills. Now, we've got ChatGPT, we've got artificial intelligence all over the place, so it's an easier sell today."
For students, the university hosts "hacakthons," in which it invites students from Belmont and other universities to use a data set and solve a hard problem. The 2021 event centered on rights and ownerships of over 21.5 million songs to support the Mechanical Licensing Collective.
A student group, the Belmont Data Experience, also hosts various events and encourages curiosity among their peers.
Positive partnerships: When working with outside organizations, the focus of the Belmont Data Collaborative is "data for good," Apigian explains.
So far, the collaborative has contributed to projects related to hypertension in Nashville, human trafficking in the state of Tennessee and mental well-being issues in middle Tennessee. Students contribute to the data projects, giving them hands-on experience in data science.
The group prefers to work alongside nonprofit or community-focused organizations because "Belmont likes to be a good neighbor," Apigian says. Often these groups have piles of data they have yet to sift through, making them an ideal candidate for Belmont to support their queries and dig through insights.
The impact: On campus, Apigian has seen conversations shift from "what does the data say?" to "how can we address what the data says?" The next step is putting questions at the start of data inquiry, as opposed to parsing data for the sake of it.
"Data without a purpose is just data," Apigian says. "How do you get to action? You have to understand the real dilemma that you're looking at and then be able to get the data that helps you make better insights and better decisions in the end."
University administrators implemented a customer relationship manager to aggregate information and create a data repository as well as also established a data warehouse, a clear investment in the importance of data. The university also created a physical home for the BDC in the new 133,000-square-foot, six-story Jack C. Massey Center, with an anticipated completion this fall.
"Belmont, I feel, is a lot better today than they were two years ago because we did put a focus on data," Apigian says.
As the BDC continues, Apigian hopes to see more integration within the university as stakeholders see the value of the group's work both for outside partners and student development.
If your student success program has a unique feature or twist, we'd like to know about it. Click here to submit.