You have /5 articles left.
Sign up for a free account or log in.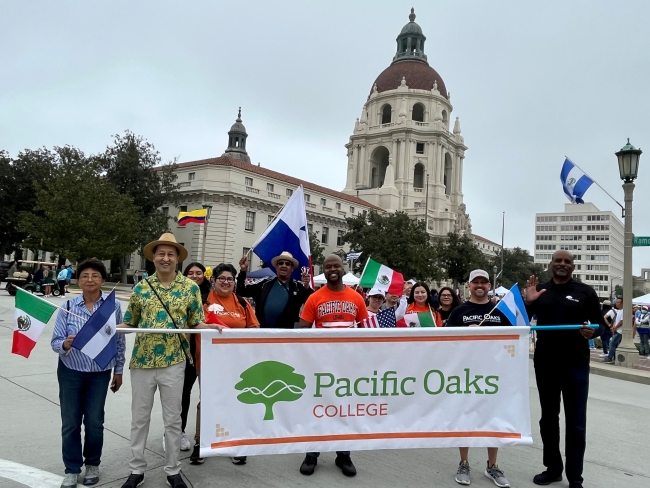 Jack Paduntin, Pacific Oaks College
Light salsa music accompanies podcast host Douglas Lezameta as he introduces his latest episode. "Bienvenidos al podcast Pacific Oaks College, Hispanic-serving institution, ¡Tu sueño tu Realidad!" Lezameta says.
Pacific Oaks College, a Hispanic-serving institution in Pasadena, Calif., created a podcast to reach the Latino population on campus and in the surrounding community, illuminating services and resources available for student success as well as the testimonies of those who have reached their dreams.
The podcast name, which translates to "Your dream, your reality!" is part of a larger effort not just enroll to but also to serve Hispanic learners in distinct ways.
The background: Pacific Oaks received a $2.5 million Title V grant from the U.S. Department of Education in 2020 to support its developing HSI identity. The five-year grant supports development of academic services, mentoring, faculty, curriculum and other resources.
Using the grant funding, Pacific Oaks created the Latinx+ Support Success Initiative for Latino and other underserved student groups at the college, including a physical success center, professional development opportunities, a speaker series, a new endowment fund and the podcast.
Pacific Oaks has a high success rate for its Hispanic students, but officials wanted to continue to engage, retain and graduate learners at an even higher rate, Pacific Oaks president Jack Paduntin says.
The need: Judy Castro, associate vice president of partnership at Pacific Oaks, developed the podcast with aims to support current students and members of the community who may be unfamiliar with this kind of insight into higher education.
The average student at Pacific Oaks is 36 years old, so most of the listeners are older adult students and their families or members of the community.
The podcast format also allows Pacific Oaks to engage with listeners on demand, whenever they want to listen on or off campus, Paduntin says.
How it works: The podcast opens with an introduction to Pacific Oaks, sharing its location, HSI designation and the grant funding for student success. During each episode, host Lezameta interviews a member of Pacific Oaks community about their experiences or expertise in higher education.
Topics covered thus far include college success as an immigrant, transferring from a community college to a four-year university, the differences in college degrees, financial aid, first-generation students and mentorship. Topic selection is "organic and authentic," Paduntin says, with students and staff offering subjects that are important to them.
Episodes are recorded in English and Spanish, allowing listeners to decide their preferred language without sacrificing quality or content. Some guests, including Castro, have recorded in both languages, as well.
The podcast is hosted by Fusion Latina Network and available on multiple streaming platforms, including Spotify, Apple Podcasts, iHeart Radio and Google Podcasts. The podcast is advertised internally via email announcements and promoted on the college's social media platforms, but listeners range from across the state and in cities outside of California, a sign to campus leaders that more than just Pacific Oaks students tune in.
With each episode, Pacific Oaks hopes to be consistent, relevant and engaging to its audience, Paduntin says.
The next steps: Pacific Oaks has two more years of grant funding, and the podcast is gearing up for its second installment of episodes, or its second season, as Paduntin puts it. With the success of its bilingual content, the podcast will also be available in more languages for the second season.
Analytics from the podcast's platforms show that the three of the top five most popular episodes in Spanish, with "Anclados en la educación: la historia de un inmigrante" the most popular on Spotify and Apple Podcasts.
For future episodes, college officials want to help bridge students' dreams with workforce needs, like supporting California's teacher shortage, or how their cultural background can be applied to their vocational goals, such as the marriage and family therapists' Latinx family studies program.
Seeking stories from campus leaders, faculty members and staff for our Student Success focus. Share here.