You have /5 articles left.
Sign up for a free account or log in.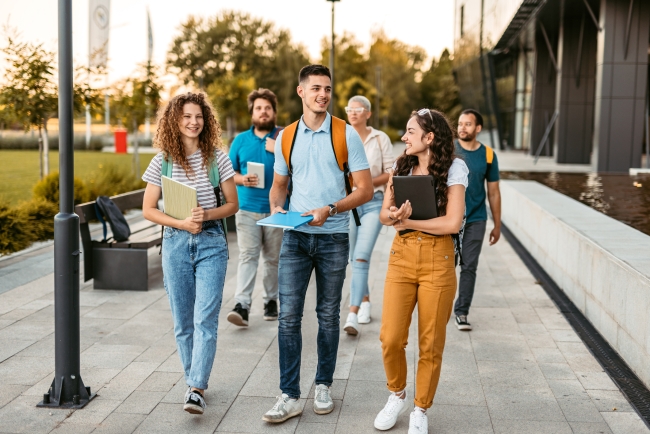 Encouraging students to recognize the need for and invest in career skill development can be a challenge for higher education practitioners.
"Supporting students more intentionally in their co-curricular endeavors has always been a needed area of growth in higher education, and the COVID-19 pandemic has certainly exacerbated that need and instilled in us a sense of urgency," says Anne Ehrlich, vice president for college life and dean of students at Gettysburg College.
The Pennsylvania college reimagined its college experience and, starting this fall, is introducing students to guided pathways, which include experiential learning tracks and a personal advising network. The initiative emphasizes talent development for students to prepare them for future career opportunities that may not yet be available, while prioritizing the foundations of a college education.
The inspiration: Guided pathways is the result of two years of research, focus groups and surveys involving faculty, staff, alumni and current students. College leaders modeled the program to address three types of problems for students:
Students who graduated from Gettysburg with a laundry list of activities, work experience and co-curriculars under their belt, but lacked the knowledge to identify and vocabulary to define the skills learned and how they applied to their postgraduate lives.
Students who found themselves struggling with time management because they were overcommitted and burned out during their time in college because of high levels of involvement in groups.
First-generation students who found themselves left behind because they didn't have the social capital to know which co-curriculars to get involved in until later in their college career.
In a focus group of graduating seniors, administrators realized most students had already fulfilled a guided pathways–like experience in their self-selected co-curricular engagements, but their choices lacked intentionality, and they couldn't connect the experiences to classroom learning.
"Students and recent alums kept telling us that Gettysburg offers an amazing array of co-curricular opportunities, but it was hard for them to figure out what to do, what they should do with an eye toward graduate school or jobs," Ehrlich says. "And especially it was difficult for them to articulate, of what they did, why did it matter?"
The guided pathways model helps students recognize early which experiential learning opportunities can benefit their career development without overloading their schedule or waiting until they're second semester seniors.
How it works: Gettysburg offers five guided pathways for students:
"We want every student to see themselves in at least one pathway," Ehrlich says.
During their time at Gettysburg, students will complete six pathway experiences, broken into three levels across four years, through meetings with their co-curricular adviser.
First-year students will complete two pathway experiences from the career development track and a different track of their choosing. During sophomore and junior year, students will complete an additional career development activity and one additional experience from the other tracks under the exploratory category. The exploratory activity does not have to be the same track as their first-year choice (though some experiences overlap tracks) because "we don't want to pigeonhole them into something when they're 18," Ehrlich explains.
Senior year, students build on their preferred track and complete a final career development experience.
"Each hands-on experience builds upon another, giving our students the knowledge and enduring skills they need to excel in their lives and careers," Ehrlich says.
For example, a student in the Global Citizenship and Intercultural Fluency Pathway may elect to participate in a religious service or ceremony their first year, participate in a Model UN competition their second year and study abroad their senior year. To fulfill the career development requirements, a student can participate in a job shadow, meet with a career engagement counselor for a mock interview and complete an externship, in that order, over their four years.
The Gettysburg approach involves multiple departments including academic affairs, alumni relations, the center for career engagement, college life, communications and marketing as well as all areas that offer co-curricular experiences.
Holistic support: Students at Gettysburg benefit from a network of advisers, including a faculty adviser, co-curricular adviser, a career adviser and an alumni mentor.
For the first year of the program, Gettysburg hired two co-curricular advisers to support guided pathways participants (with one adviser for roughly 300 students) and may scale up to five advisers based on student interest and demands.
The co-curricular adviser is responsible for helping students identify their preferred pathway, selecting experiences each term alongside the student, leading guided reflections at the end of the pathways experience and collecting artifacts for future analysis.
"With the support of their personal advising teams and through the guided pathways, students now have an intentional way of selecting the out-of-class experiences that will equip them with the enduring skills that align with their passions and the expectations of tomorrow's employers," Ehrlich says.
Under evaluation: Around 76 percent of the incoming first-year class has opted in to guided pathways, and officials hope the upcoming enrollment cycle will yield even higher numbers.
Gettysburg's Student Life Committee, made up of students, faculty and student affairs staff, will assess the program through three different lenses:
Each experience listed in the pathways menu will be assessed to ensure it means learning outcomes. Assessment data will be shared with the sponsoring department to modify programs as needed.
Students will complete reflections and submit them to their co-curricular adviser, which will serve as assessment of pathways programs.
After year one, all reflections from the Introductory-level experiences will be reviewed by the committee, which will repeat after year three (collecting all exploratory outcomes) and year four (consequence-level outcomes).
The office of admissions will also collect data on the impact of guided pathways on enrollment and the number of students choosing to participate in the program.
Seeking stories from campus leaders, faculty members and staff for our Student Success focus. Share here.