You have /5 articles left.
Sign up for a free account or log in.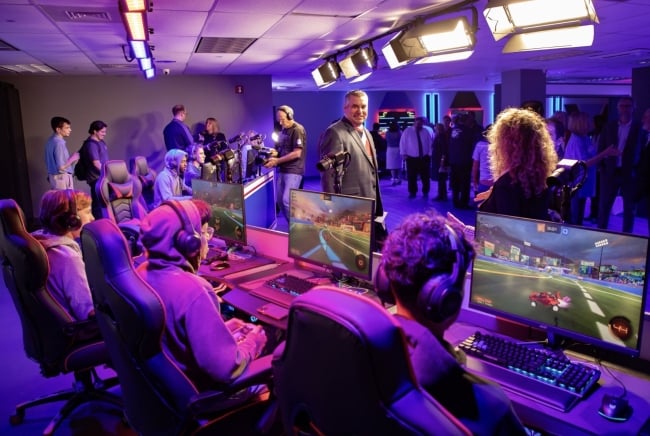 Brookdale Community College
Many colleges have now invested in esports in response to student demand and in hopes of boosting enrollment. Those motives were behind the construction of a new esports arena at New Jersey's Brookdale Community College. But President David M. Stout says the facility, which opened this month and includes which includes 26 professional-grade computers, a broadcast booth, stage, LED video wall and more, is also very much about boosting student success.
"It's a very, very social activity. Students will get together, and they're playing games with each other, even though they might be staring at a screen," Stout says of how esports has evolved. "So to give students a space where they can gather around something that they're mutually interested in has been one of our major priorities."
Research links involvement in campus life outside the classroom (as well as engagement inside the classroom) to a variety of student success indicators. Stout's hope is that the new arena will encourage students at Brookdale who are interested in esports—including men, whose graduation rates trail women's on campus—to get involved. Even if not involved formally, students might, for example, stay on campus between classes to take advantage of the arena's state-of-the-art technology and its camaraderie.
How else can technology promote students' feeling of connection to campus life? Read on to see how two- and four-year college respondents to the most recent Student Voice survey from Inside Higher Ed and College Pulse answered that question in write-in comments. More coverage of the survey, including on students' general views on technology's role in promoting campus involvement, is available here.