You have /5 articles left.
Sign up for a free account or log in.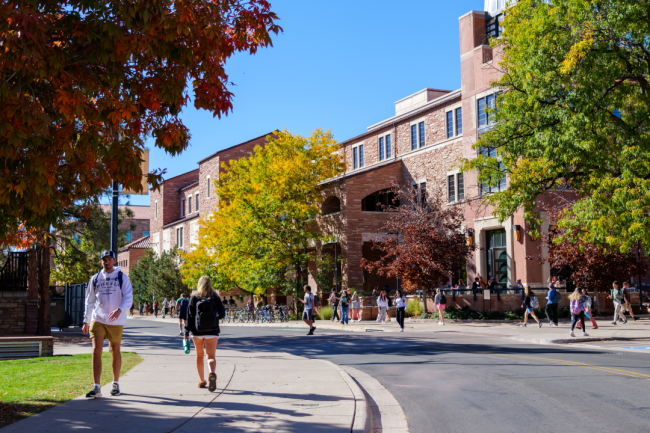 Patrick Campbell, University of Colorado at Boulder
Many colleges and universities offer a variety of programs to promote student success, but fewer are tracking data to ensure those programs are hitting measurable outcomes and effectively using allocated resources.
The University of Colorado at Boulder—whose sports teams are the Buffaloes—created the Buff Undergraduate Success (BUS) initiative two years ago to quantitatively measure student success work across campus, unifying stakeholders and available data to evaluate opportunities for improvement and future development.
In the first three terms, BUS has seen a decade-high retention rate among first-year students and almost instant changes in student behavior and outcomes.
The background: BUS launched in 2021 with a charge document from Chancellor Philip DiStefano, Provost Russell Moore and Chief Operating Officer Patrick O'Rourke to streamline university operations related to student services and better allocate resources for student success.
"We recognize that many of our student success efforts have been hindered by a lack of coordination, role clarity, prioritization, alignment, assessment and strategic resource allocation," according to the charge document. "Other promising ideas for furthering student success have not gained traction because they have not had a clear path to gaining executive leadership support."
CU Boulder's six-year graduation rate for the cohort of 2015 was 74 percent, and the four-year graduation rate for the Class of 2017 was 53 percent. Peer institutions selected by CU Boulder in the National Center for Education Statistics' Integrated Postsecondary Education Data System for 2021–22, on average, graduated 83 percent of their students within six years.
"We are a great university, but we are not serving our students in the way a great university should," according to the charge document.
Remote instruction due to the COVID-19 pandemic proved to the CU Boulder community the institution could take action, admit failure and pivot quickly to meet present needs, explains Katherine Eggert, senior vice provost for academic planning and assessment. "We decided to take this model for action and apply it to another big, serious, hairy problem."
How it works: The goal of BUS is to use student data and perspectives to understand where there are gaps in retention and graduation.
"We are an institution that very much strives to make data-informed decisions, and like any campus, we have a lot of data. It's a matter of finding the gems that really lead to telling the story about how we need to change," says Marin Stanek, senior associate vice chancellor and chief information officer.
CU Boulder staff built a first-year student success dashboard that tracks a wide range of student data points, including first-generation status, college affiliation, housing and more. Advisers and other support professionals can then track individuals or subsections of the student population to understand where learners could need additional support.
Monitoring demographic groups and their experiences is also key for student affairs professionals to establish and uplift programs that promote success across diverse groups, like living-learning communities, explains Joe Thomas, associate vice chancellor for student transitions and academic partnerships. "We're diversifying our class more than ever, and we need an infrastructure in place to make sure that we're supporting those students and meeting them where they are."
On the ground: BUS is led by Jon Leslie, senior associate vice chancellor and chief communications officer, as well as Stanek, Thomas and Eggert. The four "BUS drivers" meet once a week together and with the Buff Leadership Implementation Team (BUS-LIT), which includes members of the student success and undergraduate education teams, plus financial aid and the registrar's office.
"BUS was really the commitment to bring together groups that historically may not have crossed paths, and [to] do so in a very deliberate, consistent way, leveraging data and processes to identify those key priorities and then report on those priorities to hold ourselves accountable," Stanek says.
Each semester, BUS leaders identify projects for the term. The strategy group evaluates several factors before launching a project:
Is there data to support the solution for the problem?
How does this issue impact student retention and graduation rates?
How does this issue impact marginalized or minoritized student populations and their well-being?
Do we have the capacity to do this work?
If the answers to all of the above are yes, a project team is established that will move forward with creating a plan to set monthly goals and meet biweekly for 10 to 15 minutes to touch base with BUS-LIT.
The how-to: Establishing which projects to take on is one of the biggest challenges of the team, Eggert shares. BUS works from the student perspective on the university. Each project targets a problem statement from a student to understand where the disconnect exists and to identify solutions that already exist within the institution.
Sometimes the solution is not to create but to remove a policy, Eggert explains. CU Boulder is a decentralized campus in its authority, so academic policies can be completely different in the various colleges. Unifying the deans and establishing a common best practice is one way BUS promotes student success.
Completed projects have included:
Establishing a directory of affinity spaces on campus.
Starting a pilot to hasten evaluation of transfer credits in the College of Arts and Sciences.
Centralizing information about all available tutoring spaces on campus.
Creating a pilot advising experience for alternative college option students.
Replacing minimum academic preparation standards with new recommendations for admission.
One notable project was updating campus communications policy to make messaging more effective and targeted to students.
"Two years ago, the number of emails and other kinds of communication that our students receive once they arrived on campus was frightening," Eggert says. "And the result was, of course, they didn't pay attention to any [emails]."
Communications and IT staff partnered to create a multilevel model of communication, where only some emails blast every student, but others are opt-in. The pilot started with first-year students this fall and has seen open rates rebound as students get more targeted messaging.
Looking ahead: For the 2023–24 academic year, BUS will help implement a new common curriculum, support affordability in tuition and fees for low-income students, create a campus network for call center staff, create a faculty framework for the LMS, and align support of campus traditions for students and affinity-based communities, among other commitments.
The initiative leads hope to maintain momentum as more problems continue to trickle in from professors and students. "We're getting [feedback] from all over campus, which is really cool and overwhelming at the same time," Thomas says.
Leaders have also seen greater buy-in from across campus as BUS continues, as departments are less siloed and more faculty members see themselves as part of student success work, Stanek says. Top-down leadership and governance support have been critical to getting the program off the ground, as well.
Get more content like this directly to your inbox every weekday morning. Subscribe here.