You have /5 articles left.
Sign up for a free account or log in.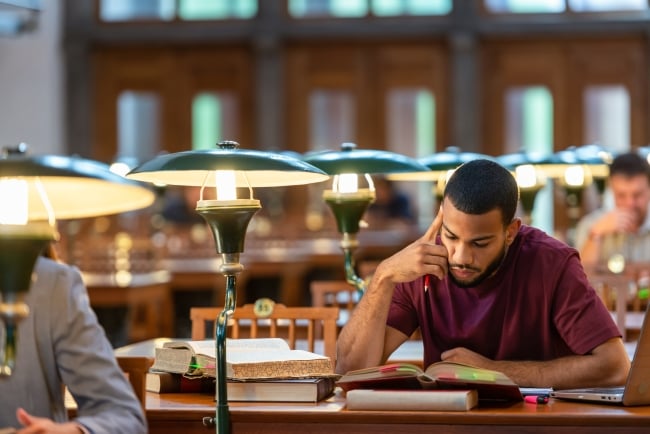 Tashi-Delek/E+/Getty Images
College students who feel as though they belong at their institution are more likely to retain, persist and graduate, but learners who do not feel represented in their student body are less likely to find that feeling.
A recent study from the University of Georgia found depression and anxiety rates are higher among students who are not the majority race at a predominately white institution (PWI). More than half of students who self-identified with races other than white reported feelings of mild depression, and 17 percent reported experiencing moderate to severe depression.
The Education Trust, a nonprofit focused on racial and economic barriers in education, recently published a report based on conversations with students of color at PWIs. A key finding: PWIs lack investment in support services, reporting systems and hiring of faculty of color. The report, titled "Creating Positive College Campus Racial Climates for Student of Color," is based on interviews with 32 Black, Latino and Asian American students at predominately white institutions across 15 states. The research was conducted from September 2022 to May 2023.
The researchers found students believe there is an underrepresentation of students of color and faculty on campus and limited support for students of color in general and regarding mental health. Students also shared that they were unaware of campus policies or procedures about how to report racial or ethnic discrimination.
To better support students of color at PWIs, colleges and universities can:
Increase the number of faculty members of color. Campus racial climates can be improved by increasing the representation of people of color at the college, which includes faculty.
Mandate campus racial climate metrics. Students want regular and frequent campus racial climate assessments, which can help leaders address negative perceptions held on campus toward students of color. State policy can make campus climate metrics part of outcomes-based funding measures.
Facilitate interracial conversations. Research shows interracial dialogue promotes racial understanding, so college leaders should emphasize the expectation of interracial interaction among faculty, staff and students.
Streamline systems for students to report discriminatory incidents. Colleges and universities should have a student complaint process that aligns with a campus policy prohibiting discrimination based on race or ethnicity. Students also want to receive updates on the progress or resolution of incidents.
Invite students into conversation with leadership. Racialized issues should be discussed frequently between racial or ethnic student organizations and institutional leaders, like the Board of Trustees.
Inform students of existing social, academic and economic supports. Additional social, academic or economic supports for students and faculty members of color may be needed, as well, including mentorship, first-year courses, career advising and scholarships.
Establish cultural centers. Nationally, students believe affinity spaces deserve additional investment from campus leaders. The Education Trust's research found students believe cultural centers should be required and funded with substantial resources.
Get more content like this directly to your inbox every weekday morning. Subscribe here.