You have /5 articles left.
Sign up for a free account or log in.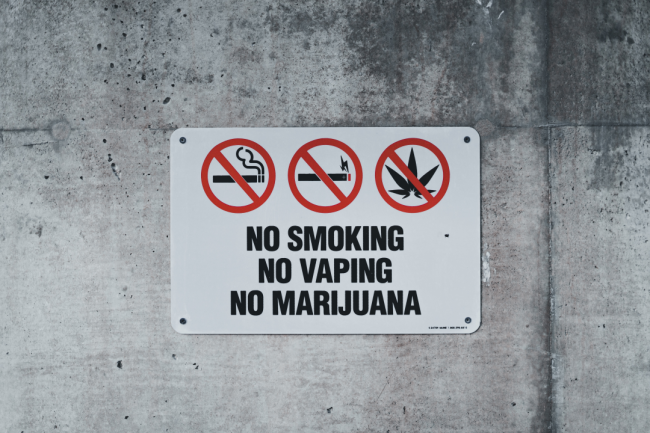 Young people face a variety of health risks while in college, but vaping is a growing concern for higher education leaders.
Vapes are small devices that people use to inhale aerosol containing nicotine, flavorings and other chemicals, which can harm brain development and encourage smoking cigarettes in the future. Despite Food and Drug Administration regulations on the types of e-cigarettes that can be sold in the U.S., over 9,000 devices have been sold since 2020.
While cigarette use has been on the decline, the number of college students who vaped nicotine grew 16 percentage points between 2017 and 2019, to 22 percent, according to data from the University of Michigan. During the pandemic, youth vaping declined, but it remains prevalent among college students.
Colleges and universities are using different methods to teach students the dangers of tobacco and nicotine and create a smoke- (and vape-)free campus environment. Inside Higher Ed compiled four prevention initiatives institutions can implement to discourage nicotine use among students.
Create a self-paced online course.
A 2022 study from the National Institutes of Health found college students were aware of some health risks associated with vaping, such as cardiovascular and respiratory diseases, but less familiar with less frequently discussed risks like seizures and depression, making comprehensive education important.
Stanford Medicine created a free curriculum around vaping prevention for educators to use in the classroom or assign to students to complete on their own time. The course covers why young people are attracted to e-cigarettes, the damage aerosol can wreak and how nicotine impacts the body.
Offer one-on-one coaching.
At Indiana University–Purdue University Indianapolis, students can meet with a Quit Coach to cut out nicotine. Students who work with a coach are also eligible for free nicotine-replacement therapy. The cessation program lists support resources and recommendations for others helping a friend to quit.
The University of Oregon also offers smoking-cessation counseling to its students, faculty and staff members. After evaluating the patient's smoking habits and daily nicotine use, pharmacists provide them with resources and can prescribe nicotine-replacement products.
Update policy language.
While many colleges and universities promote tobacco-free campuses, e-cigarettes or vape devices are sometimes excluded from language around and enforcement of smoke-free campus efforts. Colleges with tobacco-free policies promote health among those who use tobacco products and those who don't, reducing secondhand smoke inhalation in the community.
To best serve students, the American College Health Association recommends modifying or creating policy language that includes electronic devices, in addition to developing compliance strategies and enforcement procedures for those who do not follow the policy.
Join an initiative.
The Truth Initiative funds and supports colleges and universities as part of the Truth Initiative/Vape-Free College Program. Grantees commit to establishing a task force to coordinate policy efforts, assess tobacco-related issues on campus, promote quitting tobacco use and create policy recommendations. Colleges also designate student leaders to manage educational efforts.
The Truth Initiative supports 135 colleges and universities. It targets colleges with students who may be disproportionately affected by tobacco, like those in low-income communities, racial and ethnic minorities, LGBTQIA+ community members, military members, and those with mental illnesses.
If your student success efforts center student health and well-being, we'd like to know about them. Click here to submit.