You have /5 articles left.
Sign up for a free account or log in.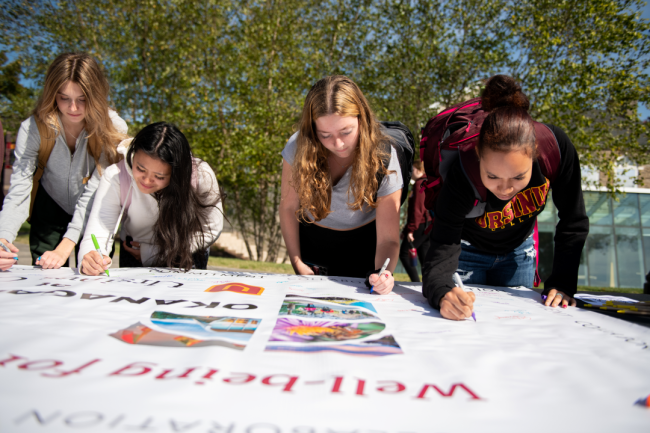 An institutional focus on creating a campus culture that prioritizes health and well-being pushed Ursinus College to receive a Recovery-Friendly Workplace (RFW) certification this summer, reflecting existing and future commitments to empathetic and supportive measures for students, faculty and staff struggling with substance misuse.
With the certification, the Pennsylvania college will address four recommendations from RFW to improve the overall campus environment and address the needs of those in recovery.
The certification: Katie Bean, Ursinus director of health promotion, first pitched the idea of becoming a Recovery-Friendly Workplace in 2022, and the institution started the certification process in July 2022, joining over 260 designee organizations.
"In higher ed, we look at student success, and we care about the students, as we should. But we often forget that the employees helped make that culture, too, and so we need to focus on them as well," Bean says.
In 2020, the Pennsylvania Department of Drug and Alcohol Programs awarded grants to Unity Recovery and Drug Free Workplaces PA to implement RFW programs throughout the state.
The yearlong process included a student and employee self-assessment to identify which programs were present and recognized by the campus community, Bean says. Over 200 students and 70 employees participated in the surveys, around 15 percent of the student population and 18 percent of the staff population.
Based on the survey results, RFW staff provided Ursinus leadership with four recommendations:
Increase internal marketing of support services available.
Increase awareness of protected status for those in recovery under the Americans With Disabilities Act.
Continue to offer recovery-friendly programming.
Arrange for supervisors to complete training on being a recovery-friendly institution.
The college had several policies in place prior to the certification process that supported staff in recovery, including a flexible work policy, a partnership with a local counseling center to provide discounted therapy to employees, family medical leave of absence and wellness days. However, surveyed participants indicated they were unaware of the present options, making communication critical.
To meet the training recommendation, human resources personnel, vice presidents and directors completed 10 hours of training (three sessions of three hours each, with a one-hour discussion) on policies and procedures but also empathy, flexibility and open communication.
The background: In light of the student mental health crisis, Ursinus president Robyn Hannigan signed the Okanagan Charter, which pledges the institution's commitment to incorporate health into all aspects of campus culture and promote local and global action and collaboration on health.
The college also established a new division for health and wellness within student affairs, uniting staff across athletics, physical and mental health services, and other wellness divisions.
"This is direction higher ed should be headed," says Laura Moliken, vice president for health and wellness at Ursinus. "There is a more individualized emphasis in this particular area, and what we want to do with at Ursinus is not just be about the buzzword, but actually really taking different initiatives and thinking about what is it that our students need and our faculty and staff need? What does the culture need?"
As an administrator, Moliken says, she weighs the importance of creating an environment that is supportive and accommodating of people who struggled with substance use disorder but creating a safe campus environment for all community members. To her, a recovery-friendly workplace creates a trickle-down effect that positively impacts everyone.
"It's about believing in how people work together to make an organization better and stronger," she adds.
Student programming: Ursinus is launching a collegiate recovery program for students, thanks to grant funding, and is looking to identify students who are in recovery and destigmatize the ideas of recovery on campus. The college also hired a part-time peer recovery support specialist to assist students in recovery.  
Ursinus College has a policy against illegal, unauthorized or irresponsible substance use but allows of-age students to host events with alcohol so long as they meet registered event requirements. The presence of alcohol on campus makes recovery programs that much more important to the community, Bean says.
The Hive, a new student health space opening in September, will combine counseling and wellness resources, host regular programming, and provide a relaxation room for students.
September is also National Recovery Month, and the college will host a variety of events including training and testimonials.
If your student success program has a unique feature or twist, we'd like to know about it. Click here to submit.
The sub-head has been updated to clarify Ursinus' designation as a college that is a recovery-friendly workplace.