You have /5 articles left.
Sign up for a free account or log in.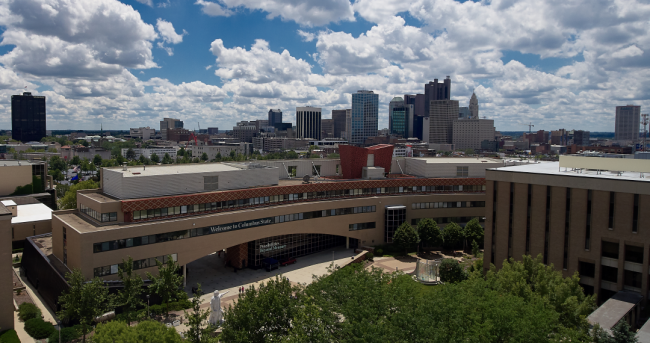 Columbus State Community College 
To close gaps in retention and completion, Columbus State Community College worked alongside local organizations to provide housing support for students. Success Bridge launched three years ago and has assisted over 80 students in short- or long-term housing placements.
The program received additional funding this summer to continue, and institutional leaders plan to prioritize knocking down barriers to completion for the students' and the local area's sake.
"Economic development in our community—making sure our communities thrive and prosper and our students, our citizens thrive—it's part of our mission and goal," says Desiree Polk-Bland, vice president of student affairs at Columbus State. "We can't ignore the fact that this is a challenge for students."
What's the need: A July study from the U.S. Education Department's National Center for Education Statistics found 8 percent of undergraduate students experience homelessness.
At Columbus State, housing insecurity and homelessness are more prominent, with fall 2020 data finding 14 percent of students were homeless and 60 percent had experienced housing insecurity in the past year.
From a retention perspective, administrators saw a pattern of students accumulating credits and maintaining good GPAs but then dropping out unexpectedly. Through surveys, officials learned outside pressures like work or finances were forcing students to stop pursuing their education.
Columbus State had been prioritizing various academic support measures over the past decades, but officials realized they need to do more outside the classroom.
"You see all these increases in completion and success; you see equity gaps starting to close and then at some point, you hit a plateau," Polk-Bland says. "We've done these amazing things and, in combination, they really worked for our students … What are the other things we can do to support our students?"
In working to address basic needs, Columbus State targeted accommodations, because "housing is a linchpin to a lot of things," Polk-Bland explains.
Who Else Is Housing Community College Students?
Housing opportunities for community college students continue to grow, both through partnerships and nonprofit groups.
In New Jersey, Rider University will house Mercer County Community College students starting this fall. In Oregon, College Housing Northwest provides discounted student housing for any learner in the Portland metro area, including nearby community colleges. Compton College in California partnered with a community organization in south Los Angeles to subsidize rental units.
The start: Success Bridge was introduced in fall 2020, a $1.5 million partnership between Columbus State and the Affordable Housing Alliance of Central Ohio, Columbus Metropolitan Housing Authority, Homeless Families Foundation and the Community Shelter Board. Columbus State, CMHA and the Fifth Third Foundation provided the initial program funding.
"We were able to do it because we had partners that came to the table to say, 'Here's what we're willing to put on the table,'" Polk-Bland says.
Success Bridge built on the model of Scholar House, run by Ohio State University and community partners, which offers supportive services to student parents. Scholar House also provides housing to CSCC students.
Initially launched as a three-year program, Success Bridge offered three tiers of support to students:
The first tier is a basic consultation and referrals or other information on options.
The second tier is one-time or short-term support. Students could receive up to three months of financial assistance for housing-related expenses, like rent or utilities.
The third tier provides learners with longer-term housing. At the start of the pilot, students could live for up to 24 months in one of 22 subsidized housing units.
To be eligible for a housing placement, students have to be in good standing in a degree-seeking program at the college, provide proof of financial need related to housing expenses, have completed at least nine credit hours and one semester, and be at or below 200 percent of the federal poverty guidelines. Students complete an online application for aid from Success Bridge, which staff distributes directly.
Measures of success: Over the pilot period, 454 students applied for housing assistance. All students received basic support, 57 received one-time or short-term financial assistance and 33 stayed in longer-term apartments.
Students who received support from the program stayed in school at higher rates compared to their peers in the first two years. From fall 2020 to spring 2021, for example, 86 percent of Success Bridge students retained, compared to 65 percent of the general population.
Of participants, 77 students earned an associate degree, 91 earned a certificate and 36 earned both a degree and certificate.
Among 400,000 learners at CSCC, the success rate among participants is a drop in the bucket, but it dramatically impacts the individual's success, Polk-Bland explains.
The next steps: The Columbus City Council voted in July to allocate $400,000 in emergency rental assistance funds for housing-focused staff positions and $1.6 million for Success Bridge participant costs, according to The Columbus Dispatch.
In the coming year, Success Bridge will operate a little differently. Previously, a neighboring institution provided units in an unfilled apartment complex for some students needing the third level of care, but the recent sale of the building ended that arrangement.
Starting this fall, Columbus State will use a different housing provider, which will work directly with landlords and property owners to provide long-term rental opportunities. "We're not eliminating level three—it's just going to look different, because we don't have a set unit," Polk-Bland says.
Supporting basic needs, particularly providing housing, is complex and expensive, Polk-Bland admits, but relying on community partners has made the process doable and provided one kind of solution for students.
If your student success program has a unique feature or twist, we'd like to know about it. Click here to submit.