You have /5 articles left.
Sign up for a free account or log in.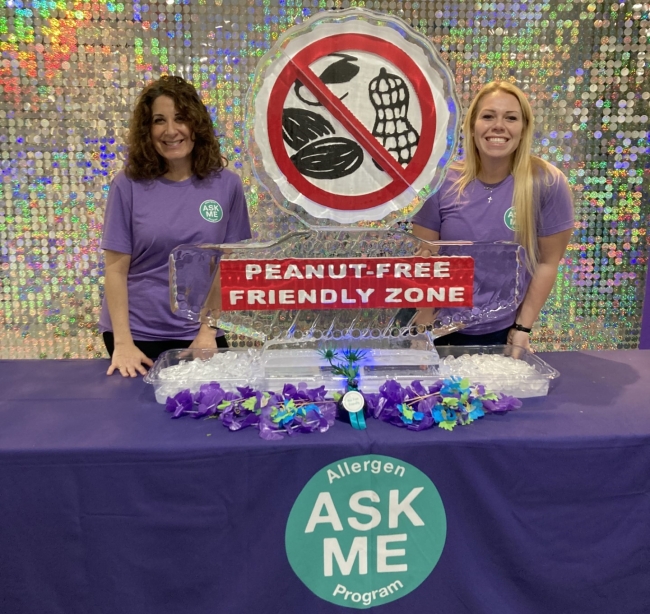 Grayson Crabtree/Duke University
Promoting healthy eating is a priority for colleges and universities, and implementing methods to mitigate obstacles to nutritious food includes providing safe dining experiences for students with food allergies.
Two years ago, the dining program at Duke University enhanced its staff training and streamlined processes for students with food allergies.
Ask Me representatives are available to help students at every dining hall on campus both to give insight on what foods are safe to eat and to prepare allergen-free meals. Representatives undergo training and are clearly identified with purple "Ask Me" branding, with the aim of creating a worry-free dining experience for students with allergies.
The why: Approximately one in six students on campus has a food allergy or intolerance of some sort, explains Grayson Crabtree, program director at Duke Dining. The goals of the Ask Me program are threefold:
To provide the campus community access to information and a service that provides comfort and confidence at all dining locations.
To make customers aware that the dining hall can accommodate a variety of specific dietary requirements.
To reach individuals who may find it challenging to talk about their dietary needs.
The background: The program was first created in October 2021 and presented to the Duke University Student Dining Advisory Committee for input shortly after, Crabtree says.
In January 2022, 50 Duke Dining employees completed a training course about food allergies and food preparation for those with allergies from FARE, the Food Allergy Research & Education organization. The pilot launched that same month at the Brodhead Center dining hub, which features 13 restaurants.
The program rolled out to remaining dining halls in fall 2022 with additional representatives receiving training at those locations.
How it works: In the dining halls, a food allergy expert wears a purple "Ask Me" hat and works as the representative for diners and staff who need ingredient or allergen information for food at that dining location.
When a student orders a meal at the dining hall, they can identify their food allergy via the mobile order or verbally at the register, which then connects them to an Ask Me staffer.
The Ask Me representative finds allergen information for any recipe or ingredient and then is responsible for putting together the made-to-order meal in a purple kit and marking it with a "safely prepared for you" sticker. Kits and prep spaces are cleaned and sanitized between uses.
All representatives are required to complete an annual training "as a refresher" on handling dietary needs of students with food allergies.
The impact: As a result of the Ask Me program, Duke Dining now has a common language and more inclusive environment for customers with food allergies, Crabtree says. While the dining hall does not track allergen-free meals served, "the increased awareness of food allergies has improved a greater understanding amongst the campus community for those that do not have a food allergy and or the ones serving guest that have a food allergy," Crabtree says.
Duke Dining also earned a gold-level certification for its allergen program from FARE earlier this year.
Seeking stories from campus leaders, faculty members and staff for our Student Success focus. Share here.