You have /5 articles left.
Sign up for a free account or log in.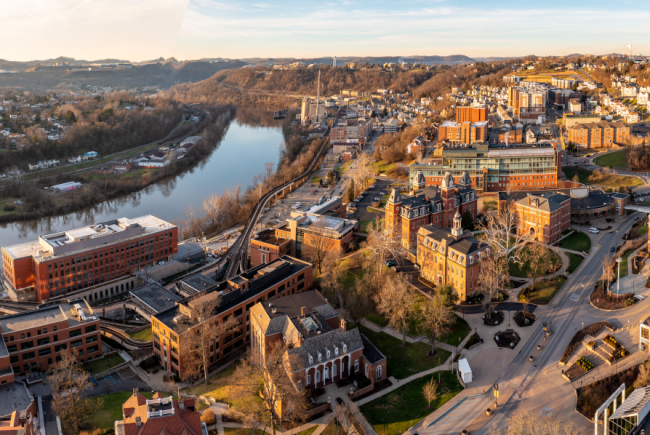 BackyardProduction/iStock/Getty Images Plus
Not ready to leave your college town after graduation? Stay and work remotely in a cohort of like-minded peers. That's the proposition two West Virginia universities have for students.
West Virginia University president E. Gordon Gee and Marshall University president Brad D. Smith announced a partnership in August establishing First Ascent—a talent-development pipeline for recent graduates from their institutions to work remotely alongside their peers while receiving professional development and mentorship.
The program is accepting applications, with plans to welcome its first cohort in January, building off an established program model for attracting remote talent.
The inspiration: Ascend West Virginia, developed by the Brad and Alys Smith Outdoor Economic Development Collaborative and the West Virginia Department of Tourism, offers financial and social support to transplant remote workers by placing them in one of five communities throughout the state. First Ascent is a junior model of the Ascend program, attracting young talent who already live in the state and providing them with the resources they need to be successful as part of a remote or hybrid workforce.
First Ascent is funded by the WVU Innovation Summit and the U.S. Economic Development Administration Build Back Better Regional Challenge Grant.
What's the need: Each year, West Virginia experiences a brain drain as new graduates leave the state in pursuit of jobs. A May 2022 data analysis found West Virginia has a negative trend of college graduates, losing 56 percent more grads than it produces.
Survey Says
A fall 2022 Student Voice survey by Inside Higher Ed and College Pulse with support from Kaplan found 30 percent of students were "extremely interested" in landing a fully remote job for their first role after graduation, 15 percentage points higher than the year prior.
In addition, 50 percent of students in 2022 were "somewhat" or "slightly" interested in fully remote work, up 17 percentage points from 2021, as well.
First Ascent's goal is to give those who want to stay in a community a chance to do so while continuing to pursue their career aspirations, explains Danny Twilley, assistant vice president of economic, community and asset development at WVU.
The program is also intentional in its education for remote work and work-life balance. While many students experienced remote education due to the COVID-19 pandemic, learning to be successful as a completely remote worker will be a new process for many, one First Ascent staff hope to guide them on, says Jessica Stidham, assistant director of First Ascent.
How it works: To be eligible for First Ascent, students must be in their final year of a degree program at WVU or Marshall or graduates from the Class of 2022 or 2023. The program supports workers with full-time remote or hybrid jobs, as well as entrepreneurs.
Students who have yet to secure a hybrid or remote job can still apply and partner with their institution's career services to secure a role. First Ascent staff are partnering with businesses and alumni to identify potential opportunities for graduates, Twilley says.
First Ascent functions similarly to a living-learning community, where participants share a common interest in the program's three pillars: community, purpose and outdoors. An ideal candidate will be interested in building relationships and addressing key problems to improve West Virginia as a whole and will enjoy spending time outside enjoying the Appalachians' many activities, Twilley says.
"All the things that we do when students come to a university to create that sense of community, create friendships, belonging … that's kind of what we've done with the program," Twilley says.
After students are admitted into the program, they have six months to move to their new community and are supported by the program for two years. Graduates can live in the Huntington, New River Gorge, Greenbrier Valley, Eastern Panhandle, Greater Elkins or Morgantown areas.
The perks: Within the program, participants have access to a free co-working space, outdoor recreation equipment, professional development (including success coaches and mentors), community events, and outdoor and social activities.
Ascend West Virginia participants will serve as mentors to First Ascent participants, Stidham says. Staffers are creating a formal application process that will pair the two groups of remote workers for three-month mentorship stints. After three months, the mentor pair can choose to continue their relationship for up to 12 months or rotate to a new relationship.
"We really want to help facilitate ideation and cross-pollination across industries," Stidham says. "We want to get people out of their silos, come into our co-working space, build community that way and then let it kind of naturally trickle into their physical spaces, as well."
Launching soon: The program, after being officially announced this summer, is looking to attract its first group of students, with goal numbers around 25 for the January cohort and plans for 120 by the end of the two-year pilot.
"Our timeline is really focused right now on generating attention from students, from faculty, staff and administrators, starting to spread the word about the program more internally," Stidham says.
The program has been able to get off the ground so quickly in part because of its direct connection to Ascend West Virginia, Twilley says, which provides structure and a baseline understanding of high-level operational needs. "We would not be able to do that if we started this from scratch."
Staff will be measuring retention of participants as well as participation in community events to gauge the success of the program.
If your student success program has a unique feature or twist, we'd like to know about it. Click here to submit.
This article has been updated to include all six locations First Ascent participants can reside in.