You have /5 articles left.
Sign up for a free account or log in.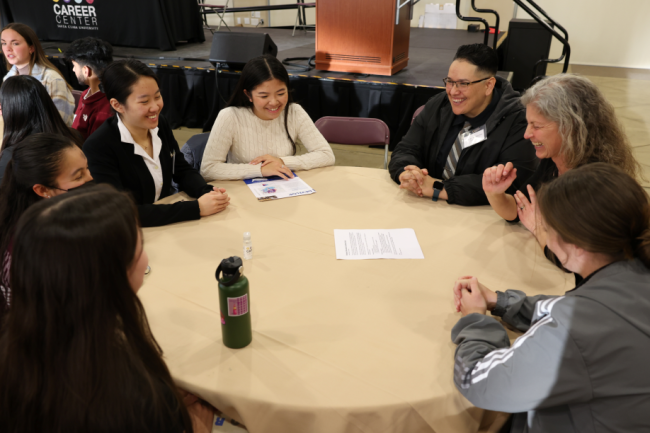 Connecting students with a future employer can be a challenge for career services professionals. Career fairs are a guaranteed way to get employers on campus, but finding the right students for such events is a secondary hurdle.
The reverse career fair switches the model and puts students in the spotlight of the event. Colleges and universities host reverse career fairs to provide more meaningful conversations between potential employers and learners as well as to highlight the work of each participating student.
How it works: A reverse career fair, according to the National Association of Colleges and Employers (NACE), puts students behind booths and employers move between students, rather than students approaching employers at a table.
In this format, students still share their resumes and give an elevator pitch, but they're able to express themselves more creativity by using a table display to engage with employers.
The University of Maryland hosts an annual Visual Arts Reverse Career and Internship Fair, giving students a chance to show off their graphic design, video production and immersive media work. The University of South Florida Sarasota-Mantee (USFSM) held its first reverse career fair in 2018 and students created PowerPoints, fortune cookies and tri-fold displays to share their stories.
Santa Clara University, as part of their Diversity Works Expo (DWE), added a reverse career fair this year, giving participating student groups the opportunity to engage with employers and build relationships for future partnerships or collaboration, explains Dylan Houle, executive director of career and professional development.
The benefits: The format of a reverse career fair takes the pressure off students to take the first step, and employers have reported feeling the conversations were more authentic and less transactional, compared to a traditional career fair, Melissa Thiriez, director of employer relations and partnerships at Santa Clara.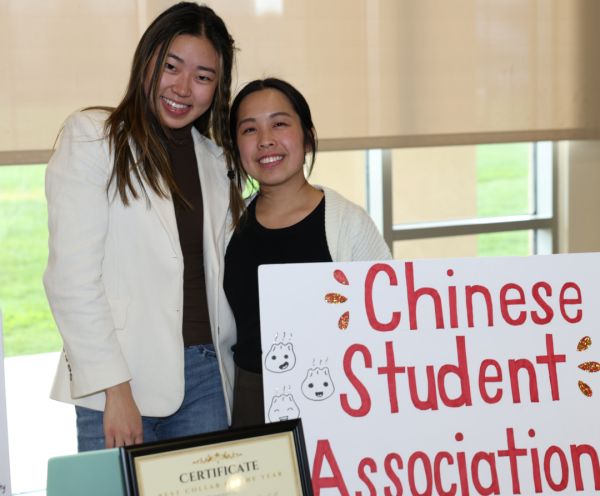 A table also gives students more real estate to showcase their work than a one-page resume, which can be beneficial for those studying studio arts.
Employers get to see students present in real-time with examples of their work. It also gives employers a chance to seek out students with a certain set of skills rather than hoping the right students approach them.
Logistically, employers don't have a burden of paying for a booth or registration, nor do they have to staff a booth, according to Iowa Vocational Rehabilitation Services.
Additional post-event feedback from Santa Clara's employer attendees revealed they loved the format and they found the experience valuable not only as a way to meet students in a more casual environment, but also as a different type of event they could participate in, Thiriez says.
The reverse career fair can also aid neurodiverse students who may have difficulties participating in a traditional career fair model, according to the University of Tennessee Chattanooga, which organizes reverse career fairs as part of its Mosaic program for students on the autism spectrum.
Tips for success: For a college or university looking to launch a reverse career fair, consider these steps.
Provide guidance. USFSM career center staff has hosted workshops to prepare students for the reverse format as well as one-on-one counseling sessions for students who wanted additional help. Santa Clara gave a few example questions to students and employers who were unfamiliar with the format.
Warm up the room. At Santa Clara, the reverse career fair was the culmination of the DWE event, following student awards and an employer panel and breakout discussions. This broke the ice and allowed for more authentic conversations at the reverse career fair, which was key to its success, Houle says.
Share student resumes in advance. The University of St. Thomas in Minnesota's School of Engineering hosts reverse career fairs and shares students' resumes with all potential employers who register in advance, giving them more time at the event to engage students.
Organize by student groups. If having individual students present at the career fair is overwhelming, student groups and organizations could host tables instead. Santa Clara's event operated in this format, as did Purdue University Fort Wayne's, which also listed participating students and their represented majors online prior to the event.
Frame the conversations. Santa Clara's event was not focused on students finding jobs, but was an opportunity to engage in how diversity aids workplace culture and employee lives. Students didn't leave the event expecting a job or internship offer, but gained a spring board into hosting employers at student group events.
Do you have a career prep tip that might help others encourage student success? Tell us about it.