You have /5 articles left.
Sign up for a free account or log in.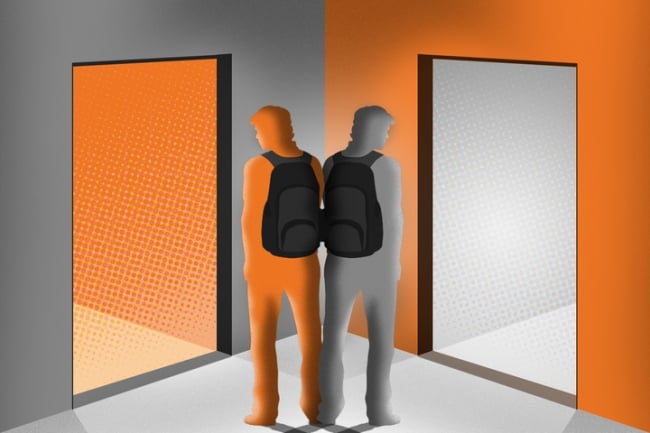 Photo illustration by Justin Morrison/Inside Higher Ed | Getty Images
Although overall community college enrollments have dropped significantly during the past several years, the percentage of dual-enrolled students simultaneously earning high school and college credits keeps climbing.
Community colleges reported a 16 percent jump in dually enrolled students between 2021 and 2023, according to the National Student Clearinghouse Research Center. Earning college credit while still in high school has been linked to a higher likelihood of graduating high school, going to and staying in college, and completing a degree in less time than it would take a student who didn't participate in dual enrollment.
However, among the more than 1.5 million students who are dual enrolled at the 82 percent of public high schools that offer these programs, the majority are white and already academically successful. But according to a report released Tuesday by the Community College Research Center at Teachers College of Columbia University, some high schools and colleges are using equity-focused approaches to attract a more diverse pool of students to dual enrollment.
'Programs of Privilege'
"These are programs of privilege," said John Fink, a senior research associate at CCRC and co-author of the report. "The mind-set that educators bring to them and the way that policies are set up reinforces the idea that dual-enrollment courses are advanced courses for students who are already on the college track to help them accelerate while they're in high school."
That's part of the reason why Fink and his colleagues spent the last academic year researching how intentional, equity-focused approaches to dual enrollment could—and in some cases already has—expand dual-enrollment access to a more diverse population of students and expose them to a wide range of potential career fields.
The center examined six college–K-12 partnerships in Texas and Florida that employed some of these practices (called the DEEP framework, which stands for "dual enrollment equity pathways") and achieved "strong results using [dual enrollment] to expand college access and opportunities for Black, Hispanic, and low-income high school students."
According to the report, white students are overrepresented (63 percent) in the dual-enrollment landscape when compared to the total number of students nationwide. Conversely, Black (9 percent), Hispanic (19 percent) and Pacific Islander (0.3 percent) students are underrepresented. English-language learners and students with disabilities are also underrepresented. And "high-poverty" high schools are 19 percent less likely to offer dual/concurrent-enrollment programs than low-poverty high schools, according to the National Alliance of Concurrent Enrollment Partnerships.
'Random Acts' of Dual Enrollment
In addition to making access more equitable across racial and economic stratifications, researchers are also looking at how changing the dominant "à la carte" structure of delivering dual-enrollment courses may also help expand access.
"We have random acts of dual enrollment," Fink said. "Students are taking whatever courses are available, and there's not a lot of intentionality or advising—particularly when students are accumulating sizable numbers of credits—around what are those courses and are they coherent and are they applying to a degree program after high school."
The DEEP framework, he said, is designed to help schools and colleges tackle both of these issues (access and random course selection) and "change the mind-set around dual enrollment to also be a college-access and equity strategy."
The report highlighted multiple high schools (all were Title I schools, serving high populations of low-income students) and colleges that have already put some of those practices in motion. One of those places was Baytown, Tex., where dual-enrollment students make up 36 percent of Lee College's undergraduate enrollment, according to the report.
But dual enrollment wasn't always such a draw in Baytown, said Susan Jackson, who is now deputy superintendent of curriculum and instruction for the Goose Creek Consolidated Independent School District.
'Bigger Bang for Your Buck'
Prior to taking that role in 2020, Jackson was principal of Goose Creek Memorial High School. When she started at the high school in 2014, about 60 dual-enrollment seats were filled, mostly with "typical college-going kids." At that time, students and parents were more interested in earning college credit through Advanced Placement exams, but the pass rate was low and not many students were actually earning college credits.
"I started really working on how to change the culture and climate of this campus to let them know that the bigger bang for your buck is with dual credit," Jackson said. "We started a five-year plan to increase dual credit."
That plan included bringing in more college tutors, offering professional development for teachers who needed help explaining the benefits of dual credit to students, hosting informational and outreach sessions in eighth grade, and helping students pass a standardized test that Texas requires before it allows dual enrollment.
In addition to outreach, the plan also included creating guided pathways for students to ensure that the courses they took would transfer to the credential or degree they wanted to pursue post–high school. It also meant forming partnerships with nearby four-year universities to give participating transfer students certain discounts and scholarships.
According to the Community College Research Center report, a lack of effective outreach to low-income students and communities of color is one driver of dual-enrollment disparities.
And in a school district like Goose Creek's, where more than 70 percent of students are economically disadvantaged, Jackson said officials make a point to tie their pitch to money. That not only means focusing on how much money dual enrollment can save on future college expenses but also emphasizing how completing a higher education credential—whether it's a four-year degree, two-year degree or a career or technical certificate—can increase long-term earning potential.
While the cost of participating in a dual-enrollment program can vary from state to state, and even district to district, the Goose Creek school district offsets a lot of the costs of college credits—the district pays Lee College $125 for one three-hour course, but it only charges students $50 a semester and pays for their books. And the money that the district does collect from dual-enrolled students goes back into the high school's budget for promoting college, career or military readiness.
Jackson said the district has trimmed other areas of its budget in an effort to keep dual-enrollment costs low and keep college within students' reach.
"If you can get two years of college under a kid's belt, then I've been able to teach them how to get scholarship money and Pell Grants. I've got them captive," Jackson said. With that kind of exposure to both paying for—and passing—college courses, "they'll know how to advocate for themselves" once they become full-blown college students.
After several years of trying to increase dual enrollment at Goose Creek Memorial High School, Jackson said about 1,600 students were enrolled in 2020, and about 36 graduated with associate's degrees. When she moved to her current role in the school district, officials asked her to replicate the equity-focused approach to dual enrollment she'd implemented at Goose Creek across the district.
So far this school year, 25 percent of the district's students are taking at least one dual-credit course.
Part of that success has come from both the district's and college's focus on guided pathways, which offer students academic support and clear direction on which courses to take to earn a certain credential.
"We started to look at if these courses were transferring to four-year institutions," said Marissa Moreno, executive director of school and college partnerships at Lee College. "We looked at how we could maximize that student's opportunity to have less coursework they have to take when they get to the four-year institution."
Texas law requires all students, including dual-enrollment students, to meet with an adviser after earning 15 college credits. To make sure its dual-enrolled students are staying on track, Lee College has embedded its own trained advisers within the high school and the cost is split between the college and the district.
"Everything they do is specifically making sure the students are on track, passing all of their college classes and offering any kind of external support," Moreno said. "They're also required to work backwards looking at these students' intent to where they want to go after high school and making sure all of the classes they take are transferable."
Quantitative Study Needed
Amy Williams, executive director of the National Alliance of Concurrent Enrollment Partnerships, said designing "with an end in mind is always a good place to start," especially because these programs are known to "take on local characteristics of the school district and employment needs."
An equity-focused approach of dual enrollment—like the DEEP framework presented in the CCRC's new research—is long overdue, Williams added.
"We're seeing a paradigm shift, from these programs of privilege to much more of an equity focus," she said. "Those are not the programs that are easy to run, but they're ones we should be doing to kick open the door for a much wider variety of students to explore, engage in and find success in postsecondary education."
Jason Taylor, an associate professor of education at the University of Utah, said while there are not yet definitive best practices for making dual enrollment a stronger tool for educational equity, the DEEP framework presented in the report is a start.
"It's the type of high-quality case-study work that gives us really clear practices based on what's working well in the field from a qualitative approach," Taylor said. "Now we need to study in a rigorous, quantitative way if those strategies actually lead to more equitable participation."