You have /5 articles left.
Sign up for a free account or log in.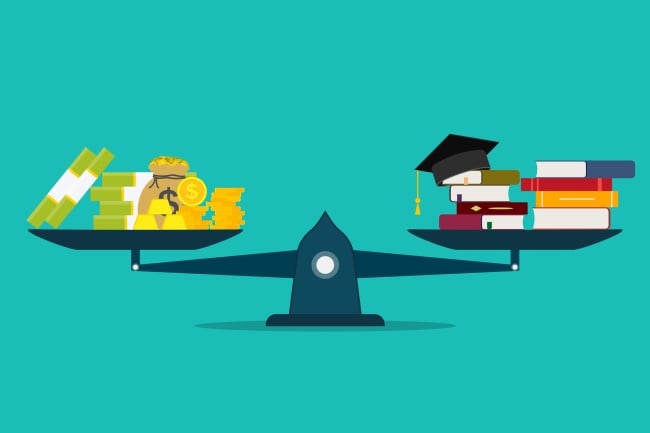 Ihor Reshetniak/iStock/Getty Images Plus
Despite growing public skepticism about the value of college, the cost of obtaining a degree from any of the University of North Carolina System's 16 universities is worth it, according to a study evaluating the financial outcomes of graduates of the system.
Graduates who complete an undergraduate degree at one of the UNC System's universities have a median lifetime return on investment of $500,000 compared to North Carolinians without undergraduate degrees. And completing a degree resulted in upward economic mobility for nearly 90 percent of low-income students.
These are some of the highlights of the results of a study the system released earlier this month that examined return on investment between 2015 and 2020 for the 724 undergraduate programs and 575 graduate programs across the UNC System. The study also found that students who complete graduate degrees had a median lifetime return on investment of $938,000 compared to those with just a bachelor's degree.
The North Carolina General Assembly commissioned and funded the study. Over the past year-and-a-half, Deloitte, a private research firm, worked with consulting firms rpk Group and The Burning Glass Institute to analyze decades of wage data for graduates living in-state to calculate the return on investment for each degree, which was defined as lifetime earnings minus the costs of obtaining the degree.
"The percentage of people who believe that a college education is a good investment has fallen dramatically in recent years, driven by a combination of angst over cost and debt, and what I think are fair questions about whether the education we offer is useful and relevant in a fast-changing world," UNC System President Peter Hans told the UNC Boards of Trustees about the results of the report.
A Wall Street Journal-NORC poll from earlier this year found that 56 percent of Americans think earning a four-year degree isn't worth the cost.
But the results of the UNC System study shed light on the reality of attending one of the state's many public colleges: "Come to a UNC System school to study, graduate on time, and you're almost guaranteed to leave with broader opportunities and greater ability to support a family," Hans said.
Over the past decade, North Carolina has prioritized college affordability. Among those efforts is a tuition freeze that's been in place across the UNC System for the past seven years and the NC Promise, which keeps student tuition at $500 a semester at four of the system's universities. The benefits of those investments are borne out in the new study: For every dollar the state provides in appropriations, a graduate will earn an additional $23.07 over their lifetime.
According to the study, 94 percent of the UNC System's undergraduate degree programs—and 91 of graduate degree programs—yield a positive return on investment for graduates. That's in line with recent national data from the Institute for Higher Education Policy, which showed that a college degree has value for about 93 percent of students, and especially for those who attend public institutions.
"The evidence is clear: bachelor's degree recipients from the UNC System fare better in lifetime earnings than fellow state residents without degrees. Robust state investment in postsecondary education is a winning strategy that yields substantial benefits for students and their surrounding communities," Diane Cheng, IHEP's vice president of research and policy, said in an email. "By shining a light on post-college earnings and outcomes, other states and systems can make the case for deeper investments that help ensure every student has the opportunity to access postsecondary education and complete a credential."
Predictably, STEM degrees were among the top-earners—an undergraduate degree in biotechnology had the highest earning potential with an expected $3.27 million in median lifetime return on investment. At the same time, 100 percent of education and health professions degrees yielded positive return on investment.
"That 100 percent positive ROI is a combination of both the degree to which North Carolina has really made sure their programs are low-cost and affordable for students and the degree to which those students are taking on good-paying jobs in the state of North Carolina," said Megan Cluver, a principal with Deloitte and co-leader of the UNC System report project. "This also gives North Carolina an opportunity to really challenge the public narrative that higher ed is too expensive and debt is inherently bad for students."
Even fields that have drawn public criticism about their usefulness for building a stable career, such as humanities and social sciences, produce financial gain for graduates. For instance, the UNC System's foreign languages, psychology and communications programs all produced median lifetime returns of more than $300,000.
The report did have some limitations, however. Precise wage data were only available for those graduates who work in North Carolina. To partially fill in those gaps, researchers used estimated regional earnings data by career field for graduates who had moved out of state.
"Do we wish we had better data? Yes," Wade Maki, chair of the UNC Faculty Assembly, said. But he said the overall results of the report are reassuring because instead of saying "Don't major in the following 10 things," it said, "Whatever your major is you're going to be better off.'"
Although he said some faculty were concerned that state lawmakers may use the study's conclusions to target certain programs, "my understanding is that this was a truth in lending," exercise because the data offer students and their families transparent information about the earning potential associated with each degree program.
"If they're mostly interested in money, that helps them make a decision," Maki said. "If they're mostly interested in following their passion, that information doesn't hurt."
The study did not measure the value of a degree beyond its earning potential, such as effects on voting participation, volunteerism and wellbeing.
"A post-secondary credential has many other noneconomic benefits," said Michael Itzkowitz, president of the HEA Group, a research and consulting agency focused on college access and success. But providing information about return on investment, like the UNC System has, remains a critical piece of illustrating college's value.
"Whether we like it or not," he said, "the number one reason students choose to pursue a post-secondary education nowadays is for greater employability and to obtain a financially secure future."