You have /5 articles left.
Sign up for a free account or log in.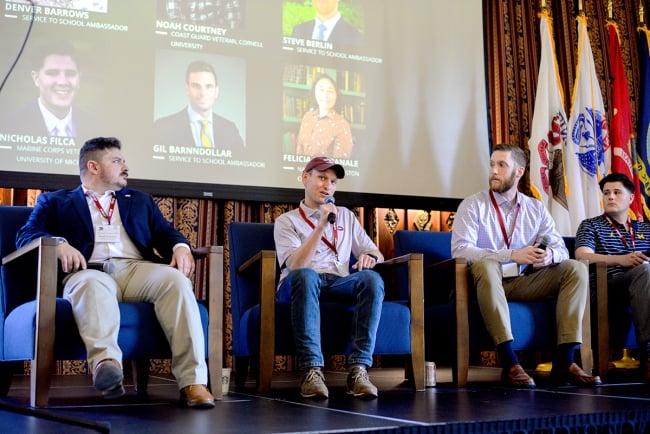 A growing number of colleges and universities are expanding their outreach to and recruitment of military service members and veterans in an effort to grow enrollment as the number of students of traditional college age declines nationally.
Veterans are also being pursued for their diverse backgrounds and life experiences in the wake of the U.S. Supreme Court's decision banning affirmative action in admissions.
"I think student veterans check a variety of boxes that institutions are looking for," said Sydney Matthes, chief program officer at Service to School, a national organization that provides free college counseling to veterans.
"In a lot of cases, they're more likely to be first generational … we can look at women veterans, LGBTQ veterans, veterans who identify as people of color, all without necessarily asking or admitting based upon those criteria," said LeNaya Hezel, chief programs officer at Warrior Scholar Project, an organization that leads academic boot camps aimed at preparing veterans for college.
Hezel said the recent spike in recruitment of veterans and active service members is the largest she's seen since the 2008 passage of the Post-9/11 GI Bill, which helps veterans who served on or after Sept. 11, 2001, pay for college or job training.
Service to School has seen a 275 percent increase in the number of institutions participating in its VetLink program, which connects prospective students with college admissions officers. The program started with eight highly selective institutions participating in 2017 and now has 30. Participating institutions include the Massachusetts Institute of Technology, the University of Notre Dame and Pomona College.
Admissions and enrollment officers at colleges that are less selective and less resourced are also likely considering tuition revenue as they look to bolster shrinking student rolls. The veterans and service members bring tuition dollars with them in the form of guaranteed federal aid under the GI Bill.
There were 610,009 veterans using the GI Bill in the 2021 fiscal year, according to data from Ithaka S+R, a higher education research and consulting group. But according to a 2020 report from the Brookings Institution, a nonpartisan think tank, only about 41 percent of eligible Army veterans from 2008 to 2016 used their educational benefits.
Emily Schwartz, a senior program manager on the educational transformation team at Ithaka S+R, has focused much of her research on disparities in student veteran enrollment, particularly at highly selective and high-graduation-rate institutions. Inside Higher Ed's long-time columnist, Wick Sloane, has published an annual survey for more than a decade documenting the relative lack of veterans at those institutions and challenging the colleges to focus on this population.
"Those are the institutions that have historically enrolled very few veterans. So it's an area where it would be great for additional attention, especially since they are well resourced and well equipped to support veterans on their way to graduation," Schwartz said.
Low rates of veteran enrollment are common across all sectors of higher ed.
According to Ithaka's reports, data from the U.S. Bureau of Labor Statistics show that only about 30 percent of veterans have at least a bachelor's degree, compared to nearly 35 percent of civilians age 25 and older; yet, according to a survey conducted by Syracuse University's Institute for Veterans, 53 percent of service members indicated that "educational benefits" were a top reason they entered the military.
A series of blog posts recently released by Ithaka in advance of Veterans' Day builds on the group's past research and provides updates on the opportunities available to—and challenges faced by—service members headed for college and how administrators, instructors and nonprofit leaders can help—and already are.
William Hubbard, vice president for veterans and military policy at Veterans Education Success, which advocates for and works to protect federal military and veteran education benefits, said four-year institutions that have larger budgets to invest in veteran support programs are leading the outreach and recruitment efforts. "In many ways, student veterans are the ideal student," he said. "As campuses are looking to address various challenges that they're facing, they're oftentimes solved by bringing student veterans to the campus."
Key Drivers of Expansion
Hezel and other veterans' advocates suggest that the pandemic and the June Supreme Court ruling on affirmative action were key drivers of the increased interest in veterans.
Some traditional-age students, or their parents, lost jobs and income during the pandemic and were unable to pay for college and dropped out as result. "Whereas those who are eligible for the GI Bill had that quote-unquote guaranteed funding already in place," Hezel said. "Universities started saying, 'OK, this is a population that isn't really going anywhere.'"
Schwartz said the closure of a loophole in federal legislation, which previously incentivized for-profit institutions to recruit veterans by allowing the colleges to use GI Bill funds to offset a cap on federal student aid, should also make a difference. She hopes it prompts more nonprofit colleges to pursue this market of students.
Many for-profit institutions have historically had low graduation rates and mixed academic outcomes.
Only 22 percent of veterans using GI Bill benefits currently attend institutions with graduation rates above 70 percent, compared to 38 percent of the general student population, Ithaka data show. But that's up from as few as 10 percent who enrolled at high-graduation-rate colleges in 2015.
That selective colleges are also pursuing veterans is an added bonus.
Highly Selective Private Institutions
One way that highly selective colleges are working to increase enrollment of military-connected students is by expanding their offerings through the Yellow Ribbon Program.
The program is overseen by the U.S. Department of Veterans Affairs and helps close the gap between the tuition and fees charged by in-state public institutions, which are fully covered by the GI Bill for those who qualify for the maximum benefit, and the total bill at an out-of-state or private institution, which is not covered. Under the Yellow Ribbon Program, the VA will match any financial aid provided by the out-of-state or private institution.
More than 500 colleges and universities have participated in the Yellow Ribbon Program since its launch. Several participating top-tier institutions have recently expanded their financial support for veterans. Vanderbilt University, for example, recently announced that it will be increasing its Yellow Ribbon scholarships from $6,000 to $16,000 per student in July 2024. The private institution in Nashville, Tenn., currently enrolls about 30 eligible undergraduates each year.
Georgetown University in Washington, D.C., made a similar announcement that, starting in August 2024, it will no longer impose a tuition cap on veterans in the Yellow Ribbon Program and will now cover full tuition costs for enrollment at the university's School of Continuing Studies. It also will no longer limit the number of students that can participate in the program.
"In my opinion you're kind of putting your money where your mouth is," Matthes said. "By saying you're a Yellowbird institution, you are willing to financially invest in these students on your campuses."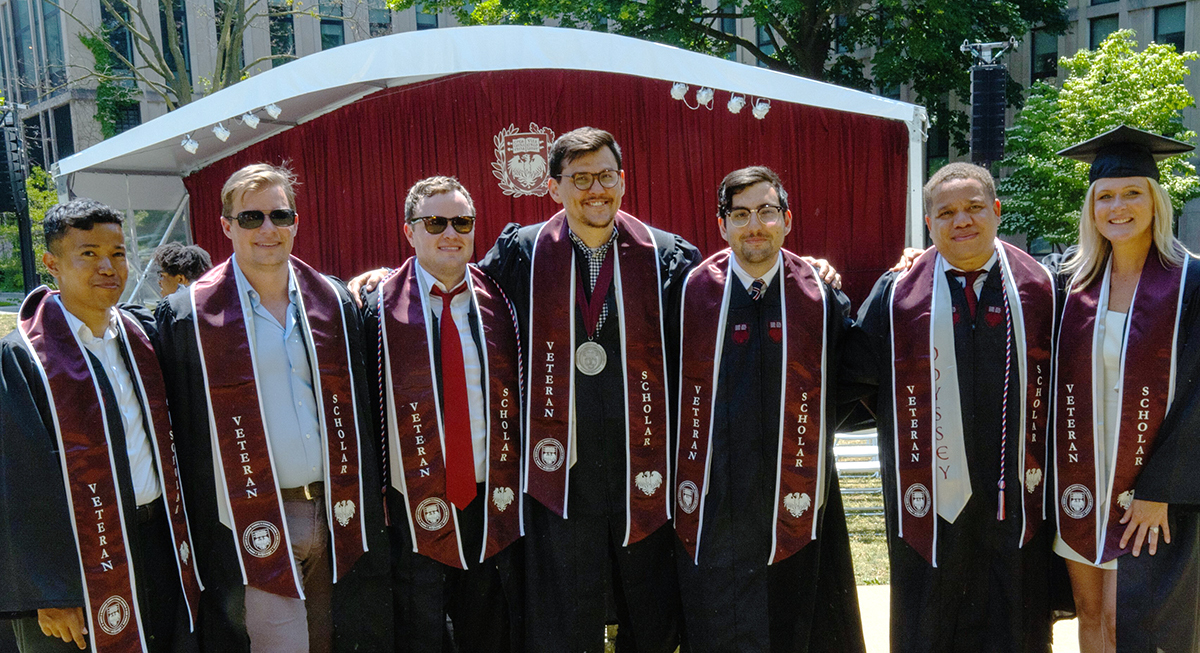 Other highly selective private colleges and universities that are establishing and expanding programs targeted at veterans include Cornell University, which made a commitment in 2017 to enroll 100 military veterans as undergraduates by 2020. The university didn't meet its goal, but the number of veterans enrolled went from 24 in 2017 to 75 in 2023, according to an annual survey. Columbia and Syracuse Universities have had established centers for veteran research and support for more than a decade.
The University of Chicago created a Veterans Scholars Program in 2019, which supports students throughout their college experience, with financial aid, social events, career workshops, academic advising and professional development opportunities. The university went from having no undergraduate veterans enrolled in 2018 to just under 100 in 2023. And in 2022 the university announced a new accelerated M.B.A. program for veterans, similar to one soon to be launched at Emory University.
"We just keep falling in love more and more with these students and what they bring to campus," said Beau Butts, Chicago's executive director for veterans' initiatives, programs and services. "We're finding ways to support them by removing barriers, anxieties and stressors that would keep them from being fully engaged in the student experience."
State and Public Efforts
Expansions of recruitment and support services are also happening at the state level and among public four-year institutions and community colleges. State governments are also helping more veterans earn college degrees.
Purdue Global, an online institution for working adults, established an extension office at Vandenberg Space Force Base in California in early October, a first for the university. Long Beach City College is opening a Veterans Business Outreach Center to support veterans who own small businesses or want to start a new business as they transition into civilian life. And Pennsylvania State University is one of five institutions sponsoring a 12-week course on nanotechnology skills, offered for free to veterans enrolled at nearby community colleges.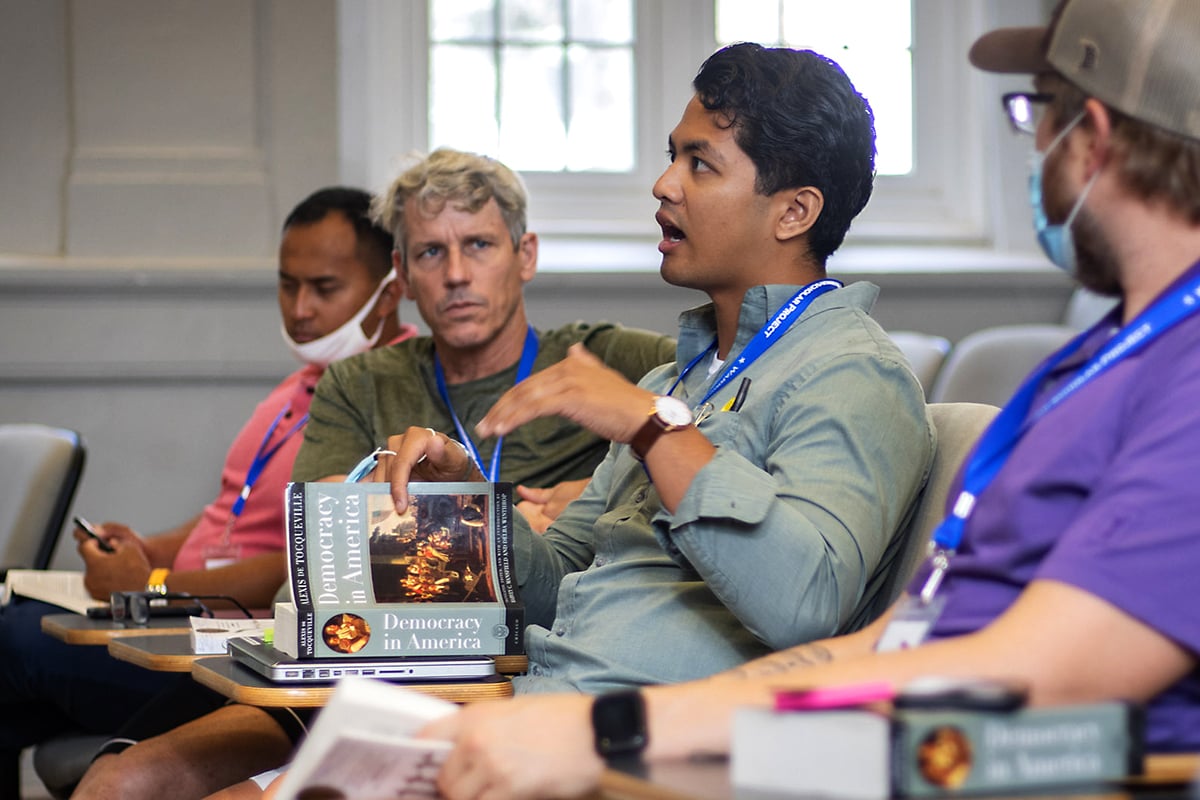 Indiana's Commission for Higher Education recently set a goal to help 5,000 veterans in the state pursue a certificate, associate or bachelor's degree at an Indiana postsecondary institution by 2025–26.
The decision was a no-brainer; 2,000 to 3,000 service members were coming off active duty and returning to the state every year. They were a "readily identifiable population" of nontraditional learners, said Stacy Townsley, the state's associate commissioner for adult strategy.
"Also, once campuses understand how they can address this particular population's specific needs, that really raises the bar and the level for everyone and helps them better address all adults," Townsley added.
A work group tasked with directing this initiative is helping to establish a standardized process for service members to receive college credit for the skills and life experiences they gained while in the military.
Ohio has already established a military credit for prior learning program to encourage service members and veterans to apply to college. The state is now developing support services for vets after they enroll.
The Cuyahoga County Department of Health and Human Services, located in northeast Ohio, also launched a pilot program in September, called Coach to Complete, that will pair state National Guard members with one-on-one success coaches to improve degree-attainment rates. The program is operated in partnership with the state Department of Higher Education and InsideTrack, an organization that helps institutions enroll students and improve academic outcomes through coaching.
Nationally, more than half of National Guard members, 59 percent, have at least a high school diploma and some college experience, but only 29 percent completed an associate degree or higher. In Ohio, the rate of degree completion is 24 percent.
Steve Ast, senior vice president of partner success at InsideTrack, said a key element of this program is that the support services are available to service members enrolling in all forms of undergraduate education—from a certificate to a full bachelor's degree.
"The higher ed system wasn't built for individuals who have other things going on in their life," Ast said. "The higher ed system is trying to shift to support these individual learners, and the individual learners are trying to figure out how do they take advantage of or use the higher ed system in a way to support their individual goals."