You have /5 articles left.
Sign up for a free account or log in.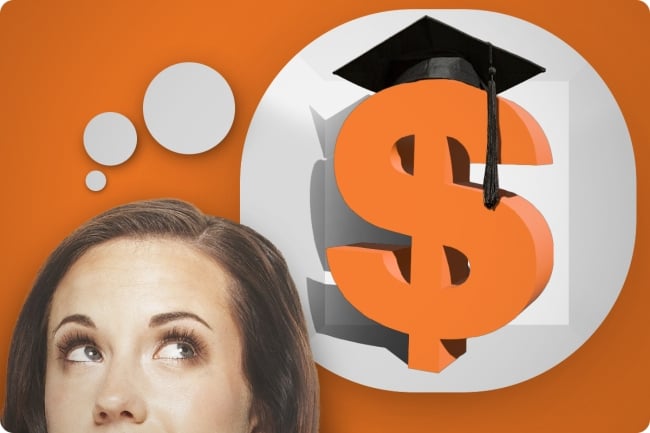 Photo illustration by Justin Morrison/Inside Higher Ed | Getty Images
As post-pandemic financial pressures weigh on prospective college students and their families and debates about the value of a college degree shape public opinion, the cost of attendance can heavily influence where high school students enroll, according to a new report from the Art & Science Group.
The report, released Tuesday and based on a national poll of almost 4,000 high school seniors, found that factors such as the perceived student experience at a particular college also play a role in where they attend.
"We haven't hit a tipping point per se, where students are just simply looking at sticker prices and saying, 'Forget it. College isn't worth it.' They're still interested," said Craig Goebel, a principal at Art & Science Group.
In many cases, students' perceptions about a college's curriculum, internships and undergraduate research opportunities, and postgraduation outcomes, among other factors, also drive college decisions.
"There's a lot of media out there talking about the plurality of families that are questioning the value of a college degree," said Goebel. "But what we have found is, yes, students are certainly focused on costs, there's no doubt about that. But fortunately … students are still really focused on the actual substantive part of the [college] experience."
Ben Cecil, a senior education policy adviser at Third Way, a center-left think tank, said the study's findings "complicate" debates about the value of a college degree and indicate that for many students, college is "more than just a degree."
"The experience that they have on campus is a key part of that," Cecil said. "Students are weighing these different options in conjunction with and not independent of cost."
Cost 'Not The Only Factor'
The study surveyed high school students from across the country: 1,865 in January and February, when students had decided where they would apply, and 2,087 in May, June and July, when most had put down a security deposit at the institution where they planned to enroll. About half of the students surveyed planned to attend a four-year institution full-time.
Forty percent of students in the winter sample reported that they had already ruled out certain colleges and universities entirely because of the price tag. Fifty-two percent of students in the spring sample cited costs for why they ruled out certain institutions, suggesting that cost plays an even more decisive role later in the admissions process.
Regardless of their race or income level, most students ranked the importance of cost in a college decision at about eight on a scale of one (least important) to 10 (most important). The availability of majors and academic quality were seen as equally important.
"To me, that says students very much value what they're going to learn and the experience they will have," said Sophie Nguyen, a senior policy analyst of higher education at New America, a left-leaning public policy think tank.
She said it's "very encouraging" to see students considering other factors, such as academic support structures, that are crucial to retention and degree-completion rates.
Although students across demographics ranked cost at a similar level of importance in a hypothetical context, differences emerged when the question was applied to real-life decisions. Students who said they ruled out one or more colleges based on cost had a lower average household income ($88,000) than those who did not ($103,000).
"Early on in the process, all students and families have some base-level concern about affordability," Goebel said. "As they start to get their financial aid packages, it all becomes very real … And for those lower-income families and students, our supposition is that for them, it gets a bit daunting."
The study also noted that while students of color rated the importance of cost slightly higher than white respondents, they were less likely than white students to have ruled out a college based on cost.
Financial Aid Preferences
Despite the influence of cost in students' decisions, the report's findings also show that applicants aren't taking full advantage of the tools available to help them evaluate and compare financial aid options.
While the majority of students filed the Free Application for Federal Student Aid (between 63 and 70 percent), far fewer utilized a net cost calculator or contacted college financial aid staff to better understand their scholarship package or to inquire about the possibility of getting more financial aid. Only about 30 percent of students utilized a net cost calculator and even fewer, 27 percent, spoke with financial aid staff.
Cecil, from Third Way, said he was not surprised by the low usage of the financial aid tools.
"I think there's a need for increased transparency … and also for additional resources and communication related to financial aid assistance," he said.
Students who would most benefit from using cost calculators and speaking with college financial aid staff were actually accessing them the least, according to the report. First-generation students were nine percentage points less likely than continuing-gen students to utilize cost calculators and 12 percentage points less likely to talk to an adviser. A similar disparity was found between low-income and affluent students, respectively.
Goebel suggested that the intimidating complexity of the cost calculator was likely a reason for its underuse. He also said that first-generation and low-income students' may not have the wherewithal and knowledge to contact financial aid staff to get more information about financial aid options or request assistance understanding their aid packages.
"Some of that's understanding that you can reach out to financial aid staff and talk to them and try to ask questions. You can even try to better understand where there might be flexibility in the award," he said.
When students do receive aid, the categorization of the scholarship can also influence their decision process, according to the report. The survey asked students, if they were receiving a hypothetical $20,000 package of aid, what portion would they hope to be need based and what portion merit based. The resulting data showed that exclusively need-based aid offers are less appealing than those that include a balance of merit- and need-based awards.
"You're essentially being rewarded for your performance. It's the type of thing that makes you feel good," Cecil said.
"Students deserve clear information about the college experience to make informed decisions about the institutions and programs that are right for them … Students also need clear information about available aid including need-based aid and grants to inform their decisions," Diane Cheng, vice president of research and policy at the Institute for Higher Education Policy, said in an email.
She said the poll data are consistent with earlier IHEP research indicating that "financial aid letters signal to students whether and where to pursue higher education." Cheng and others noted that new regulations on college cost transparency established by the U.S. Department of Education will provide students more clarity on the full costs of college. The Financial Value Transparency framework is scheduled to go into effect next July.
Overall Student Experience
According to the report, the value students assign to their anticipated college experience can be more important, in some cases, in their college selection than cost. And some colleges have more leverage regarding student experience than others.
Combining new data with the results of a previous Art & Science Group poll, as well as data from individual institutions, the study provides an example of this by comparing two institutions: School A and School B.
School A's data demonstrated that perceived student experience held a 90 percent level of influence on the college decision of its enrollees compared to only 10 percent for affordability. At School B the influence of the two factors was less imbalanced; 60 percent of students said they were influenced by the potential college experience while 40 percent said they were swayed by cost.
"Institutions that really focus on what's special about their institution based on their history, their mission, their current strengths … Those are the institutions that are able to get students to focus more on the student experience and worry less about the overall cost of the institution," Goebel said.
"Ultimately, students aren't just looking for the lowest-cost institution," he added. "They're looking for an experience that's going to transform their lives."