You have /5 articles left.
Sign up for a free account or log in.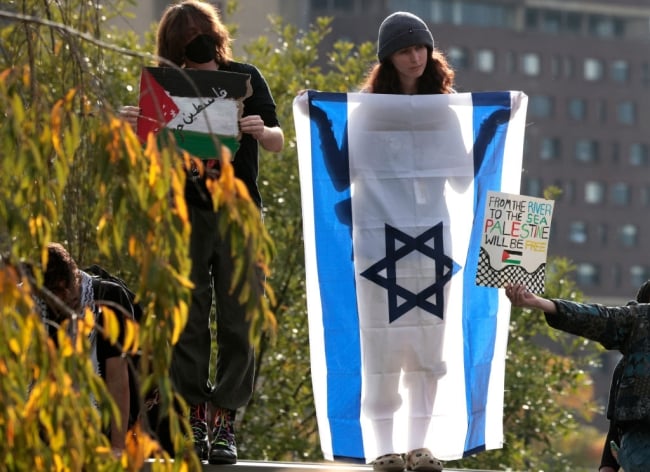 Photo by Jessica Rinaldi/The Boston Globe via Getty Images
In an incident that many people viewed as a troubling escalation of tensions on a college campus over the Israel-Hamas war, pro-Palestinian students banged on locked library doors while shouting "Free Palestine" at Cooper Union in New York City while Jewish students were inside the library, according to a widely circulated video of the Oct. 25 incident.
The incident followed a planned protest by the pro-Palestinian students outside the college; police were on scene the entire time, according to The New York Times.
No arrests were made, and John Chell, chief of patrol for the New York City Police Department, said during a press conference that "there was no direct threat," damage or "danger to any students in that school."
But some of the Jewish students who were in the library Wednesday afternoon said they felt threatened nonetheless.
"I started crying immediately," an anonymous student who was in the library told Fox 5, a local news station. "I was very scared."
Chell said police officers were on campus Thursday to "make sure everything goes peacefully."
That didn't keep New York City councilwoman Inna Vernikov from posting on X Thursday, calling on Laura Sparks, the college's president, to resign if she "couldn't keep Jewish students safe" on campus.
Sparks told the campus community that the college is still investigating the incident.
"In the coming days we will review reports and footage from today's events and initiate any necessary actions consistent with our policies," Sparks said in a statement posted on Cooper Union's website. "There is room for productive debate and dissent here. But there is no tolerance for hate or threatening conduct. We condemn discrimination of any kind, including antisemitism and Islamophobia."
What happened at Cooper Union is one of the latest examples of tensions flaring on college campuses since the war started earlier this month. Israel-Palestine relations have long been a topic of feverish debate on American campuses, but students on either side of the current conflict say they not only feel enraged about the number of people injured and killed during and following Hamas's Oct. 7 attack on Israel, they also feel they themselves could be in danger on their campuses.
Those fears draw from an uptick in antisemitic and Islamophobic attacks nationwide; the Anti-Defamation League, a nonprofit that fights antisemitism, reported on Tuesday that nearly four times as many instances of harassment, vandalism and assault directed at Jewish people occurred in the weeks following Hamas's Oct. 7 attack on Israel in comparison with the same period in 2022. Meanwhile, the same period has produced the most reports of Islamophobic incidents since 2015, when then presidential candidate Donald Trump proposed a ban on Muslims entering the U.S., the Council on American-Islamic Relations reported.
Such events have also occurred on college campuses. At Drexel University in Philadelphia, an unknown person set fire to "decorations" on a Jewish student's dorm door on Oct. 10, according to NBC 10; the university is investigating whether "bias, discrimination, or hate, which we do not tolerate at Drexel, was the motivation behind this incident," President John Fry wrote in a statement.
Similarly, a bathroom and dorm rooms of two Jewish students at American University, in Washington, D.C., were vandalized with swastikas and a Nazi slogan on Oct. 19, leading to an ongoing investigation by the university's police force.
"As we address this incident and the larger issues causing pain in many parts of our community, we are focused on supporting our community members, hearing their concerns, and working to ensure their safety," a statement released the following day by AU president Sylvia M. Burwell read in part. "I ask that as a community we recognize that our Jewish and Israeli community members and families are frightened. Our Muslim and Palestinian community members and families are frightened. Acts of hate, intimidation, and dehumanization cannot be the way we live together and treat one another. This includes physical threats, as well as online harassment and doxxing. No matter your background, ethnicity, or faith, everyone has a right to feel safe."
Managing Student Fear
But for at least one Jewish student at American, the acknowledgment of the fear this incident caused the university's Jewish population wasn't enough. Lauren Cayle, a junior who is involved with multiple Jewish and pro-Israel clubs on campus, said the university did nothing to help when protesters interrupted a vigil for Israeli civilians killed on Oct. 7, calling those gathered "fascist pigs." Even before the Israel-Hamas war began, she said, the clubs she is involved in often asked AU police to chaperone their events, but they did not always show up.
"Thankfully nothing has happened. But do your job," she said, addressing AUPD. "We're asking, we're communicating prior to the event to make sure nothing happens, and you're not showing up. It's scary."
In the wake of these antisemitic incidents, many politicians and pro-Israel advocates are calling for increased protection for Jewish students on university campuses. Sixteen Republican U.S. senators called on the Department of Education to enforce Title IV of the Civil Rights Act of 1964 to fight against discrimination against Jewish and Israeli students. The ADL is also calling on all universities with a chapter of Students for Justice in Palestine, a pro-Palestine group with a presence on nearly 200 campuses that has received backlash for some chapters celebrating Hamas's attack, to investigate whether their campus's chapters are "materially supporting a foreign terrorist organization."
And on Thursday, the White House stepped into the fray and issued a strongly worded condemnation of the incendiary language and actions of some pro-Palestinian student groups.
"Amidst the rise in poisonous, antisemitic rhetoric and hate crimes that President Biden has fought against for years, there is an extremely disturbing pattern of antisemitic messages being conveyed on college campuses," Andrew Bates, White House deputy press secretary, said in a statement. "Just over the past week, we've seen protests and statements on college campuses that call for the annihilation of the state of Israel; for genocide against the Jewish people. Jewish students have even had to barricade themselves inside buildings. These grotesque sentiments and actions shock the conscience and turn the stomach. They also recall our commitment that can't be forgotten: 'never again.'"
Lynn Pasquerella, president of the Association of American Colleges and Universities, said she has heard from worried and angry students and faculty during campus visits in recent weeks. But she added that the fact that there have been truly concerning antisemitic events both on and off college campuses doesn't mean that colleges should put limitations on peaceful but heated protest and debate.
Toeing the line between allowing community members on all sides of the issue to speak their mind versus preserving a sense of safety and security can be challenging, she said, noting that this dichotomy is one campus leaders have grappled with for decades. Often the answer hinges on the specific nuances of what demonstrators are saying and whether their words constitute a call to violence, although "that's very difficult to discern these days."
Ultimately, instead of shutting down the frightening speech, she said, "we need to acknowledge the fear is real [and] look at the ways in which that impacts a student's ability to learn inside and outside the classroom."
Striking a Balance
As the conflict in the Middle East continues to fuel debate on campuses, colleges are grappling with balancing free speech and campus safety in real time.
The same day police in New York City responded to the protest at Cooper Union, campus protests got heated in Colorado, Louisiana, Massachusetts and Michigan.
A couple of Tulane University students in New Orleans "were assaulted and reported minor injuries" during a Thursday afternoon clash between demonstrators at a rally just off campus, according to an update posted on X by the university. New Orleans and campus police responded, and two people were arrested "and more are forthcoming once video evidence is reviewed," the post said.
"We are increasing security and assisting our students in any way we can. The campus has been secured, and our students are safe," the post said.
At the University of Massachusetts at Amherst on Wednesday, student demonstrators occupied an administration building while calling on the university to cut ties with weapons manufacturing companies, such as Raytheon, and "condemn the Israeli massacre of Palestinians and condemn the blockade on Gaza," according to local news outlet MassLive.
The demonstrators refused to leave after the building closed for the day, and after multiple warnings from authorities, campus police arrested 56 students and one employee on trespassing charges.
"The protestors' specific demands do not align with the university's publicly stated positions and policies," Ed Blaguszewski, executive director of strategic communications, said in an email. "UMass Amherst recognizes the right of students to demonstrate on university premises, which is consistent with the university's commitment to free speech and the advocacy of opinions and ideas protected under the First Amendment."
Also on Wednesday, students at the Auraria Campus in downtown Denver—where the Community College of Denver, Metropolitan State College of Denver and the University of Colorado at Denver operate—students walked out of class in support of the Palestinian people, according to CBS News Colorado.
But when pro-Israeli counterprotesters emerged, a back-and-forth started: pro-Israel demonstrators screamed "Israel forever" and "dead Palestinians are animals" in response to calls from pro-Palestinian demonstrators to "Free Palestine." According to CBS, some shoving ensued, but "Auraria police quickly got the situation under control." No one was injured, and no arrests were made.
Rebecca Ruiz, spokesperson for Auraria Higher Education Center, the state agency that owns and operates the 150-acre parcel of land on which the three colleges operate, said the AHEC and the Auraria Campus Police Department's top priority "will always be the community's and the protestors' safety while ensuring the First Amendment rights of any individuals entering the Auraria Campus who intend to assemble peaceably are protected."
A similar situation also unfolded at the University of Michigan Wednesday, when pro-Palestinian demonstrators had at least one verbal clash with pro-Israeli demonstrators, according to local news outlet Fox 2 Detroit.
"Outrage and despair quickly took over," the station reported, noting that "Public safety officers arrived to calm things down."
A university spokesperson told Inside Higher Ed that the demonstration was an example of free speech in action.
"In responding to such situations, we seek to balance our commitment to free speech and discourse with upholding our commitment to the safety and health of members of the university community through our existing policies and practices," Kim Broekhuizen, the university's director of public affairs, said in an email. "As an institution dedicated to learning, discourse and reasoned debate, the University of Michigan welcomes the expression of diverse viewpoints."
Marjorie Hass, president of the Council of Independent Colleges, said colleges that are allowing their students to engage in this dissension, contentious as it may be, are, in fact, benefiting their students. She stressed that universities can make these dialogues more constructive by offering students opportunities to participate in safe, thoughtful conversation, such as teach-ins or panel discussions.
"I think campus leaders need to be very vigilant and not ignore the possibility of violence," she said. "But I also think they should be helping students find ways to navigate conflict that don't lead to violence. That's part of the educational mission."