Free Download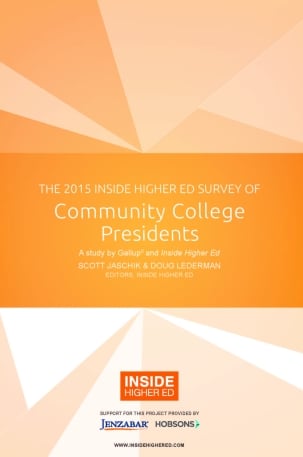 For all the talk about the prospect of free community college, most two-year-college leaders are skeptical about the feasibility that the concept will come to pass in their states.
Even with the federal support that President Obama has proposed as part of the initiative, community college presidents surveyed by Inside Higher Ed remain pessimistic that their state legislatures would support the idea.
The Obama administration's free community college initiative is just one of the issues covered in Inside Higher Ed's first-ever Survey of Community College Presidents, released today in advance of the annual American Association of Community Colleges convention.
About the Survey
Inside Higher Ed's 2015 Survey of Community College Presidents was conducted in conjunction with researchers from Gallup. Inside Higher Ed regularly surveys key higher ed professionals on a range of topics.
On Thursday, May 28, at 2 p.m. EDT, Inside Higher Ed editors will analyze the survey's findings and answer readers' questions in a free webinar. To register, please click here.
The Inside Higher Ed survey of two-year-college presidents was made possible in part by advertising from Hobsons and Jenzabar.
The survey, conducted by Gallup Education, sought the impressions of 213 two-year-college leaders on such issues as online instruction and stackable credentials, as well as the serious "skills gap" problems in their respective states and regions. A copy of the report can be downloaded here.
The survey also found that:
77 percent of community college presidents believe the skills gap is a serious problem in their local communities, and 89 percent are working with local businesses to close that gap.
50 percent of two-year-college presidents agreed that more courses could be moved online without adversely affecting students at their institutions.
Most two-year leaders don't view for-profit colleges as a threat, with 62 percent disagreeing that they are losing students to the colleges.
Only 39 percent of presidents feel their legislatures would back President Obama's free community college tuition plan even with federal support. That number decreases to 13 percent without federal support.
Community college leaders also don't expect to see much support from the four-year colleges in their state. Ninety-one percent feel their counterparts will be unsupportive of the plan. That squares with the majority of presidents of public master's degree-granting and baccalaureate universities who said they didn't support Obama's proposal in Inside Higher Ed's 2015 Survey of College and University Presidents.
When it comes to the skepticism surrounding free community college tuition, presidents are most likely looking at their current state funding situations, which have seen significant declines, said Steve Katsinas, director of Educational Policy Center at the University of Alabama.
The center found that 31 states had public higher education operating budgets that did not keep up with the Higher Education Price Index for 2014-15 -- that's 17 more states than the previous year, he said.
"Perhaps the presidents are skeptical about the availability of state funding that would be needed for their states to do the required match," he said.
Structured Pathways
The survey found that 56 percent of two-year-college presidents agreed or strongly agreed that having too many course choices is an obstacle to students' degree completion. Those feelings coincide with 43 percent of presidents agreeing that their colleges are moving toward limiting student choices.
Phillip Neal, the president of Southcentral Kentucky Community and Technical College, said the structured-pathways approach is more focused on developing quality advising relationships between adviser and student than on reducing class choices.
"We adopt the 'students don't do optional' philosophy and require all degree-seeking students to be advised every semester," Neal said in an email. "During the advising session, the adviser guides the student through choosing an optimal schedule for goal completion."
Students are registered "on the spot" as soon as they select the schedule, he said.
"This keeps students on target to graduate in the most expeditious time frame," Neal said. "It also reduces the degree of self-advising, which invariably leads to problems."
Evelyn Waiwaiole, director at the Center for Community College Student Engagement, points also to Guttman Community College at the City University of New York and Kennedy-King College of Chicago, which have both seen success using guided or structured pathways.
"When we can have integrated support and the mind-set that this is how we do college and everyone will experience this… every student will be on a path and not just out there in no-man's-land," Waiwaiole said.
Stackable Certifications
The survey also found that nearly 90 percent of presidents said their colleges offered stackable credentials, which link a series of certificates in a specific field so each credential builds on the previous one. Almost all of those presidents said they were working with industry partners to identify the skills for each credential.
Among the roughly 10 percent of presidents who said they didn't offer stackable credentials, 73 percent said their institution was considering the certificates.
Neal, the Kentucky president, ties the stackable credentials, advising and structured pathways together.
"Many of our programs have stackable credentials and classes must be taken in a correct sequence," he said. "Advisers know the sequence and can help students understand the series."
Similar to structured pathways, students need guidance when navigating stackable credentials and face delaying program completions, increase in education costs and unneeded debt otherwise, he said.
Nearly 100 percent of presidents surveyed said that if they offer stackable credits, they're working with industry partners to identify the right skills for each certificate. 
That may be one way presidents and business leaders are working to close the skills gap. Eighty-nine percent of two-year leaders responded that they were working with local businesses to close the gap. The presidents do not believe they are getting enough help from local and state governments to close the skills gap, though: just a quarter (26 percent) agreed government funds are sufficient in that area.
Waiwaiole said that's typical of the community college president's job description. A very high percentage are active in their communities and working with local businesses to increase workforce development in their colleges, she said.