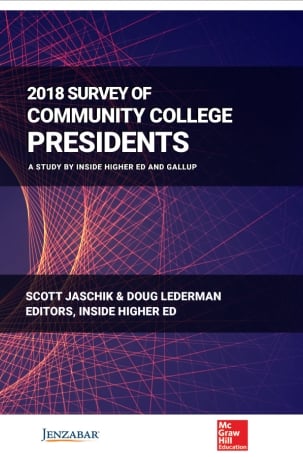 Enrollment concerns and finances remain the biggest challenges community college presidents say they face.
And those challenges have two-year college leaders not only concerned for their students and institutions but worried about the future of the community college presidency as the sector faces increasing pressures to improve work-force outcomes and completion, according to Inside Higher Ed's 2018 Survey of Community College Presidents.
The fourth annual survey, released today and conducted by Gallup, is based on responses from 177 two-year college leaders. The survey found that 71 percent of presidents regard financial matters and 68 percent report enrollment management as major challenges for themselves.
More About the Survey
Inside Higher Ed's 2018 Survey of Community College Presidents was conducted in conjunction with Gallup.
Inside Higher Ed regularly surveys key higher ed professionals on a range of topics.
On Tuesday, May 22, at 2 p.m. Eastern, Inside Higher Ed editors Scott Jaschik and Paul Fain will present a free webcast on the results and take your questions. Sign up here.
The Inside Higher Ed survey of presidents was made possible in part by advertising from Jenzabar and McGraw-Hill Education.
Enrollment is a significant concern for community college presidents, with 57 percent reporting enrollment down at their colleges over the past three years. Only 22 percent reported an enrollment increase, and 20 percent reported no change.
But this year's survey revealed that fewer presidents than last year are reporting declines in their enrollment. Last year, 61 percent of presidents said their enrollment was down.
Joe May, chancellor of Dallas County Community College District, said enrollment is up about 2.5 percent across his seven two-year institutions. He credits the increase to partnerships with K-12 school districts, universities and businesses.
"That's 2,000 more people for us, which is a nice increase," he said, adding that the system has focused on initiatives that encourage retention. "As we've seen the median income of the student body decline over the last 10 years, we've provided public transportation passes for our students, food banks and other resources. And we created a Promise program to allow several of our 100,000 students to attend at no costs."
Dallas is also opening more early-college high schools. So far, the system has 31 participating high schools where ninth- through 12th-grade students can earn college credit while also completing high school. The community college system plans to add 12 more early-college high schools this year, which will help enrollment.
Michael Baston, the president of the State University of New York's Rockland Community College, also pointed to enrollment and financial issues as significant challenges. When he took over the post at Rockland last year, he recognized that part of the problem was the traditional approach to the community college experience that institutions offer students, even as the number of recent high school graduates plateaus.
"We have to rethink who gets educated in the community we serve, and we can't just limit ourselves to the traditional [high school] graduate," he said, adding that he's asked the college to rethink programs and schedules with adult learners in mind. "We've created a position in admissions for adults. So, we have a person responsible for recruitment and orientation specifically for adults."
The survey also revealed:
75 percent of community college presidents say their college added new programs on campus to make it easier to transfer to universities, with the hope that these arrangements would make it easier for their institutions to recruit new students.
The number of presidents saying their institutions decreased or froze tuition also decreased from 38 percent last year to 27 percent this year.
87 percent of presidents said they expect to see a continued expansion of free college programs, and they believe those programs improve the way people view their local community colleges.
May said he's seen a similar effect with Dallas's Promise program, which offers up to three years of free tuition to eligible students. He said the program also helped ease the transition from high school to college, which in turn has contributed to improving enrollment and retention.
"It has been about changing the behavior of schools, counselors and parents earlier in the process," he said. "No one seems to know when students complete the [federal aid application], but when we look at economically disadvantaged students, the No. 1 predictor is not when they complete, it's whether or not they complete it. We've used our Promise to complete that early in the process."
The presidents surveyed in the report said they didn't just feel the pressures of getting students into college -- but of keeping them there. But transfer and completion are just as much, if not more, of a challenge. For instance, 90 percent of presidents say a lack of clear pathways allowing associate-degree holders to transfer credits to a four-year institution is a barrier, and 60 percent said a lack of universities accepting transfer students is a significant barrier.
"There's a lot of shifting and more complexity depending on where your college is across the country," said Karen Stout, a former community college president and chief executive director of Achieving the Dream. "Demographics are shifting in the student body, and drops in enrollment are creating one dynamic. Certainly, state funding is not stable in some parts of the country, and in federal policy there is uncertainty. And this is the student success imperative we're facing."
Those pressures to increase completion have many presidents worried about some of the methods colleges may take to increase attainment rates. For instance, 57 percent of presidents agreed that reforms such as encouraging full-time status as part of the completion agenda may not result in increased learning. While 41 percent of two-year presidents agreed that the pressure to show dramatic gains in graduation rates could create incentives for colleges to cut corners, only 34 percent disagreed. City Colleges of Chicago, for instance, has faced scrutiny over its increased completion rates.
However, most presidents -- at 78 percent -- disagreed with the idea that their own institutions had taken steps to improve completion rates that didn't necessarily improve student learning.
"There has always been this tension from policy makers of the immediacy of now and organizational and institutional leaders who want to reflect on how they best move their institution, without disruption, toward a better model," said Scott Jenkins, strategy director with the Lumina Foundation, which has been helping lead development of completion-agenda reforms in states. "At this point, there is a lot of urgency to do these reforms now, since a lot of the incremental change over the last 20 years has not yielded the kind of success we had hoped for, especially for underserved populations, and the time of polite conversation around this is rapidly drawing to a close."
Jenkins said it's that urgency that presidents may be feeling, and while institutional leaders and even faculty members may have concerns around the reforms to developmental education or implementing guided pathways, these are initiatives that are starting to show a lot of promise in helping students be successful, he said.
The Future of the Presidency
With the growing list of challenges facing community colleges today, many of the presidents surveyed expressed pessimism around the current pool of future community college leaders and the lack of training currently available to prepare those leaders.
Only 28 percent of current presidents said they were impressed with the talent pool of future community college presidents. And the percentage of presidents who agreed there are no clear paths to prepare for the presidency increased from 40 percent last year to 47 percent.
"There was a time when pathways to the presidency were very clear," Stout said. "Where you taught, became an academic chair, a provost and then president, and now more and more presidents do not follow that pathway … There's less certainty about the pathway because there are so many pathways now."
Robert Templin, a former president of Northern Virginia Community College, said that about three years ago he would have agreed with the presidents in the survey. He was worried about the future of the presidency and didn't see a clear pathway into the position. But that changed when he became a senior fellow in the Aspen Institute's College Excellence Program. As part of the program, Templin helps prepare that next generation of community college leaders through Aspen's Presidential Fellowship.
"As I looked at the folks replacing me after I retired, I found those most likely to step in were ready for retirement themselves, or they didn't want the job, or they thought it was too demanding and not rewarding," Templin said, adding that despite those concerns he guarantees most presidents responding to the survey would still take on the leadership role again. "And the reason they would do it again is because it is one of the most joyful and impactful roles in American society."
Asked if they had to do it again, 94 percent of presidents said they would still pursue a career as a community college president.
Templin said he's optimistic about the pipeline because the next generation of presidents is a more diverse group of people coming from different backgrounds and experiences and bringing a new set of skills into a profession that is facing a growing number of challenges.
Baston, the Rockland president, was a part of the first group of Aspen presidential fellows and was hired into his position immediately after completing the program.
He agreed that because the role has changed and become more complex, it requires different skill sets.
"We're still in an outmoded recruitment model that assumes the provost is the most logical person to be the next institutional leader, when the expectations of the work require more than just being able to understand the academic schedule," Baston said, adding that he's also concerned about the lack of diversity in executive positions at colleges.
That sentiment was shared by other presidents, of whom nearly 70 percent agreed there are too few minority candidates for two-year college presidencies, and 45 percent said there are too few women candidates.
"We aren't charging search firms with the responsibility, in my view, with making sure the pool of applicants is not simply white male provosts," Baston said. "And if you don't have faculty members of color, they can't get department chairs, who then can't get to the office of the provost, so they can get into the presidency."