You have /5 articles left.
Sign up for a free account or log in.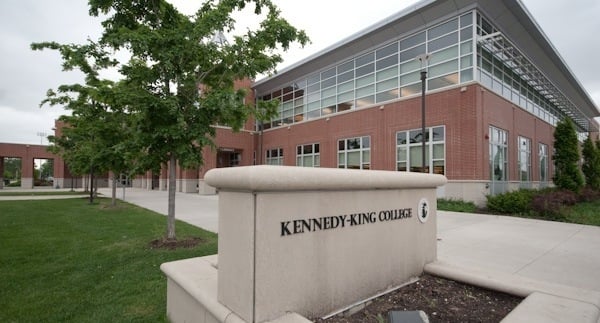 City Colleges of Chicago has received a heaping of praise in the last few years for dramatically improving single-digit graduation rates.
But a new report is calling into question just how the system of seven two-year institutions has increased degree completions, alleging it softened standards and manipulated data in the pursuit of better graduation rates.
According to the report from the Better Government Association, an Illinois-based nonpartisan watchdog group, "Since 2010, City Colleges has watered down its curriculum, violated its own rules on what constitutes a degree, changed the way it counts statistics and bestowed thousands of degrees -- sometimes in multiples to the same person -- to current and former students who in many cases neither requested nor wanted them."
Critics of City Colleges' completion push see the system as having altered policy and created initiatives simply to improve its metrics and image.
The report criticized Chicago Mayor Rahm Emanuel for proclaiming "in frequent appearances across the nation that the City Colleges' overhaul is a trend-bucking higher education success story."
The system and its defenders, however, say the policy and curriculum changes the system made as part of a "reinvention" it began seven years ago met all accreditation standards and have helped improve the quality of academic programs.
Despite the criticism behind how City Colleges has operated, the report said, "There is no debate over whether graduation rates and completion numbers are up -- they are."
"Today, students are graduating and completing at more than double the rate prior to the launch of City Colleges' reform efforts," City Colleges Chancellor Juan Salgado said in a written statement. "We will continue to build upon national best practices to reduce barriers for students and increase the value of City Colleges credentials so that even more students reach their transfer and career goal."
The report criticized City Colleges for awarding multiple degrees to past and current students. From 2010, when former Chancellor Cheryl Hyman arrived, to 2016, City Colleges' federal graduation rate increased from 7 percent to 17 percent. Hyman left the system last year following a faculty vote of no confidence and was replaced by Salgado.
The report found that hundreds of degrees were retroactively awarded to students, often without the students' consent.
The college contends that the report's take on how City Colleges counts degrees is both misleading and inaccurate. The colleges only count the highest credential a student receives toward the federal graduation rate and a student is only counted once in the graduation rate, according to a statement from City Colleges.
"Even if one were to remove the subsequent degrees, City Colleges still more than doubled the number of degrees awarded annually since the launch of its reforms," according to the college.
Retroactively awarding degrees isn't too different from awarding reverse transfer degrees and is a common practice in higher education, said Davis Jenkins, senior research scholar at the Community College Research Center at Columbia University's Teachers College, adding that with reverse transfer, the focus is on awarding associate degrees to students who've transitioned to a university, while City Colleges' practice was to award them to students who enrolled, achieved the credits and got nothing. (Jenkins served as an unpaid adviser to Hyman and City Colleges on many of the reforms criticized in the report.)
"Are we going to let students who earned a degree not get a degree because we didn't track them?" he said. "Even without those auto-awards, they still more than doubled these degrees."
Jenkins said the colleges didn't only retroactively award degrees but spent several years hiring more advisers, establishing better tracking systems and mapping academic programs with input from universities and Chicago-area employers.
"This was first and foremost about quality, relevance and then helping students get through rather than spending years wallowing around taking general education courses that don't add up to a degree," he said.
The report highlights that City Colleges in particular increased the awarding of associate degrees in general studies, which according to the college's handbook is "intended for the student who is not pursuing a specified curriculum in the lower-division transfer or professional-technical focus areas." For instance, the report found that, in 2014, nearly one-third of all degrees awarded by City Colleges were in general studies, which is a much larger share than other community colleges in Illinois awarded. The number of credit hours required for the associate in arts and the associate in science degrees also were dropped to the minimum allowed by the Illinois Community College Board.
"It was obvious City Colleges was using [associate degrees in general studies] to ramp up their numbers, and it's not really benefiting our students," said Tony Johnston, president of City Colleges' faculty union.
The report connects City Colleges' pursuit of better completion numbers with the controversial "reinvention" initiative. The program includes a laundry list of reforms, including hiring more advisers, creating guided pathways to credentials and narrowing campus offerings so they link to specific industries. It took off before City Colleges set up a new "flat rate" payment structure that made tuition less expensive the more credits a student carried.
"There's no doubt that the reinvention agenda went lockstep with the completion movement we've seen throughout the United States," Johnston said. "Faculty and staff are still very adamant that there are parts of reinvention that need to be changed and rolled back, including the tuition schedule, consolidation and also the excitement that this administration has for dual credit, which we find disturbing because it has the potential to outsource our work."
Despite the initiative's unpopularity among faculty members, the system plans to continue it.
"Reinvention was my predecessor's effort to deal with a dismal [federal] graduation rate of 7 percent and the terrible reality that our students' degrees were not valued by employers," said Salgado. "That effort resulted in real outcomes for students and has given me a foundation from which to chart a new course."
Despite also having a problem with many of City Colleges' reforms, the faculty union disagreed with the report about the idea that the curriculum has been "watered down."
"Our faculty did not agree with that," Johnston said. "All of our faculty are proud of the work they do in the classroom, and they know the reinvention policies have not, thankfully, impacted what goes on in the classroom … but it has made it much more difficult for our students to get the education they deserve."
Jenkins said there isn't any evidence that operations at City Colleges were better before the changes that the reinvention initiative brought and that the evidence shows the rates are up even without counting the retroactive degrees.
"Completion shouldn't be about just pushing students through," Jenkins said. "I'm sure there are places like that, but the work in Chicago and the movement nationally is to first of all look at the programs and say, 'Are they leading somewhere?'"