You have /5 articles left.
Sign up for a free account or log in.
The full University of Wisconsin System Board of Regents voted Friday to adopt a tenure policy to replace the one likely to be stricken from state statute, while rejecting one last opportunity to formally oppose planned Legislative changes to faculty terms of employment.
"The change in tenure policy comes without identification that a problem exists, without any gathering of data, without analysis or any public discussion of something that should be the Board of Regents' to determine," said Regent Mark J. Bradley, proposing a faculty-backed resolution asking state legislators to eliminate controversial language that would make it much easier to fire tenured faculty members from an omnibus budget motion likely to be passed by state lawmakers by the end of the month. The motion also includes new limits on the faculty role in shared governance.
Bradley's proposal echoed statements from faculty groups and some members of the regents' Education Committee the day prior, who argued that the regents' support for tenure is weakened if language otherwise limiting faculty power becomes law. But Regent Gerald Whitburn immediately moved to table Bradley's motion. The board voted to table, effectively ending the debate. (The Education Committee also voted 4 to 3 Thursday to pass the tenure resolution without a proposed amendment asking lawmakers to remove the controversial language from the budget motion.)
Other board members said they supported tenure and that they were confident it would be protected by the new regents policy and forthcoming guiding principles to be established by a joint committee, including faculty members.
Faculty members expressed disappointment in the board on social media and elsewhere, saying that board policy will always be second to state law.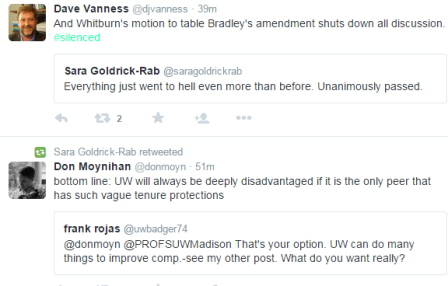 According to current state law, tenured faculty members in good standing in Wisconsin may only be laid off or terminated in financial emergencies. Proposed changes to state law would eliminate tenure and allow for the termination of even tenured faculty members under much broader circumstances, or "when such action is deemed necessary due to a budget or program decision regarding program discontinuance, curtailment, modification or redirection." The budget motion specifies that individual professors laid off for such reasons would be entitled to a hearing before a faculty body, but that program changes or closures would not be subject to review in the hearing.
According to policy established by the American Association of University Professors, tenured faculty positions may be eliminated in cases of true financial exigency or when academic programs are eliminated for the good of the institution over all, with full faculty input. Faculty members should be reassigned to other programs to avoid termination whenever possible.
In a weekend op-ed in the Milwaukee Journal Sentinel, Richard D. Legon and Susan Whealler Johnston, president and executive vice president, respectively, of the Association of Governing Boards of Universities and Colleges, warned state legislators against weakening the University of Wisconsin System through changes to tenure and shared governance.
"We'd be the last to deny the ultimate authority of a governing body of a higher education enterprise," they wrote. "However, proposed changes that would result in a diminution of educational quality seem shortsighted. We urge caution on the part of the Legislature. Just as the success of any business is largely dependent on the talent of the employees it can attract and retain, so, too, is the success of any university. Don't risk turning the University of Wisconsin into a talent desert, damaging the state and its citizens in untold ways for years to come."