SEO Headline (Max 60 characters)
Rutgers Removes Artwork of Jesus on Dartboard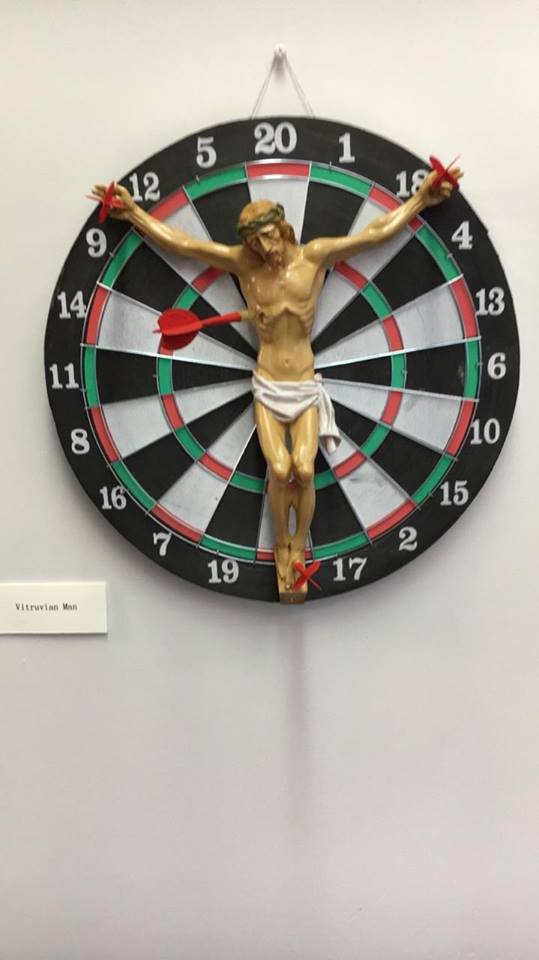 Rutgers University at New Brunswick has removed from its art library a piece of art (at right) that depicts Jesus on a dartboard, with darts that have been thrown on to him. It remains unclear how the art was selected for the library. Students took to social media to ask why it was there, to demand its removal and to defend it. A statement from the university to NJ.com said that the art was removed not because it offended some people, but because it violated library rules.
"The artwork in question was removed from the exhibit because it did not meet Rutgers University Libraries policy, which requires art exhibitions and their pieces to be based on university events, curricular offerings and topics of interest to the university community," said the statement. "The process that the libraries use to determine how artwork is selected for inclusion in an exhibit takes into consideration freedom of expression as well as the criteria listed above. We have concluded that the policy and process the libraries use to select artwork for exhibitions was not followed."
You may also be interested in...
Today's News from Inside Higher Ed
Inside Higher Ed's Quick Takes