SEO Headline (Max 60 characters)
More Community Colleges Using Multiple Measures for Readiness
A new study from the Center for the Analysis of Postsecondary Readiness has found that an increasing number of public, two-year colleges are using multiple measurements beyond standardized tests to place students in college-level math and reading courses.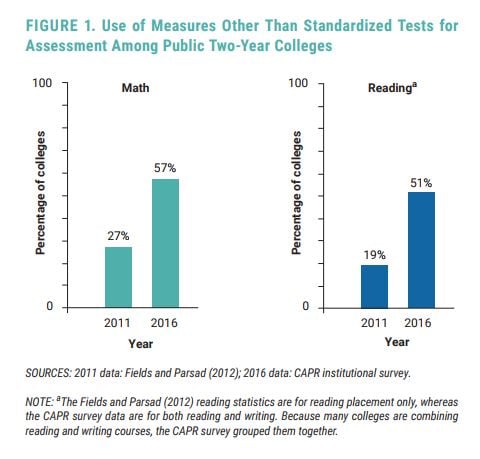 Research has shown for years that using multiple measures, such as high school performance, to determine college readiness provides colleges with a more accurate measurement to determine college success. The survey found that in 2016, 57 percent of two-year colleges used multiple measures for math placement, compared to 27 percent in 2011. When it comes to reading and writing placement, 51 percent of colleges used multiple measures in 2016, compared to 19 percent in 2011.
The report also examined the types of developmental education two-year institutions offered. For instance, 76 percent of colleges reported offering traditional remedial math courses, and 53 percent reported doing the same in reading and writing. However, more than half the colleges surveyed reported using a reformed type of developmental education, like compressed courses, flipped classrooms and corequisite remediation.
You may also be interested in...
Today's News from Inside Higher Ed
Inside Higher Ed's Quick Takes