You have /5 articles left.
Sign up for a free account or log in.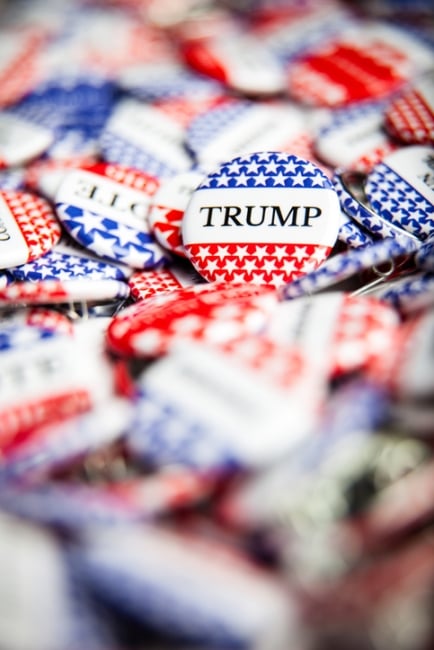 The campaign and transition period following the election of Donald Trump have affected our campuses in a variety of ways that challenge our basic values of diversity and inclusion and that demand our response as academic leaders. Incidents involving our new U.S. president -- such as making fun of a reporter with a physical disability, supporting the "locking up" of a presidential candidate with no recognition of the principle of "innocent until proven guilty" in the political environment, and others too numerous too name -- have apparently made some people on college campuses think it's OK to express the same disregard for our fundamental rights and lack of respect for our fellow Americans.
Already a range of academics and institutions, including the American Anthropological Association, of which I am a past president, have spoken out against the increasing number of racist and misogynistic incidents and hate speech directed at others on our campuses.
But volatility and uncertainty on these issues seem likely to continue in the foreseeable future. Consider, for example, that Richard Spencer, leader of the so-called alt-right and spokesman for white nationalism, has announced plans to target campuses with a tour conveying the message, among other things, that "we are awesome … We should be trying to expand white privilege, not feel guilty about it."
So what can institutions and individuals committed to social justice do to keep diversity and inclusion values and programs on the table for the next four years? I believe there are two overarching answers to this question. First, we must equip our students to understand the historical context of today's social environment, how our democracy got to the point that we are so openly politically divided and focused on blaming our social ills on "others" who do not look like us or have the same religious or political beliefs. Second, we must reinforce the principle that embracing diversity and inclusion is the strength of our democracy, not its weakness, and that respecting difference is a first step.
While the challenges reverberate throughout our campuses, I am seeing at least four areas in which the Trump effect has exacerbated divisions among students, administrators and faculty members on our campuses and has created new, more intense imperatives for those committed to diversity. They are:
Support undocumented students. President Trump has previously said he will terminate Deferred Action for Childhood Arrivals (DACA), an executive action signed into law by his predecessor Barack Obama in 2012 that exempts some undocumented immigrants from deportation and provides a two-year renewable work permit. The policy guidelines state that applicants must have been in the United States since June 15, 2007, and cannot have been convicted of certain crimes. In California, we have thousands of DACA students in our classes, and we are seeing their anxiety and panic as they try to figure out what is happening to them. The psychological effects are undermining their ability to concentrate on their studies.
At the University of California, Riverside, Chancellor Kim Wilcox has sent a letter to our entire campus confirming that we are not turning away from our commitment to DACA students. The heads of the University of California, California State University and California Community College systems together wrote to Trump "imploring" him to continue the DACA program so that affected students can "pursue their dream of higher education without fear of being arrested, deported or rounded up for just trying to learn." And on our campus, we are also offering special counseling and flexible test-taking schedules for students who are traumatized by the environment of uncertainty. Such actions go a long way toward reassuring our undocumented students that we are doing all we can to help them finish their education.
Protect protesters on both sides of contentious issues. In light of the increasing manifestation on our campuses of views that are racist, anti-Semitic, homophobic, Islamophobic and misogynistic, we must strive to maintain an environment in which views on all points of the spectrum can be heard. At the same time, as faculty members, we must model for our students how it is possible to hold a set of values and beliefs, and how to listen to and acknowledge other points of view, even while not agreeing with them.
It is unfortunate that the words of our new president have sent a signal to some people that seems to validate this type of discriminatory and disrespectful behavior. But it is not acceptable, and we must continue to enforce our long-held policies and practices to counter this ugly and hateful turn of events. Our goal is to make the campus a safe space for all our students, not just for some. Some of the specific ways we can do that are to encourage activities such as teach-ins, campus-community forums, information workshops, vigils and peaceful demonstrations as alternatives to potentially violent public confrontations.
Prevent and enforce policies against sexual assault. Under the leadership of the Obama administration, especially with the passage of the Violence Against Women Reauthorization Act of 2013, colleges and universities across the country have been strengthening their policies and practices to encourage students to report sexual harassment and sexual assault incidents. We are trying to deal with deeply misogynistic values and rape culture that discourage victims from reporting incidents and often results in failure to prosecute cases.
The campaign atmosphere suggesting that "stars" can get away with any sexual behavior they want sent a very negative message to our students, both to those who may commit assaults and to victims who are afraid to report them. We need to double down on our efforts to show all students, whether they are athletes, or members of fraternities, clubs or other organizations, that there is no place for sexual harassment or assault on our campuses. We need to provide opportunities, such as forums and other activities mentioned above, where students can ask the questions that are on their minds and express their anger, frustration and concerns.
Reinforce global learning and teaching. We have been preparing our students to live and work in the global community for at least two decades through our liberal arts curriculum. There is no going back! Our students are steeped in both local and global acts every day. Through their courses and other campus experiences, our job is to continue to help them see and understand those connections, as well as to understand and interact with people of other cultures, religions and worldviews.
One thing we have learned from the election is that families from the Rust Belt, the Deep South and the heartland believe that they have been denied participation in a positive vision for the future of this country. I am involved with two very promising international programs, the Global Citizenship Alliance and the Mellon Global Citizenship Program, that aim to educate working-class and first-generation students from those regions (both historically black colleges and universities and Appalachian colleges and universities working together) about how directly they are tied from their local communities to the wider world. The types of on-the-ground experiences that these programs offer are producing different thinking about empowerment and the ability to chart one's future.
At the same time, we need to continue to encourage international student exchanges. This works in two directions. First, we need to take steps to ensure that students from other countries (for example, those from the Middle East who may be concerned about Islamophobia) will feel comfortable here. Second, we need to prepare the students we send abroad to stay safe and respond if they are challenged about our country's and Trump's policies. In other words, in an atmosphere where "globalization" is too often narrowly interpreted as an economic policy to destroy American jobs, our goal should continue to be to make teaching and learning about globalization beneficial for all.
Why We Must Act Now
It is important for us to act now because, foremost, the mission of our colleges and universities is quite different from the narrower two- or four-year agendas of a particular political administration. We are entrusted to create new knowledge and to educate the next generation of Americans to be the citizens who will lead this great experiment in inclusive democracy to the next level.
We need both collective and individual action. In California we have the commitment from leaders of our institutions. This provides us with the environment that we need as individual faculty members to support students who are caught up in the uncertainties of what the new administration will mean to them. But for all of us, throughout the landscape of higher education, we have to keep our focus on these goals of the value of diversity, inclusion and social justice and be the change we want to see -- regardless of who is at the helm of our country. The longer we wait, the more difficult the task will become.