You have /5 articles left.
Sign up for a free account or log in.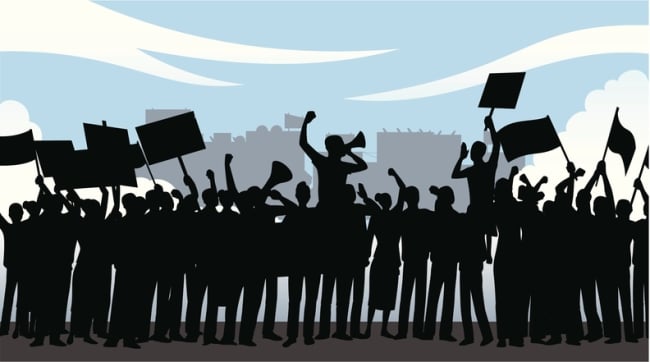 Our nation has changed.
And along with it, the climate at many colleges and universities has become more polarized, especially during the most recent presidential race and now as the new administration settles in. The election stimulated an emerging culture where people who may hold offensive or hateful beliefs now feel their perspective has been legitimized and they have permission to give voice to their views, many of which students may find repugnant or even threatening to their safety.
In response, student activism, already on the rise these past two years, will surely increase. The most recent set of executive orders from the new administration has clearly activated college students, as thousands of them protested the executive order on immigration across the country this past week.
This increase in activism will not be easy for colleges and universities to manage. The violence before and subsequent cancellation of a planned appearance by Milo Yiannopoulos at the University of California, Berkeley, on Wednesday night frames the difficult position that higher education institutions face in this time of polarized debate. Creating space for protest and keeping students and the campus community safe is immensely challenging, particularly at institutions where the campus and the community share porous boundaries.
Controversial speech on campuses isn't new. Conflict on campuses isn't new. Indeed, equipping our students with the skills to confront the marketplace of ideas with a bias toward open dialogue is at the core of higher education's mission, and we've been encouraging them to practice those skills for decades.
But the intensity of the vitriol we're seeing puts campus leaders in unfamiliar territory, making these particularly challenging times for us. We must continue to offer our students exposure to a spectrum of opinions to help them grapple with new and difficult ideas and views that may vastly differ from their own. Throughout all of this, we must also support the foundational right of free speech, but also be diligent about balancing the safety and well-being of the students, faculty members and guests who engage with our campuses. Striking this balance will not be easy.
When we grapple with issues that fall along a political spectrum, like immigration policy, we must be mindful of talking about those issues without allowing the disparagement of segments of our population, the demonization of groups of people, or the promotion of actions that do not respect basic human rights. It is essential that our students develop the ability to tackle with civility challenging discussions with those of different backgrounds or viewpoints around issues of race, gender, gender identity, politics and religion.
Yet while our colleges and universities should embrace ideas all along the political spectrum, we can't and shouldn't be value neutral. Indeed, our mission statements encapsulate our values: we encourage civility, curiosity and engagement with new ideas and challenging perspectives. We also celebrate inclusion, diversity and human dignity for all members of our communities. Allowing student organizations to bring controversial speakers, even those who preach hatred and intolerance, will be painful and challenging to many of our students. Campus leaders can and should make certain that the sponsoring organization understands the message and values of the speaker. But in the end, unless cost issues or safety issues are insurmountable, we must support the basic rights of free expression. And so we also must be there to support students through those experiences while helping them develop and practice those skills of civil discourse we are trying to encourage and cultivate on our campuses -- skills we often don't see enough of in the government or news media.
For example, many institutions have used the occasion of controversial speakers on their campuses to create a slate of programming that gives voice to those who disagree, provides information for those who want to engage more deeply with the topic and engages faculty members and administrators in helping students examine and refine their own perspectives and experiences. At Scripps College, for example, students and faculty members who were opposed to Madeleine Albright's selection as commencement speaker had the opportunity to attend a forum with her in which she engaged in an open dialogue about issues important to them and provided insights from her monumental career.
Presenting different perspectives can raise emotions on campuses, but we have a responsibility to ensure that there are spaces for discussion and reaction, as well as alternative programming that offers still other points of view. And we must take stock of our offerings and programming to ensure we are providing as many opportunities for our conservative students to feel welcome to express their view as provide our liberal students.
Institutions should also seek ways to engage with topics and issues that transcend political or opinion-based distinctions. By moving the conversation beyond Democrat versus Republican or pro-Trump versus anti-Trump, we can fulfill our mission of educating young people who are concerned about and conversant with the major issues of our time. When George Washington University students hosted a controversial speaker, student affairs staff set up dialogues among members of the sponsoring College Republicans and other student organizations that would likely be impacted by the message of the speaker.
Such a proactive approach provides an important opportunity for students to hear one another's perspectives in a way that is not possible in the heat of a protest. Creating intentional spaces for dialogue around different perspectives helps students get beyond the political rhetoric and into the difficult skill of listening and civil discourse.
This is also a time when a strong institutional voice is vital. At the University of Colorado, Chancellor Philip DiStefano sent two different messages to the community regarding a controversial speaker. In the first, he underscored the importance of free speech and the institutional values behind allowing such speakers to have access to public facilities, even when many members of the university community would experience the content of the speakers' beliefs as racist and sexist. In his second message, DiStefano referenced the legacy of Martin Luther King Jr., writing, "When communities and individuals are subjected to hateful rhetoric designed to further marginalize, he implored us to stand up against it. He implored us not to ignore it." These kinds of messages will be crucial to open dialogue within a strong values foundation.
Ultimately, our charge as educators is to help students be informed and feel empowered to speak out on topics that matter to them. As we look back to the 2016 election, only about half of eligible voters aged 18 to 29 voted. We need to raise those numbers across all demographics and political parties. By offering an education that enables students and alumni to confront, assess and understand diverse perspectives, we better prepare them to take action and advance civil dialogue in our society at large.