You have /5 articles left.
Sign up for a free account or log in.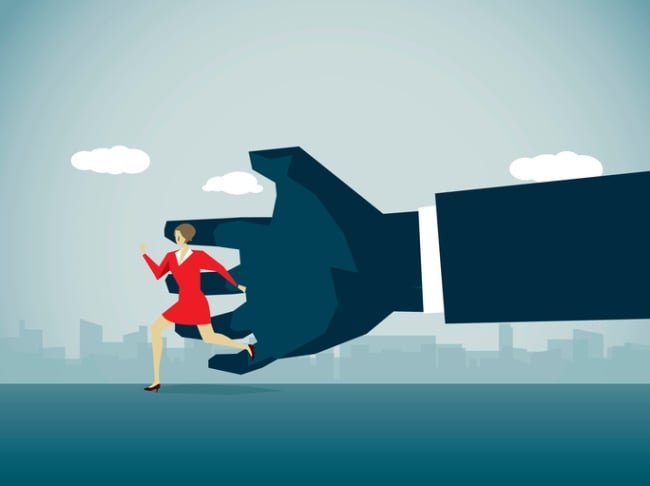 Barring some unforeseen international event, the identity of Time magazine's 2017 Person of the Year will be no surprise. Who would deny that 65-year-old Harvey Weinstein, Hollywood producer and master of a multitude of bizarre sexual proclivities, deserves that honor?
And yet … as reports of equally unacceptable behaviors by college professors and belated or nonexistent responses by their institutions have become shockingly common, the question is whether academe, as well as the film industry, will finally decide to deal decisively with the challenges of sexual harassment.
A recent article by Insider Higher Ed's Colleen Flaherty focused attention on just that issue. It closed with a fundamental question that demands consideration now that so many student victims have recognized that some academic misbehavior belongs to the courts rather than interminable campus deliberations. She asked, "Could institutions be cracking down on even big-name professors?"
The question prompted memories of my experiences giving depositions on behalf of student victims. While several institutions have recently been holding professors more accountable, my response is "Let's not hold our breath waiting for a major crackdown." Here's why.
Ambiguity of Mission and Method
The power imbalance between educators and students is obviously the foundation for the misconduct dynamic. Decades ago, The Lecherous Professor analyzed the distinct characteristics of academe that make it fertile ground for sexual misconduct to flourish. But the fates of campuses' big-name "lecherous professors" now rest as much, maybe more, on less recognized features that make higher education increasingly susceptible to sexual misbehavior. Today, too many institutions remain trapped in the past, beset by ambiguity of mission and methodology, diffused institutional authority, sluggishness to act in crisis, unrestricted acceptance of professional autonomy and eccentricity, inaccurate perceptions of those they serve, and adherence to myths of collegiality and professional loyalty.
Ambiguity of mission and method has grown like a cancer year after year in higher education. What began as a profession intended to impart classical education and pursue knowledge has extended so far beyond those original intentions as to be unrecognizable. Lost in the chaos and morass of academe's promises is clarity about exactly what educators are supposed to be doing, how they are to do it and what the effects should be.
Mission statements laud "growth" as a goal for students, but how does a lascivious instructor interpret growth, and what is the student to make of it? Ambiguity extends to pedagogy as well. Contrary to eras when students were students, they have increasingly become customers. As a consequence, professors are challenged to treat them with understanding, personal interest, warmth, caring and accessibility. Those are, in fact, features of teaching excellence, but they can also be -- and are -- excuses for individuals to cross boundaries and extend relationships with students beyond the classroom.
Add to that the array of institutions like Aquinas College, Bard College, Bowdoin College, Cornell University and Duke University that have hosted events like the Female Orgasm program. Its internet site advertises a long list of institutions praising its educational and entertainment value, but it is difficult to understand its purpose in relation to institutions' ubiquitous and commonly esoteric mission statements promising to provide students career, critical thinking and leadership skills, as well as inspiration for serving others, participating in the national and global society, and pursuing truth and the common good.
If we hope to desexualize campuses a bit to discourage student and professorial sexual misconduct, I have difficulty comprehending where the Female Orgasm program fits in the extensive academic and social demands made of students. I have an even harder time figuring out just where one would include participation in an event like this on a résumé. Maybe training? Or experience?
Questionable Engagements
But hypersexualization is only one of the challenges facing 21st-century academe, as teaching and learning have moved beyond traditional classrooms to the farthest reaches of the globe and beyond. We have only begun to recognize challenges that the rapidly changing world of technology poses.
Professors have been accused and/or found guilty of inappropriate sexual innuendos and advances through the use of technology. One of the most famous of these was the Massachusetts Institute of Technology's elderly physicist Walter Lewin, whose fondness for virtual reality involved engaging in sexually explicit role-playing with online students.
Then there are the trials students can face when traveling abroad or participating in fieldwork. Take the case of 55-year-old David Marchant, famed Antarctic geologist and popular head of a department at Boston University.
Science broke the story of three women complainants and two male witnesses who came forward after almost two decades to tell their stories about time spent in isolated small groups with Marchant and a few colleagues.
Hillary Tulley, now a high school teacher, described being taunted for her appearance, age and supposed inadequacies and said, "Every day was terrifying." A second woman (using the pseudonym Deborah Doe) reported that she abandoned academe and her career plans after Marchant repeatedly used gendered slurs and threatened to keep her from receiving research funds if she earned a doctorate.
Jane Willenbring, now a tenured associate professor at the Scripps Institution of Oceanography, said she waited decades to complain because of fear of reprisals by the powerful professor. Her account of being trapped in Antarctica with Marchant was the most disturbing. He reportedly urged her to have sex with his brother, who was also on the trip and described by Marchant as having "a porn-size penis." Calling her "slut" and "whore," Marchant allegedly shoved Willenbring down a hill and frequently pelted her with rocks while she was urinating until she eventually developed a urinary tract infection, for which he prohibited her from traveling to get treatment.
Adam Lewis, a male graduate student in Antarctica with both Tulley and Willenbring, told Science, "This is one of the only real regrets I have in my whole life. I had the chance to stand up for people. And I didn't."
Contacted by Science, defenders of Marchant refused to believe the complainants, since they had not experienced similar interactions. Presumably even children recognize that human beings engage in differential treatment of others, but apparently they did not. Nor did they appear cognizant that the numbers of complaints and descriptions of Marchant's extraordinarily strange behaviors speak for themselves.
Then there is Deborah Doe's account of her attempt to report the abuse to Carol Simpson, Marchant's department chair. She alleges Simpson commented on Marchant's "sizable" reputation and funding and implied Doe would be better off completing her degree and leaving. Now retired, Simpson has refused to comment on the ongoing investigation but claims she would have "dealt quickly and decisively" with Doe's allegations.
Freedom From Constraints
Yet why are so many institutions still, in fact, reluctant to act quickly and decisively when claims of sexual harassment occur? Professional autonomy, tolerance of eccentricity and adherence to the collegiality myth exacerbate opportunity for misbehavior and are the big three at the center of inability or refusal to deal with sexual misconduct. Today autonomy is a far more complex and dangerous condition than it was decades ago when tenured professors were well-known to one another and administrators dominated faculty ranks.
The New Faculty Majority reported the ratio of tenured versus untenured faculty has flipped so drastically that 76 percent of faculty members have no access to lifelong employment. The National Center for Education Statistics found that in 2016, only 19 percent of full-time faculty members in higher education were tenured.
The numbers are worrisome for more reasons than lack of experienced educators. The one truth we don't like to admit about our work is that few other professionals possess so much control over so many while themselves enjoying freedom from constraint. Until complaints surface, no one checks to see if even adjuncts are keeping office hours, grading papers conscientiously or presenting material accurately and objectively.
Part-timers come and go without the security, support and advantages of tenured individuals. And their transient nature and the independence academe confers give rise to a curious power dynamic. If there is limited oversight of faculty members, and so many currently move in and out of institutions, uncovering misbehavior is unlikely. Full-time faculty members at medium-size and large institutions are less inclined to interact with those who may be gone by the next semester or in two years when other employment opportunities arise.
The challenge for an environment in which people work temporarily is that, without substantial numbers of complaints, misconduct is easily disregarded, and relative anonymity can provide protection from discovery. Even so, if a complaint does surface, it is improbable that the accusation will be challenged because the accused can simply be told he's no longer needed.
Misplaced Loyalties
As for full-time tenured faculty members, whether they are big names or not so famous, their misbehavior can go on for years, because it's easier to view it as eccentricity or the result of personal problems rather than to invite conflict by telling colleagues or administrators what they don't want to hear. Diffused institutional authority and slow decision processes help to prevent institutions from hearing bad news. Colleges and universities protect big names and moneymakers with whom they have more or less reciprocal agreements because of their worth to institutional reputation and finances.
A significant example is 66-year-old Carmen Puliafito, prominent eye surgeon, master fund-raiser for the University of Southern California and dean of its medical college. Apparently no one was monitoring (or admitting to monitoring) rumors about his "secret life" of heavy drugs and partying with prostitutes and what the Los Angeles Times called "a circle of criminals and drug addicts."
When the case finally broke, the Times reported it had made inquiries about Puliafito for 15 months with no responses from university leaders. External medical ethicists worried that the evolving scandal could put funding, students, employees and patients at risk. Yet even after he resigned as dean, Puliafito was accepting patients and, at one point, represented the university in public.
USC's provost ultimately defended its sluggishness in a memo to faculty members that asserted the administration had "made what we felt were the best decisions we could make, as swiftly as could be done in a prudent and thoughtful manner, and given the information we had at any given time."
The most disheartening lesson I've learned from experience is that, despite optimism about more decisive treatment of culpable academics, it is seldom likely to happen because colleagues and institutions have no enthusiasm about finding or admitting the truth. In analyzing depositions, I have read "I don't recall," "I don't remember" and "I'm not sure" so many times that I've begun to think "it depends upon what the meaning of the word 'is' is" sounds rational.
I once wrote that academic collegiality becomes reality only when a "19-year-old musters the courage to complain about being fondled by a professor." I said that when it happens, "Latin professors, geographers, physicists, architects, engineers and lawyers are likely to rediscover the bonds that unite them. They will as a chorus mouth platitudes about loyalty to the institution, academic freedom and due process. They will suddenly remember the lyrics to the alma mater."
I meant that then, and I still do. I know because I've seen it happen.
The Evolving Student
Since the 1980s, another great challenge to eradicating educator misconduct has been recognizing the extent to which perceptions of students must keep current with the times.
In the past, the majority of students could be depended upon to avoid complaints and confrontation about sexual misconduct, whereas now litigation and protests are common. In 2017, it matters less to students that they are transients in the system because they view themselves more as customers.
But within the profession, far too many people still defend faculty-student sex as "consent," unaware the 21st century has long since arrived, and with it, the discovery that the rational part of the adolescent brain is not fully formed until approximately age 25. That means, of course, that young people who are manipulated into sex with academics are, to a large extent, engaging in the type of risky behavior that tempted them to take their first drink in high school or to agree to a one-night stand at a fraternity party.
The difference in the first drink and the frat boy is that one is inanimate and the other also a kid with similar lapses in judgment. Professors are neither. And by 2017, education and experience, if not professionalism and morality, should have taught greater understanding of students' physical and psychological development.
Then there are thinkers/romantics like William Deresiewicz, whose work I admire, even though at times, for me, he soars a little too high. One of those flights came in "Love on Campus," a work for The American Scholar, where he acknowledged the existence of "cynical" academics who take advantage of students but distinguished them from those who are attracted to students "not [by] their bodies but their souls."
Not to be outdone, students also hunger for soul connection in Deresiewicz's rhapsody: "Love is a flame, and the good teacher raises in students a burning desire for his or her approval and attention, his or her voice and presence, that is erotic in its urgency and intensity … Students will sometimes mistake this earthquake for sexual attraction … [But] the alert student understands" the erotic nature of the pedagogical relationship, he continued. "In talking to one of my teaching assistants … I asked her if she'd ever had a crush on an instructor … 'Yes,' she said, a young graduate student. 'And did you want to have sex with him?' I asked. 'No,' she said, 'I wanted to have brain sex with him.'"
To be honest, the fact that a professor would ask a student this kind of question makes me a little nervous, even it is William Deresiewicz.
But the more relevant point is that I have taught honors students for decades, and I have yet to encounter a single student who would acknowledge coming to college for "brain sex" or opportunities to discover the "sweet fruits of the mind." Nor am I aware of any colleagues whose voices and presence are "erotic in [their] urgency and intensity." Not a single one.
If those are cynical statements, so be it. Today's young people are not those we saw on campus a quarter century ago. They have grown to emerging adulthood in a world of extreme technological change and a hypersexual culture that confronts them at every turn, even in course offerings and events. Many think romance is out and plain old "feel-good-for-a-few-minutes" sex is in.
And that makes them vulnerable to both big and small names on campuses that are so trapped in time and ways of being that they fail to understand the dangers of their own inappropriate behavior. Research shows that contemporary females and collegiate institutions are in crisis. "The Sexualization of American Girls," a report by the American Psychological Association, maintains that the barrage of sexualized images in media and popular culture has created a mental-health emergency "evidenced by the increased levels of depression, low self-esteem and eating disorders in young girls."
Reports from organizations like the Association for Counseling Center Directors reveal the campus mental-health crisis to be at its highest point in history. In 2016, 51 percent of students reported suffering from anxiety, 41 percent from depression, 34 percent from relationship concerns and 21 percent from suicidal ideation.
Clearly, most of those percentages are not related to misconduct by college and university employees, but they play a part in statistics that are alarming. And it is time we ask ourselves how our traditions, as well as our attempts to modernize, have affected sexual misbehavior by academicians and posed danger to students and institutional welfare.
Despite the cost to their own well-being, some colleges and universities may be unwilling to face those challenges. Illusions always require less effort and fewer hard feelings than confronting and dealing with difficult realities.
So who can tell what will happen to the big-name offenders in academe? I don't know. But, again, I'm not holding my breath in expectation of any earth-moving changes.