You have /5 articles left.
Sign up for a free account or log in.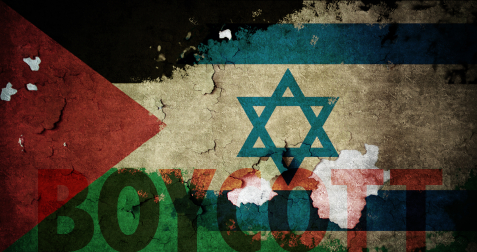 Today the American Association of University Professors released a statement from its Committee A on Academic Freedom and Tenure, which I chair, decrying state laws passed that impose punitive measures against supporters of boycott, divestment and sanctions, or BDS, with regard to Israel. Such legislation has reportedly led some public universities to require external speakers invited to campus and other people who contract with those institutions, including external reviewers of tenure and promotion materials, to sign pledges that they do not now, nor will they in the future, endorse BDS. Such pledges, the Committee A statement says, must be condemned as "nothing short of an attempt to limit freedom of speech and belief."
The AAUP is also today releasing a letter sent to Israeli authorities by me on behalf of Committee A urging reversal of Israel's decision to deny entry to Columbia Law School professor Katherine Franke, on grounds that she supports the BDS movement, as a threat to "academic freedom and global scholarly cooperation and exchange." It is all the more troubling that Franke apparently was barred on the basis of information provided by American anti-BDS blacklisting sites. How is it, she asked, that "Israel delegates to right-wing trolls the job of determining who should be admitted to Israel?"
Since 2005, the AAUP has opposed academic boycotts, including the academic boycott of Israel, and has on multiple occasions urged other scholars and scholarly organizations to join that opposition. Where appropriate, the association will continue to do so. As today's statement notes, academic boycotts "violate the principles of academic freedom and the free exchange of ideas for which our organization has stood for over 100 years."
With respect to divestment and strictly economic sanctions or boycotts, however, we remain neutral. And we take no position whatsoever on the underlying conflict, other than to bemoan its seeming intractability.
Some have argued that academic boycotts are an effective and necessary response to grave violations of academic freedom, such as those imposed by Israel on Palestinian institutions of higher education. Responding to such arguments nearly five years ago, I wrote the following on this site: "The whole idea of boycotting academic institutions in order to defend academic freedom is utterly wrongheaded. Violations of academic freedom can be found anywhere. In the AAUP, we encounter such violations, petty and large, on a daily basis in the United States. In the very worst of these cases, when all efforts to correct the situation fail, we place administrations on our censure list. But that list is not a boycott list. We do not and will not ask our colleagues to boycott institutions that violate academic freedom or that support policies we abhor. Instead we call on people to organize and struggle to effect change in such institutions, both from inside and out. If we resist the temptation to boycott offending institutions in our own country, where we have full opportunity to determine all the relevant facts, how then can we agree to support such boycotts of foreign institutions?"
That said, the AAUP has also consistently opposed efforts to silence or discipline advocates of such boycotts. We cannot help but recognize that supporters of BDS have repeatedly had their rights violated. The right of individuals to engage in or advocate boycotts is well established in the United States; any attempt to limit that right is clearly unconstitutional under the 1982 U.S. Supreme Court decision in NAACP v. Claiborne Hardware Co. No one is obligated to support a boycott, but opposition to a boycott does not justify silencing its advocates. Just as the AAUP defends the right of faculty members to make extramural comments that most of us may find repulsive, so too do we defend the right of faculty members to support policies we may oppose, including policies that may threaten academic freedom.
This position has frequently led advocates on both sides of the BDS dispute to condemn our stance as "confused" at best. So, for instance, soon after I reported to the AAUP's annual meeting in June that today's statement and letter were in preparation, one pro-Israel group denounced our position as "contradictory" and "confusing." Previously, advocates of BDS had also lambasted the AAUP for its lack of "coherence" and "consistency." That they did so in an issue of the AAUP's own Journal of Academic Freedom, much of which was devoted to articles calling on us to abandon our opposition to academic boycotts and advocating such a boycott of Israel, only points to our commitment to providing an open forum for debate and discussion.
But nothing is confusing or inconsistent about taking a stance in opposition to some viewpoint while simultaneously defending the right of others to advocate that viewpoint. Both the American Civil Liberties Union and the AAUP do this all the time. As the old adage, widely misattributed to Voltaire but in fact written in a book about him, puts it, "I disapprove of what you say, but I will defend to the death your right to say it."
Four years ago I predicted that "efforts to promote the academic boycott of Israel will continue and perhaps even intensify, but at the same time, I also think that attempts to restrict the academic freedom of pro-boycott advocates and other advocates of the Palestinian side, whether they advocate a boycott or not, will also increase. I'm not happy about either development." Sadly, elements on both sides of the Israeli-Palestinian conflict too often invoke the protections of academic freedom when it benefits them and violate these when it doesn't. But, as I've previously argued, "the two sides are not in equivalent positions. Although support for the Palestinian cause is greater on American campuses than in society in general, those who control the universities -- administrators and trustees as well as powerful donors -- are most likely to support the Israeli cause."
If the academic boycott of Israel has threatened the free exchange of scholarship, the recent response of the Israeli government has only made matters worse. A 2017 law barring foreign advocates of BDS from entering the country, which was applied to Professor Franke, threatens nothing less than an academic counterboycott, as inimical or more to academic freedom as anything advocated by the BDS movement itself.
"This is introducing a political litmus test for anyone entering Israel," Laurie Brand, chair of the Middle East Studies Association's Committee on Academic Freedom and a professor of Middle East studies at the University of Southern California, told Inside Higher Ed. "If people have expressed support for a boycott, that would lead to a denial of a visa or residence. We're concerned about this as a violation of free speech, freedom of conscience and specifically academic freedom." Former AAUP president Cary Nelson, a prominent supporter of Israel and opponent of academic boycotts, called the law "a serious mistake."
And now comes word of newly imposed entry and residency restrictions on foreign scholars employed at Palestinian universities. According to the Palestinian Ministry of Education and Higher Education, out of 64 foreign nationals employed by eight Palestinian universities, at least 32 faculty and staff members experienced difficulty entering or remaining in the occupied territories over the past two academic years (2016-17 and 2017-18). The majority were U.S. and European Union citizens.
On June 8, seven international faculty members at Birzeit University -- one-third of the institution's international staff -- were refused visa extensions by Israeli authorities. In July, Israeli authorities shut down a Palestinian college in Jerusalem, banned the holding of an academic conference and detained 15 individuals. Such efforts threaten to isolate the Palestinian academic community and deprive American and other international scholars of access to colleagues and students -- ironically much like, and arguably more effectively than, the academic boycott of Israel.
It is not my role nor that of the AAUP to pass judgment on Israel's security measures nor on the merits or demerits of the two sides in this historic conflict. But efforts by American colleges and universities to compel BDS supporters to disavow their views "conjure the specter of loyalty and disclaimer oaths, mainstays of McCarthyism," as today's statement puts it. And the Israeli government's efforts to bar scholars like Professor Franke are no less a violation of the free academic exchange essential to the growth of international scholarship and understanding than the academic boycott to which they are a misguided response.