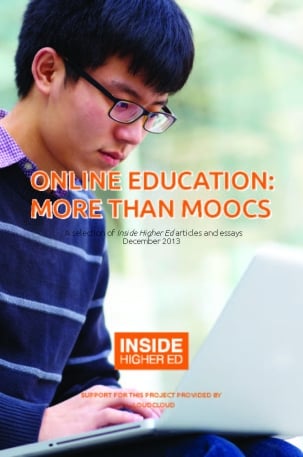 "Online Education: More Than MOOCs" is a collection of news articles and opinion essays -- in print-on-demand format -- about the many forms of online learning that continue to develop outside the white-hot glare of hype surrounding massive open online courses. The articles aim to put recent developments in online education into long-term context, and the essays present the timely thinking of commentators about experts about how distance education is affecting learning and colleges' business models.
The goal is to provide some of Inside Higher Ed's best recent material (both news articles and opinion essays) in one easy-to-read place. Download the booklet here.
This is the fourth in a series of such compilations that
Inside Higher Ed
is publishing on a range of topics.
On January 8, 2014,
Inside Higher Ed
editors Scott Jaschik and Doug Lederman led a lively discussion of online education issues in a free webinar.
Click here
to view a recording of the event.
The compilation of articles is made possible in part through advertising support from
Loudcloud
.