You have /5 articles left.
Sign up for a free account or log in.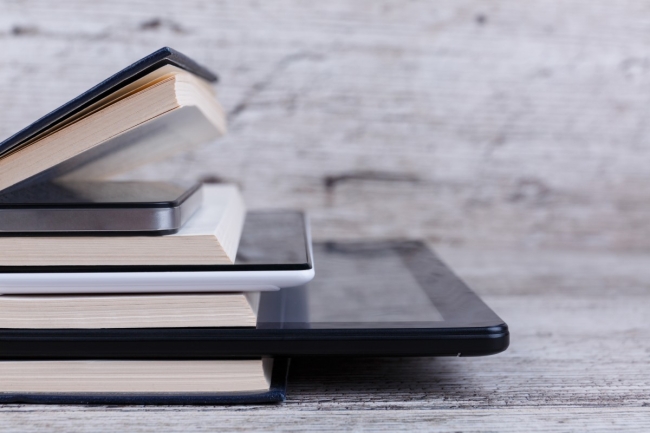 Istockphoto.com/AlfaStudio
Open educational resources remain a foreign concept to many instructors, but awareness continued to grow steadily last academic year, according to a new survey published today by the Babson Survey Research Group. The number of instructors who understand the copyright implications of OER remains lower, though it's also trending upward.
Increasing awareness dovetails with an uptick in adoption: 13 percent of instructors reported they required the use of OER in at least one course -- more than double the previous school year (6 percent) and the one before that (5 percent). Those figures might be artificially inflated by faculty members conflating free materials and OER, but they reflect undeniable growth, according to Jeff Seaman, co-director of the Babson Survey Research Group and co-author of the report along with Julia E. Seaman, the group's research director.
(Previous iterations of the survey also asked a slightly different adoption question. Each respondent was asked to select one of their courses and then note whether the textbook for that course is openly licensed. Last year, 9 percent of instructors answered yes. The sequencing of this year's survey made that question too complicated, according to Seaman.)
More From "Inside Digital Learning"
The findings from last year's Babson survey.
North Dakota OER audit reflects significant cost savings.
Textbook alternatives take hold at community colleges.
Digital materials, meanwhile, have gained favor among instructors in recent years. This year's survey, the fourth of its kind, marks the first time more instructors indicated they prefer digital textbook materials than those who either prefer print or have no preference. Not all digital materials are OER, and not all OER is digital, but instructor support for digital materials could portend increasing comfort with OER as well.
"I had not expected the change in print versus digital," Seaman said. "I expected it to go [more] slowly."
Though the report, supported by a grant from the William and Flora Hewlett Foundation, offers OER advocates evidence of progress toward support and adoption, it also sounds an ongoing note of caution. Far more instructors fret about the cost of course materials than acknowledge or support OER proponents' suggested solutions.
The survey results, culled from responses from 3,288 faculty members and 812 chairpersons at a wide range of two- and four-year institutions, reflect that many institutions lack formal initiatives to promote OER among faculty members.
Nicole Allen, director of open education for the Scholarly Research and Academic Publishing Coalition, said the report's findings suggest that OER has "entered the academic mainstream."
"There's still room to grow," Allen said. "But over all the results show a continued trend."
Awareness
The report tackles the awareness question from several angles. Forty-six percent of respondents said they're at least somewhat aware of OER, up slightly from 44 percent last year. Within that group, 31 percent said they're "very aware" or "aware" of OER, compared with 29 percent last year.
Knowing the term "OER," however, "does not ensure that they fully understand the ideas of open licensing, and the ability to reuse and remix content," the report points out. To account for the difference, instructors also indicated their awareness of the copyright status of their classroom materials, and of the concepts of public domain and Creative Commons, a licensing distinction which allows content to be freely shared and modified.
OER and Creative Commons licensing are closely intertwined, so authors removed instructors who said they're not aware of Creative Commons from the measure of general OER awareness. The result is a "stricter index of OER awareness," showing that 39 percent of faculty members are aware of both OER and the licensing around it. That number, like the other awareness metrics, has been increasing slowly year to year.
Access
Even the most ardent OER skeptics acknowledge that textbook costs can be prohibitive for many students. The report fuels that concern, noting that 61 percent of instructors said more than 90 percent of their students have access to all the required textbooks. More than half of respondents cited cost as the primary reason, though 38 percent of instructors selected "students don't think they need it."
Close to 90 percent of department chairs agreed that the cost of course materials is a "serious problem." Only 8 percent of faculty respondents, however, said their department has launched a textbook cost-saving initiative.
Among steps to reduce textbook costs, adoption of used textbooks and library or department copies proved the most popular among survey respondents. Sixteen percent of faculty said they've adopted free or open textbooks, while only six percent said they're using inclusive access, a course materials subscription model that has recently been a growth area for major publishers.
Competing Narratives
While faculty members find the state of the textbook market troubling, their concerns don't always trickle down to their own classrooms. The survey reports that more than 82 percent of instructors were either extremely satisfied or moderately satisfied with their choice of textbook. In subsequent responses, many instructors pointed to accuracy, scope and presentation of content as the primary aspects they liked.
Notably, close to three-quarters of instructors said they skip sections of the textbook and teach topics in a different order than the textbook suggests. Slightly less than half, meanwhile, said they replace textbook content with material they wrote or from other sources.
Allen of SPARC thinks these numbers reflect that faculty members increasingly want to improve the quality of their course materials alongside ensuring access for all students.
"We are seeing a lot more conversations about how to leverage the benefits of OER being flexible and working with faculty to not just adopt open educational resources off the shelf, but also adapt and tailor them to make them better for their own courses," Allen said. "I think in the year ahead, what we're really excited to see is more of those use cases becoming more visible."
Further Research
Seaman decided to add department chairs to this year's survey in an effort to expand the OER conversation. Next year's survey will add perspectives from deans, chief academic officers and presidents, he said.
This year's results, according to Seaman, demonstrate the potential for OER to grow much more rapidly soon. If a handful of state systems decide to launch major OER initiatives that reach thousands of faculty members, more growth could be on the horizon, he said.
Whether recent developments like the federal push for OER will lead to a spike in adoption and awareness remains to be seen. Anecdotal evidence confirms there's room for growth. A few people who answered Seaman's survey hadn't previously heard of OER but now want to investigate it, according to Seaman. "They're saying, 'This is interesting, I had no idea this was going on,'" Seaman said.