Unanimity on Distance Ed Rule Changes Proves Elusive
Experts involved in crafting new federal rules for online education and classroom innovation want more clarity from the Department of Education about its priorities and rationales.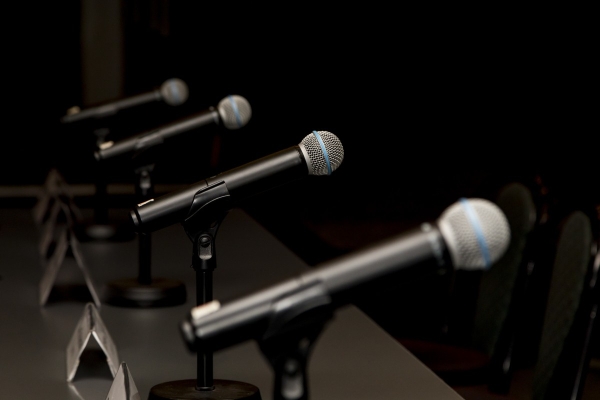 A few refrains jumped out from last week's first round of discussions hosted by the Department of Education for revamping federal rules around distance education and innovative programs. "This is a starting point." "What problem are you trying to solve here?" "We need more clarity."
Taken together, these recurring comments add up to a unified narrative from observers of technology innovation in education: current federal rules are confusing and outdated, but efforts to change them aren't exactly straightforward, either. (See related article on Exhibit A: state authorization.)
Priorities for the process, according to subcommittee members, include removing anachronisms and paving the way for institutions to try out big ideas while ensuring that students aren't at risk. The Trump administration appears to see the current proposals as an extension of a broad deregulation agenda, and an effort to provide students with a wider range of educational and employment options. Without a deft hand at the controls, observers say, outcomes of the current negotiations could open the door to "bad actors" -- another frequently used phrase last week.
Can't get enough?
The department live-streamed both days of the subcommittee's meetings -- watch Thursday
here
and
here
and Friday
here
and
here
. They'll continue to do so in February and March.
Still, the tone during last week's gathering of key players in distance education policy and practice was largely measured and inquisitive rather than hostile and fatalistic, in contrast to sharp debate among accreditation experts earlier in the week. Panelists appeared eager to make regulations simpler for institutions to follow and more protective of students' interests. Department officials stressed that unlike the main committee, which is aiming for consensus proposals that would guide the department's rule changes, the subcommittee's primary goal is to discuss nuances of important issues, allowing for disagreement among members. But upcoming challenges remain steep.
The negotiated rule-making process, in which the Department of Education solicits feedback and debate from experts before changing federal rules governing higher education, began last Tuesday and Wednesday with meetings of a main committee looking at accreditation and innovation. The distance education subcommittee met Thursday and Friday for discussions that will eventually be relayed to the main committee for consideration.
Progress during this meeting tended to come in the form of clarifying ideas on key issues rather than reaching solutions on how to proceed. Subcommittee members didn't coalesce around a new definition for the currently unspecified "regular and substantive interaction" between faculty members and students, which is currently required for distance education programs receiving federal financial aid. But several members pointed out that face-to-face classes in enormous lecture halls don't necessarily offer as much substantive interaction as online programs are currently expected to have. Competency-based education, meanwhile, might require more flexibility on the regularity of contact, given that students might spend weeks not working on course materials while remaining within the program's guidelines.
"Inside Digital Learning" will be following whether key issues raised point to solutions in the months ahead. In the meantime, here's a look at some other key themes that emerged during the distance education subcommittee's first two days.
None of these changes will happen in a vacuum. On several occasions, subcommittee members told Department of Education officials in the room that they support a proposed change in concept, but not in concert with other concurrently proposed changes. These comments reflect the department's wide-ranging ambition for revamping accreditation, hailed by some as long overdue and others as verging on reckless.
In its opening documents suggesting changes to existing regulations, the department proposed removing an existing cap on the proportion (currently 50 percent) of an academic program that an accredited institution can outsource to providers, including unaccredited ones. Another provision within the rules section on outsourcing programs explicitly states that institutions can receive federal aid even if they align or modify their curriculum at the recommendation of industry advisory board or employer group. Gregory Martin, a Department of Education official who led discussions at the distance ed subcommittee, portrayed the move as an effort to encourage institutions to tailor their programs more directly to employers' needs.
Distance Learning Subcommittee Members
Mary C. Otto, Campbell University, representing Christian colleges and universities
Jessica Ranucci, New York Legal Assistance Group
Merodie Hancock, Thomas Edison State University
Jody Feder, National Association of Independent Colleges and Universities
Sue Huppert, Des Moines University
Russ Poulin, WICHE Cooperative for Educational Technologies
Rob Anderson, State Higher Education Executive Officers Association
Jillian Klein, Strategic Education Inc. (also on the department's main rule-making committee)
Leah Matthews, Distance Education Accrediting Commission
David Schejbal, Marquette University
Amanda Martinez, American University
Merodie Hancock, president of Thomas Edison State University, supports institutions working more closely with employers, but she foresees potential for that rule to get abused by programs too directly intertwined with industry. "I don't know if I like it when you combine it with the ability to outsource 100 percent of a program in a written agreement," Hancock said.
As for the federal definition of a credit hour, which the department proposes to eliminate after the Obama administration implemented it in 2010, opinions varied. Some subcommittee members supported the move as a step toward encouraging bolder innovation overseen by accreditors. But Russ Poulin, senior director of policy, analysis and strategic alliances at the WICHE Cooperative for Educational Technologies, thinks scrapping the definition could be problematic amid the broader campaign of loosening restrictions on accreditors.
"It's a major shift in terms of how higher education operates that can't be done all at once," Poulin said. "But that doesn't mean you don't start and try to figure out what is that path. If you don't do that path, if you just jump to something as loose as what I see this as, there will be chaos and probably harm."
Eyeing a "race to the bottom." That phrase came up in context of the 50 percent cap, as well as during discussion of clarifying that multiple regional accreditors can cover the same states.
"If you're approving a regional accreditor that has the same state as another regional accreditor, could you end up with a situation where an [institution] in that state can go to an accreditor that's perceived to be easier on institutions?" said Jody Feder, director of accountability and regulatory affairs for the National Association of Independent Colleges and Universities.
David Schejbal, vice president and chief of digital learning at Marquette University, added that the change would lead to institutions "shopping around." But Beth Daggett, an analyst in the department's Office of Postsecondary Education, countered that competitiveness among accreditors could lead some agencies to focus more on disciplines in which they specialize.
Jillian Klein, vice president of government and regulatory affairs for Strategic Education, also raised "race to the bottom" concerns over proposed tweaks to the federal definition of distance education. The department wants to include a mention of "instructional teams" to acknowledge high-quality programs that involve multiple instructors per course. But Klein had a worst-case scenario in mind: institutions staffing phone lines with different faculty members available each day for 30-minute meetings with students.
"I want to figure out how to clarify language and put safeguards in place to make sure the instructor role is really protected," Klein said. "I think if we don't, we risk confusion about the definition of higher education in general."
Where's the data? Officials from the Department of Education struggled at times to produce statistics or concrete examples of phenomena they cited as inspiration for their proposed policy changes.
Klein pressed the department for the number of institutions that have requested exemptions from the 50 percent rule, but department representatives didn't have that number ready and weren't sure to what extent they could provide a direct response. Meanwhile, Martin disputed the assumption that institutions en masse have been seeking to outsource programs beyond the current limits.
Martin also cited the department's controversial EQUIP program, which offered federal financial aid to some nonaccredited providers, as an example of the kind of innovation these policy changes will encourage. But Jessica Ranucci, an attorney at the New York Legal Assistance Group, argued that evidence of that program's success is scant.
"It really comes across as a way to hyper-deregulate this space and allow new actors to come in in a way that wouldn't really protect students," Ranucci said.
There's plenty more to consider. As expected, the group ended its work on Friday with much more still on its plate, though subcommittee members will spend the next couple of weeks drafting alternative language for the regulations before reconvening on Feb. 12. The group will report its progress to the department's main negotiated rule-making committee in February as well.
You may also be interested in...
Inside Higher Ed's Quick Takes