You have /5 articles left.
Sign up for a free account or log in.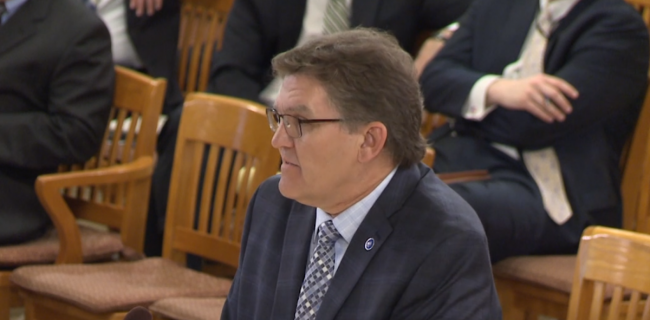 Ohio's Eastern Gateway Community College has grown its online programs rapidly in the last few years, with most of its roughly 20,000 students now enrolling online, and from out of the state of Ohio.
The bulk of its enrollment growth -- more than quadrupling in the three years before the spring of 2018 -- has been driven by an online "free college" program Eastern Gateway created for members of the American Federation of State, County and Municipal Employees, a large trade union of public employees.
Eastern Gateway contracted with a low-profile online program management (OPM) company named the Student Resources Center to help run the program, according to a state audit. The company takes a 50 percent cut of net operating income from Eastern Gateway's online programs, state documents show.
Some state lawmakers in recent months have begun scrutinizing the college's online growth. They are mulling whether to change the law that governs Ohio's performance funding formula, the State Share of Instruction (SSI) fund, by restricting public colleges from receiving state subsidies based on students who do not live in the state. The concern, they said, with backing from community college leaders around the state, is that Eastern Gateway will draw public money away from other colleges and use it to educate out-of-state students.
"What will happen over time, very shortly, is your enrollment of kids who never step foot in Ohio will greatly cripple the rest of the community colleges' access to SSI dollars," Matt Dolan, a Republican State Senator who chairs the Senate's finance committee, said during a hearing this month.
The Ohio Association of Community Colleges and leaders of most of the state's two-year institutions back closing this "loophole," Jack Hershey, the association's president, said last month in prepared remarks to the state Legislature. Ohio funds public universities to educate out-of-state students, Hershey said, but only students who move to the state and may remain and join the work force.
"That is not the kind of student Eastern Gateway's online program is attracting," he said. "Unless this loophole is closed, students in New York City, Tacoma, San Francisco and Honolulu could take an online class without ever stepping foot in this state, and Ohio taxpayers would be on the hook to help subsidize their education."
Indeed, enrollment data for online-only students who attended Eastern Gateway last year showed that 774 were from California and 1,043 were from New York.
The college enrolled almost 14,000 out-of-state students in online programs last spring, Jimmie Bruce, Eastern Gateway's president, told an Ohio Senate committee earlier this month. The college's in-state enrollment is 5,500, he said.
Bruce, who did not respond an interview request, told lawmakers that only a small portion of the State Share of Instruction formula counts toward non-Ohio students. Eastern Gateway received about $1 million from the formula for its out-of-state enrollment, he said, or roughly 10 percent of what it received from the fund.
Each dollar of state subsidy "has a huge multiplier effect," Bruce said. The tuition revenue Eastern Gateway brings in from outside Ohio is far more than the state subsidy. During the last three fiscal years, out-of-state students have paid more than $23 million in tuition and fees to the college, he said. This fiscal year alone that amount will be an estimated $27 million, said Bruce, suggesting that the online program continues to grow rapidly.
Bruce said the state subsidy does not go to non-Ohio students, but stays with the college and its community, which is one of the most economically depressed areas of the state.
"It is an instructional subsidy and we have used every dollar to hire Ohio faculty and support staff to educate EGCC students," he said in the written statement. "I am very proud that our college has created 1,000 faculty, support staff and adjunct faculty positions related to this initiative."
Bruce said if not for Eastern Gateway's innovation online, the state's overall community college enrollment would be down almost 5 percent between 2015-2018. Instead, it's up 3 percent.
He also cited major recent investments by governments in Arizona, Massachusetts and other states on national online programs for adult students.
"Competition in almost any business is relentless, and competitors don't respect state borders. That is becoming increasingly true in public education," Bruce told members of the state Senate committee. "Ohio stands to lose thousands of students to these innovative entities who, as they grow, will have more and more resources to provide cutting edge programming with which our state simply won't be able to compete. Just as our state already invests in universities that are enrolling out-of-state students, community colleges need to be on the same playing field."
Free College for Union Members
Those arguments may be a tough sell in Ohio. The state's Republican governor, Mike DeWine, proposed excluding students who live out of the state from the funding formula. The Legislature has been debating the change as part of Ohio's budget bill, which is due this week.
Most states limit public college subsidies for online programs to in-state students, said Marshall Hill, president and CEO of National Council for State Authorization Reciprocity Agreements, which he called "general practice."
Eastern Gateway can offer its online programs in any state. That's because Ohio participates in the State Authorization Reciprocity Agreement (SARA) and Eastern Gateway is a SARA member.
As a result, the college was able to partner with AFSCME to offer its Free College Benefit nationwide to union members. The program is of the "last dollar" variety, meaning the scholarship grant from the union goes toward any tuition and fees that aren't covered by federal, state and employer aid, such as Pell Grants. Active union members, retired members and their families qualify for the benefit. They can enroll in business management, criminal justice, paralegal, teacher education and associate of arts degree programs offered by Eastern Gateway, as well as a certificate program in patient home care.
AFSCME and the college created the program in 2015, according to the union's website, which said it had awarded more than $20 million in benefit scholarships.
In June 2017 the college entered into a contract with Student Resource Center to help run the program, the state audit said.
Little information is available online about the company. It was organized in November 2016, according to a corporate filing in Rhode Island. And Student Resource Center shares a home address in that state with Higher Education Partners, a company Eastern Gateway began contracting with in 2012 to help establish a permanent campus in Youngstown and to expand its presence in Warren.
Higher Education Partners also works with the college on its online programs, likely through its Student Resource Center affiliate.
"HEP assists with the marketing, recruiting and enrollment management aspects of their online implementation strategy," according to the company's description on its website of the partnership with Eastern Gateway. "We also facilitate and provide the resources of instructional design of the courses."
Barnes and Noble's education division supplies the online courseware for the AFSCME program, according to the state audit. Student Resource Center gets a monthly reimbursement for its operating expenses, after the college has recovered its costs. Net operating income is divided equally between the college and the OPM, the audit said.
Michael Perik is the CEO of Higher Education Partners. (Calls to the phone number listed on the company's website went to Eastern Gateway's "student resource center.") Perik previously was CEO and president of the Princeton Review. Before that he was chairman of Houghton Mifflin's Assessment Division.
Perik is a veteran of arrangements between companies and nonprofit and public colleges. During his time at the Princeton Review, for example, the college admissions services company partnered with National Labor College, the then academic arm of organized labor. The partners in 2010 announced a venture they said would soon become the nation's largest online college.
But the arrangement was terminated by November 2011, and National Labor College folded in 2014.
Perik and others purchased the Princeton Review's community college division, which would become Higher Education Partners. The company surfaced in news reports in 2016 about the University of Akron's interest in buying ITT Technical Institute, the large for-profit chain that collapsed that year. Higher Education Partners reportedly was in talks with Akron about creating a network of satellite campuses.
Eastern Gateway also raised eyebrows by expressing interest in buying a failing former for-profit chain. This year the college sought to acquire Argosy University's online division and the Art Institute of Pittsburgh. But Eastern Gateway ran out of time and couldn't close the deal before the institutions shut down, Bruce in March told the Herald-Star, a newspaper based in Steubenville, Ohio.
It's unclear if Higher Education Partners had any involvement in that acquisition bid.
During his testimony to the Ohio Senate earlier this month, Bruce acknowledged that a change in state funding was likely to happen. If lawmakers exclude out-of-state students from the formula, Bruce asked that they soften the blow for Eastern Gateway.
"If it needs to change, we understand that," Bruce said during the Senate hearing. "Just give us an opportunity through a phase-in to adjust to that ourselves."