You have /5 articles left.
Sign up for a free account or log in.
Trying to bring order and understanding to a market as transitory and diffuse as the business of online education can be a challenge. Important contributions have come in recent years from Parthenon, Eduventures, and the ed-tech analyst Phil Hill, among others.
A new dataset promises to give college leaders, company officials and others involved in the online learning landscape much more information about who offers what programs, how they manage them and where the money is flowing, among other factors.
And the company behind the new data, Holon IQ, published a report today that gives a new name to the large and diversifying category of providers that are working with colleges to take their programs online: OPX, instead of OPM, for online program management companies. (More on that later.)
Holon IQ, which was founded in 2017, describes itself as focused on "global education market intelligence," meaning that it collects, analyzes and distributes data and other information designed to help companies, educational institutions and others understand the world they're operating in. The mix of free and paid information it offers covers pre-kindergarten to corporate training, and its scope is worldwide.
Among the data that the company has developed is a database of nearly 4,900 individual degree, certificate and other credentialed programs delivered online by more than 500 colleges and universities in the United States, with information about the programs' field/discipline, their enrollments and costs, and which providers or platforms the institutions use to deliver them. The information is collected through a variety of sources and verified through a mix of human and technical reviews.
Patrick Brothers, managing director and co-founder of Holon IQ and a former executive at Navitas and Navitas Ventures, said the company sought to build the most complete data about the companies that have come to be known as OPMs. The online program management companies themselves, Brothers said, maintain their own spreadsheets of their own clients and, to the best of their ability, those of their competitors.
"From what we understood, everyone was maintaining their own dodgy spreadsheets," Brothers said, employing a popular Australian term in his Sydney accent. "We thought, let's maintain a non-dodgy, robust spreadsheet, and try to improve it over time … We think what we've built is heaps better than anything the companies are using internally."
Insights From the Database
The information collected by Holon IQ does numerous things.
First, it makes clear the increasing diversification of the entities that colleges are using to go online. Careful readers of Inside Higher Ed and its "Inside Digital Learning" publication won't be shocked by this, because we've written about the emergence of some of the companies (other than the traditional online program managers like Academic Partnerships, 2U and Wiley Education) that are doing this work.
That growing list includes MOOC providers such as Coursera, edX and FutureLearn; narrower online services companies such as iDesign and ExtensionEngine; large service companies such as Kaplan and Zovio that emerged as they broke off from one-time for-profit colleges; and even newer providers such as Instride, Cintana and Outlier that, in one way or another, are creating partnerships with colleges to deliver various aspects of their educational programs.
Holon IQ next aims to "size" the global online program market, building on the analyses mentioned in this article's first paragraph. It estimates that the market will have grown from $1.7 billion in revenue (with 367 universities working with online program companies) in 2015 to $3.9 billion (from 623 colleges and universities) in 2020 to $7.8 billion from 789 institutions in 2025. In 2025, it estimates, $5.8 billion of that $7.8 billion will be in the United States, with the rest elsewhere in the world.
Most of that information will be of interest primarily to people who actually work at online program companies or the people who invest in them. More important and useful to many college and university administrators may be a breakdown that the report provides on the 16 "core competencies" that institutions may need to deliver online programs (in four broader categories: program design and development, student information and learning environments, marketing and enrollment services, and program delivery and student success).
That rubric (seen below) could be used (a) to help institutions decide which services they need help with (because they don't have the internal capability or think they can "buy" it more efficiently than they "build" it) and (b) to rate potential providers on.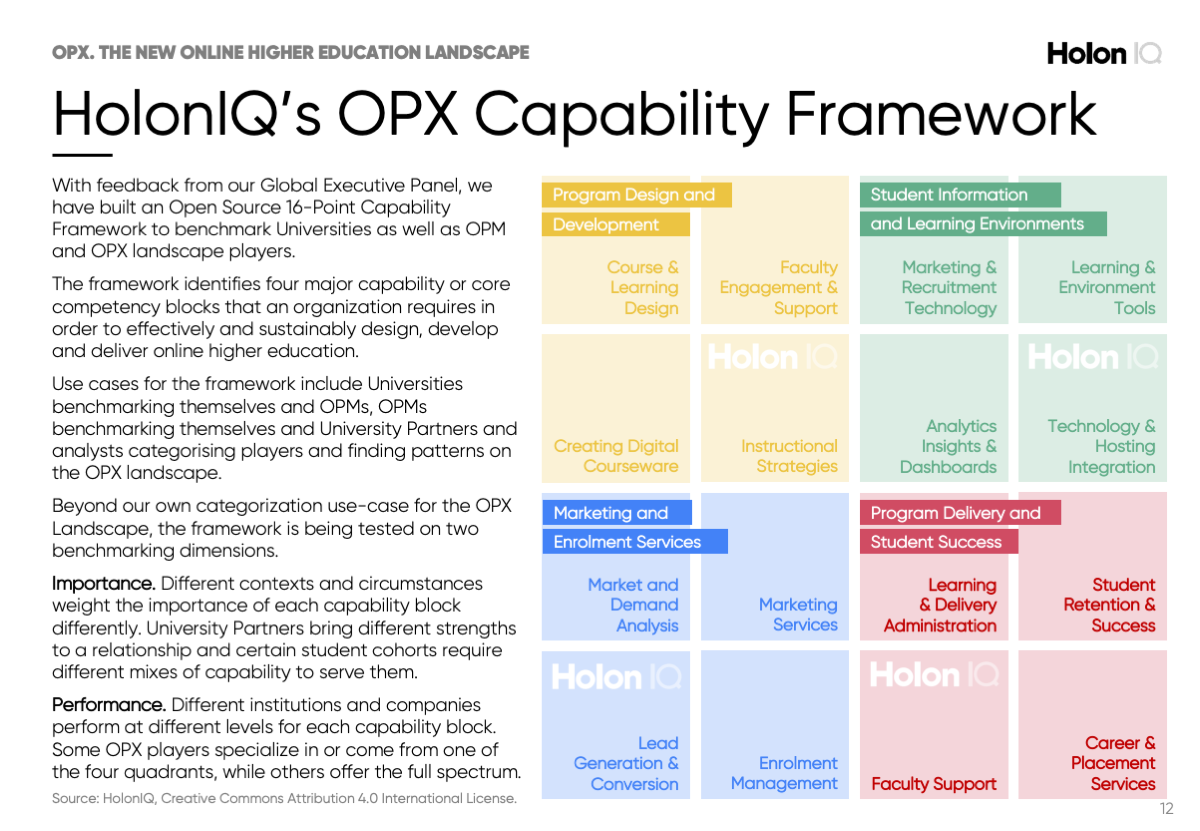 While the report's underlying assumption is that the online learning market will grow and that colleges and universities will increasingly rely on outside providers to operate their programs, it acknowledges hard questions about those partnerships. It cites potential regulatory impediments (amid growing scrutiny of the for-profit role in delivering nonprofit higher education), and pushback from college leaders about paying outside providers significant shares of revenue under long-term contracts, and about turning to them for work that, arguably, should be part of universities' own core competencies.
It offers four possible scenarios for what the OPX landscape looks like in 2030:
an "OPM oligopoly," in which a "handful of OPM giants dominate the market, consolidating a long-tail of smaller sub-scale operations" and ultimately get bought up by publishing and technology companies.
an "OPM unbundling," in which colleges and universities work with multiple companies for parts of their online operations, generally paying them for individual services rather than committing to long term contracts and sharing revenues.
"University DIY," in which colleges "build their own in-house capabilities by developing internal units and hiring people with experience at the online program companies.
a "University network" model, in which colleges work together to develop nonprofit alternatives to the online program management companies.
The report estimates the first two scenarios as having near 60 percent likelihoods of happening, and the latter two about 40 percent.