You have /5 articles left.
Sign up for a free account or log in.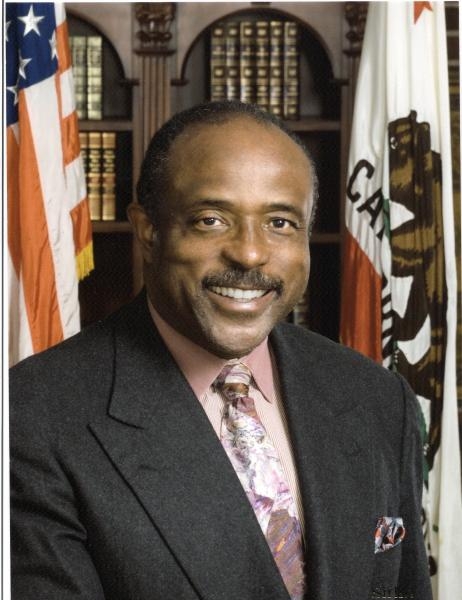 The fight over two-tiered pricing at California's community colleges isn't over.
Leaders at Santa Monica College in March unveiled a controversial plan to create a self-supporting private foundation to help meet student demand by offering courses at four times the cost of overbooked state-financed courses. But they shelved that idea in April, after a fierce backlash and the pepper-spraying of protesting students.
Even if the controversy had died down, two-tiered tuition is probably illegal in California. Jack Scott, chancellor of the state's community college system, said he believed Santa Monica's tuition plan would violate state law. California's attorney general later concurred.
That could change if Roderick D. Wright gets his way. The California state senator in February introduced legislation that would smooth the way for community colleges to do essentially what Santa Monica's governing board proposed, by authorizing the creation of "self-supporting" extension programs that offer credit-bearing courses.
New courses in the voluntary pilot program proposed by the legislation would need to be focused on technical education or work-force development, a narrower band than the high-demand English and math courses slated for expansion under the Santa Monica plan. And the higher-cost courses could not simply replace currently-offered, state-funded equivalents in those fields. But colleges could create extension programs without the approval of the statewide Board of Governors. And, most importantly, they could charge more for courses.
"This bill would allow community college districts to charge students for the actual costs of the courses," according to the legislation, including the cost of instruction, equipment and supplies, student services and instructional support.
Similar bills have been introduced in California before, and gone nowhere. But community college faculty leaders are taking the new legislation seriously. Representatives from unions and faculty groups met with Scott last week and voiced their strong opposition. The State Senate has scheduled a hearing on the bill for today.
The debate over the legislation is also more complex than it appears at first glimpse, with tricky fault lines over race and for-profit higher education.
The legislation's primary goal is to expand the capacity of local community colleges so they can better meet student demand, said Stan DiOrio, Wright's legislative director. Many job openings in Wright's district are going unfilled, and employers are clamoring for more trained workers, he said.
Wright represents a working-class area of South Los Angeles, including portions of Inglewood, Compton, Watts and Long Beach. The district has one of the state's highest concentrations of black residents (32 percent) as well as a large number of Hispanic people (41 percent). And concern over the heavy recruiting of minorities by for-profit colleges helped motivate Wright's introduction of the bill, DiOrio acknowledged.
For-profits play a relatively small role in the local economy, according to DiOrio, mostly offering certificate and degree programs aimed at preparing security guards, chefs and bookkeepers. Some for-profits in the district, however, offer degrees or certificates that are of questionable value, he said, and local students have had problems with not being able to transfer credits earned at some unaccredited for-profits to other colleges. DiOrio said one aim of the legislation is to create more seats at community colleges so students won't be lured into expensive for-profit degree programs of questionable value.
"Their costs are extremely high," DiOrio said. "We still have concerns about quality in that industry."
The legislation is likely to face an uphill battle. Scott's office is still evaluating it and has yet to take a position, according to a system spokesman. The chancellor's staff is focused on bills that seek to advance goals from a state task force report on student success, he said.
But some college leaders have already joined faculty in criticizing the bill. The Board of Trustees of the San Diego Community College District, for example, recently passed a resolution opposing the legislation, which "would limit or exclude student access based solely on cost, causing inequities in the treatment of students."
Creative Solution or Privatization?
The push for two-tier pricing in California is an attempt to cope with a capacity crisis of epic proportions.
The state's 112 community colleges have been walloped by deep budget cuts, which have forced them to turn away hundreds of thousands of students -- an estimated 200,000 this year alone. And an additional $300 million cut looms if the state's voters don't pass a tax hike this fall.
Tuition levels at the colleges, which serve 2.6 million students, will rise to $46 from $36 this summer. But even after the increase, California's community colleges will charge less than half the national average in tuition and fees.
That's a source of pride in a state with a deep commitment to cheap, open-access public higher education.
In the aftermath of the Santa Monica brouhaha, trustees said they were frustrated by how their two-tier proposal was interpreted by protesters and the news media.
"It's an opportunity to make a very progressive policy, an opportunity to be Robin Hood," said Rob Rader, a college trustee, according to the Los Angeles Times. Board members called the plan socialism in action, arguing that students who could afford the higher-cost courses would free up space in regular classes. They also created a scholarship fund for needier students to use for the foundation-offered courses.
Trustees left open the door to pursuing two-tiered tuition in the future. Wright's legislation would help make that happen.
Many observers applaud Santa Monica's overall goal, but not its methods. Privatization of community colleges is downright heresy in California. And the proposal erred, some said, by trying to charge different prices for the same courses.
"It is the wrong solution to the right problem," said Nancy Shulock, director of the Institute for Higher Education Leadership and Policy at California State University at Sacramento.
A more targeted strategy is charging differential tuition rates for courses and programs that are relatively expensive to teach -- like nursing or dental hygiene. That approach, which is the norm at public research universities, is becoming popular at community colleges around the country.
The Academic Senate for California Community Colleges opposes two-tiered tuition and Wright's bill, because it "opens the door" to privatization, said Michelle Pilati, the group's president and a professor at Rio Hondo Community College.
"I'm not a slippery slope person," she said, "but in this case I think it applies."
Pilati said faculty members are deeply concerned about the capacity crisis, and her group is sympathetic to worries about aggressive recruiting by for-profits. But two-tiered tuition is unfair to lower-income students, she said, because it would open up classes to students who have the means to pay much more -- $180 per credit under the Santa Monica plan.
"The state should be paying for higher education," she said.
Shulock agreed, saying that in lieu of more state funding, a better solution than two-tiered tuition would be to bring overall tuition rates closer to the national average. By doing so, all students would pay more than $46 per credit, but substantially less than $180. But that wouldn't be easy in California.
Another problem with two-tiered tuition, Shulock said, is that wealthier students have a leg up when registering for courses. She said research has found that higher-income students generally have more "college knowledge" that helps them navigate often-complex registration processes. That means wealthier students could more quickly snag spots in classes, getting the normal price, while their lower-income peers would be more likely to pay the higher rates under a two-tiered system.
DiOrio, however, said the bill is designed to create a pilot program that would protect student equity, while also adding badly needed community college courses in disciplines that lead to jobs. For example, participating colleges would be required to collect data on student demographics and outcomes in the higher-priced courses, and submit those records to the state's Legislative Analyst's Office each year to assess whether the extension programs are "operated in a manner consistent with legislative intent."
"It's loaded with all kinds of protections. We're hoping some colleges give it a try," he said. "In desperate times, you try creative solutions."