The University of Phoenix is down after a tough year. But betting against Phoenix is risky, as the flagship for-profit doubles down on career services and its ties with employers.
It's been a tough year for the University of Phoenix. But don't count out the big dog of for-profits just yet.
Increasing competition from lower-priced nonprofit upstarts, regulatory battles and bad press have taken their toll on the for-profit industry, with most publicly traded chains now struggling with steep declines in enrollment and revenue. Phoenix hasn't been immune, and last week announced $300 million in cost cuts, including the shuttering of more than half of its physical campuses and learning centers.
People notice the woes of a university that remains synonymous with "for-profit" and "online." And some speculate that Phoenix's retrenchment signals an existential threat to the university and the sector as a whole.
However, while perhaps not all major for-profits will survive the next few years, Phoenix almost certainly will. And the university might even be setting itself up to better-compete in a changed landscape, by doubling down on career services and building on already strong relationships with employers.
"I wouldn't bet against them," says Steve Burd, a senior policy analyst at the New America Foundation and frequent critic of for-profits.
Burd joined fellow skeptics about the industry as well as some financial analysts in praising Phoenix for making painful but proactive moves to reposition itself. Wall Street types call it a long-term strategy to "right-size" the business, while to Burd the company is undergoing a "market correction for the excesses" of the last few years.
Phoenix did grow rapidly before the recession and the recent federal crackdown on for-profits, reaching a peak of 475,000 degree-seeking students in 2010. Since then its enrollment has dropped by more than 31 percent, to 328,000. The Apollo Group, which owns Phoenix, is slashing the university's expenditures by 9 percent, or $300 million, in part to cope with the enrollment slide. The university is eliminating 800 non-faculty positions in addition to the location closures, which account for about 40 percent of its total square footage.
However, some of Phoenix's wounds are self-inflicted and purposeful. The university last year introduced a three-week, noncredit orientation course for all new students with less than 24 college credits, which has taken a toll on the enrollment pipeline. The course gives students a free, no-risk grace period to decide whether they are ready to hack it. For Phoenix, the orientation is a way to make less academically prepared students think twice before enrolling. And prospective students must successfully complete the pass/fail course to be admitted.
The university tabulates its own graduation rates by including all students, rather than just the full-time, first-time students captured by the U.S. Department of Education's primary data tool. The six-year rate for bachelor's degree programs at Phoenix is 31 percent, while the three-year rate for associate degree-seekers is 34 percent.
Those aren't numbers to brag about. But by gradually getting more selective, Phoenix is trying to boost student retention so it can avoid running afoul of accreditors and federal regulators.
"Any shift away from that recruit-at-all-costs mentality," says David Hawkins, director of public policy and research for the National Association for College Admission Counseling, "would be a welcome change."
Career Services Pitch
The profit motive in higher education remains controversial. And as the industry's most visible piece, Phoenix will continue to catch heat for marketing budgets and shareholder returns (even if those are down).
Price, however, is probably the university's biggest competitive challenge. Tuition rates vary, but are around $420 per credit for bachelor degree programs at Phoenix. That's average for the for-profit sector, but much more than tuition levels at emerging nonprofits like Western Governors University, which offers self-paced, competency-based online programs that run about $240 per credit. Community colleges typically charge less than $100 per credit.
The university this month locked in tuition for all current and incoming students. The tuition freeze might help, but even company officials acknowledge that Phoenix must prove its "value proposition" to stay competitive.
To do that, the university is going back to its roots and emphasizing that it helps adult professionals advance in their careers. For example, a T.V. commercial in the university's newly launched "Let's get to work" advertising campaign shows a 30-something woman working late in a darkened skyscraper -- apropos given that the average Phoenix student is about 35, and 69 percent are women.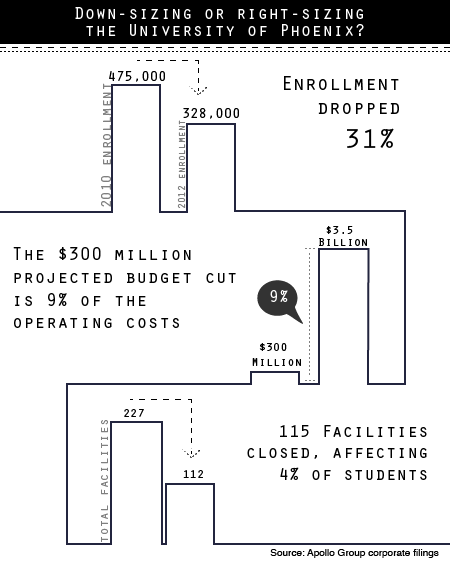 It wasn't always this way, as Apollo tried to attract younger students in the last decade, most notably with Axia College. Launched in 2004, Axia was an open-enrollment institution that targeted traditional-aged students with online associate degrees. The college was controversial, mostly because of the lesser-prepared students it attracted, and because Phoenix was often going head-to-head with community colleges.
That experiment has ended, however, as Apollo last year merged Axia's programs into Phoenix. And these days company officials talk up the university's deepening cooperation with community colleges. Phoenix has articulation agreements with more than 100 two-year institutions, including a new one with the high-profile Northern Virginia Community College, a favorite of the Obama administration.
Company officials promise that students will reap substantial benefits from its souped-up career services focus. One key addition is that the university is now administering skills-based assessments on the front end of degree programs, with the plan being to help students better plot their career paths as they are working toward credentials. Phoenix is also launching a new suite of career planning tools, many of them online, including personalized guidance, workshops and events with advisers.
"Our differentiation is that we will do everything to help them get the tools, skills and education," says Mark Brenner, a company spokesman, all of which are designed to "help them in their career."
The university has teamed with industry trade groups to design new degree programs that incorporate workplace competencies and, in some cases, grant prior-learning credits for on-the-job experience and training. It is also spending millions to build a new learning management system, and recently launched a careers portal for students that features 20,000 jobs submitted by 35 employers.
"There isn't another institution doing more for employers with students than us," Brenner says.
For example, the university recently introduced the first associate degree based on the popular Cisco networking certification. And earlier this month Phoenix announced a new partnership with the American Petroleum Institute. The arrangement includes a credit recommendation guide based on certificates offered by the institute, like ones in mechanical maintenance and industrial math. That means students can earn prior-learning credits from Phoenix for industry-issued credentials, as well as credits for general education and elective courses based on the institute's training programs.
The energy industry partnership follows a similar, recently brokered partnership with the Manufacturing Institute, with more in the works.
For-Profits and the 'National Interest'
The shakeup in for-profit higher education is far from over. Officials at Phoenix predict that enrollment will pick up again in the next year or so. But several financial analysts say that might be overly optimistic.
"We see no positive catalyst in sight for the near term," wrote Brandon Dobell, an analyst with William Blair and Company, in a recent report. "Earnings are unlikely to grow until fiscal 2015 at the earliest."
Hawkins says Phoenix's struggles are indicative of wider issues among for-profits.
"This industry had created a bubble that was unsustainable," he says. "This is the sound of that bubble deflating."
Even so, if Phoenix can ride out the tough times, the university might indeed be stronger on the flip side. "Ultimately this is a maturation process," says Hawkins.
Over the last few decades, the for-profit industry has been buffeted by periods of expansion and retraction, which are driven by Washington's relative regulatory focus and energy. The growth that followed Bush administration-era loosening of the rules was explosive.
But amid these cycles, some predict that well-positioned for-profits are creeping closer to being accepted as playing a fundamental role in higher education, much like how community colleges and public higher education had to overcome skepticism when they were new on the scene.
For evidence that this may be happening, look no further than recent statements by the industry's biggest critic. Sen. Tom Harkin, an Iowa Democrat, spoke at a July news conference to release the results of his two-year investigation of for-profits. The four-volume report is the closest thing to a definitive case against the industry.
Yet Harkin surprised the event's attendees by praising some for-profits. He singled out American Public Education, Strayer Education, Walden University and National American University for largely rising above the problems in the report. And Apollo, Kaplan and DeVry also got a shout-out, albeit a more nuanced one, with Harkin saying the three all had "very serious problems" in the past, but were now moving in the right direction.
The industry will survive, Harkin says, and that's a good thing because for-profits serve disadvantaged and nontraditional students that might not otherwise attend college. "Their success is in the national interest."
Online education also isn't going anywhere. And since Phoenix was among the first to go online, and is by far the most established presence there, company officials say they are confident the lessons they have learned will help the university continue to be a major player.
"We've been preparing for this for some time. We want to be the university of choice for working learners," Gregory W. Cappelli, Apollo's CEO, told investors earlier this month. "Times have changed, and we're changing in order to take into account the needs of our students today."
You may also be interested in...
Today's News from Inside Higher Ed
Inside Higher Ed's Quick Takes