You have /5 articles left.
Sign up for a free account or log in.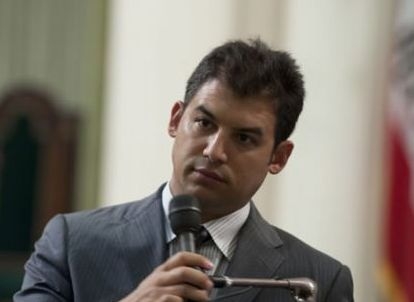 The idea of creating a second tier of tuition for California's community colleges is as resilient as it is controversial.
For the third time in recent years, a state lawmaker has introduced a bill to allow over-enrolled community colleges to charge more for certain courses. This time one chamber of the state's legislature passed the bill.
However, many faculty members and students remain steadfast in their opposition to what they see as a challenge to the open-access mission of the 112 two-year colleges. And the system's chancellor, Brice Harris, is joining them in the fight.
Das Williams, a Democrat who represents Santa Barbara in California's State Assembly, introduced the proposal last month. It would allow colleges to offer nonresident tuition rates – about $200 per credit compared to the standard $46 per credit – for courses in summer or winter sessions.
To qualify, colleges would need to have been unable to meet student demand for the previous two years, according to a system definition of institutional over-enrollment. Colleges could choose whether or not to offer the more expensive courses, which could not compete or replace their state-subsidized counterparts. And the courses would be a voluntary option for students. The bill would also require colleges to use one-third of the revenue from the more expensive courses for a state financial aid program – the Board of Governors fee waiver.
Williams said the legislation is an attempt to help solve severe, budget-driven capacity problems. He cited a recent report, which found that the system cut 100,000 courses and turned away 600,000 students over the last five years. The colleges currently enroll about 2.4 million students.
"These same courses at the lower fees would still be offered during the regular academic year. But if students choose to pay a higher fee during a summer or winter session, this would allow them that opportunity," Williams said in a written statement. "This option would save students potentially thousands of dollars in living expenses by allowing them to take a course and transfer, rather than hang around for a year waiting for a class to open up."
Support and Opposition
Differential tuition became a hot issue last year when Santa Monica College tried to offer more expensive sections of over-enrolled courses. That proposal was met by loud protests, with critics saying the new courses would cater to wealthier students. The plan may also have violated state laws. It was later dropped.
However, state lawmakers have at times tried to open the door to more experimentation with differential tuition, which a growing number of colleges around the country have tried. But none of those proposals have gained much traction.
This one might be different, observers said. Williams is chair of the committee on higher education. His website describes him as a "fierce advocate for access to publicly funded education."
He had pushed versions of the tuition bill in the past, and on Monday the Assembly passed it by vote of 48 to 12. The state's senate will take up legislation next.
A spokesman for Harris said the chancellor's office does not support the bill and would actively oppose it in the senate.
Earlier this year Harris wrote a letter to leaders of the system's colleges in which he said differential tuition would be "devastating to open access and has the potential to undermine a system that has been the gateway to a better life for all Californians regardless of their background."
Harris also said that two-tiered tuition is illegal, which would presumably change if the bill from Williams became law.
However, Harris said he supports incremental tuition increases by the system's colleges, which charge rates well below the national average.
Faculty groups will fight this proposal as they did its predecessors, said Michelle L. Pilati, president of the Academic Senate for Community Colleges and a professor of psychology at Rio Hondo College. Faculty union leaders have also criticized the legislation.
"It has all the same problems as the earlier version," she said. "It increases disparities."
Necessary Fix?
California's community colleges undeniably suffered through a severe capacity crisis, which Williams said is the primary motivation for implementing two-tiered tuition. But the system's budget problems, while still serious, have started to subside.
The state's voters passed a tax hike last fall that gave two-year colleges $210 million in new support rather than $338 million in midyear cuts. That has allowed colleges to add course sections rather than turn away more students.
For example, a recent survey by the system found that two-thirds of the colleges plan to offer more course sections this summer than they did the previous year.
"There will be a restoration of access," a system spokesman said. "But it is going to take some time."
However, reports about the impacts of recent budget cuts are still arriving. One study released last week found that Latinos have been particularly hard-hit. The research, commissioned by Corinthian Colleges, a for-profit institution, found that enrollment dips at community college will mean lower wages over the lifetime of 840,000 Latinos.
As a result, observers said it might be understandable that lawmakers might want to find solutions to the state's capacity problems, even if they appear to be easing.
Also at play may be another bill: the proposal by a powerful state senator to create a pool of outsourced online courses to help meet student demand.
That legislation, the details of which continue to be fought over and have shifted, would allow unaccredited for-profit companies to be among online course providers with state-sanctioned offerings that could lead to credit at California's public institutions. Massive open online course providers in particular have been targeted as likely participants.
Proponents of both controversial bills have touted their potential to help solve capacity problems at the state's community colleges. But observers said it is unclear whether lawmakers view either differential tuition or outsourcing to MOOC providers as a more palatable solution to a crisis that may no longer exist.